How to find restaurants, read reviews, and make reservations using Siri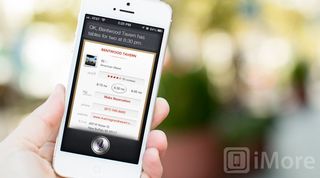 Complete guide to Siri commands for restaurants
With iOS 6, your personal virtual assistant, Siri can now help you find restaurants and even book tables. You will need the OpenTable app from the App Store to complete your reservations, but Siri do a lot of the heavy lifting, including finding places and times, and showing you Yelp-powered reviews and pictures.
How to download Yelp and OpenTable
To get the most out of Siri's new restaurant assistant services, you need to download a couple of extra apps from the App Store. Yelp allows you to see more restaurant reviews, and access reviews from more places. OpenTable lets you complete reservations and book your spot at restaurants. Both are free.
Once they're installed, you're ready to go.
How to search for different types of restaurants with Siri
No matter what kind of cuisine you're in the mood for, if there's a restaurant in the area that serves it, Siri can help you find it. Whether you're planning a trip and aren't sure what restaurants are in the area of your destination city or simply want to find new places to dine in your home area, just ask Siri.
Press and hold down your Home button to activate Siri.
Tell Siri what kind of food you want, and where. For example: "Find Asian restaurants near me." or "Find Italian restaurants in San Francisco, CA."
Tap on the name of any restaurant in the list to get more information.
Unfortunately, Siri isn't great at recognizing restaurants with names in other languages. For example, if Siri is set to English, it has trouble with restaurant names that are Italian, French, Greek, etc. Which, depending on where you live, can be a lot of restaurants. This means you're usually better of simply asking Siri simply to search for restaurants nearby or in a specific area, and then tapping on the one you want.
How to get restaurant reviews with Siri
If you already have an idea where you want to go, but want to see what others have thought about it first, Siri can bring you all the reviews you need, straight from Yelp.
Press and hold down your Home button to activate Siri.
Ask Siri to show you reviews for whichever restaurant you want. For example: "Show reviews for Oriental Pearl in Michigan City, IN." or "Find restaurant reviews for Big Bowl."
If there's more than one match, tap the Stars to the right of the restaurant you want. You'll be taken to the Yelp! app where you'll see all the reviews.
If you're shown the Map widget, tap Reviews from Yelp! (embossed in small type at the bottom of the widget) to go to to Yelp! app to see all reviews.
How to get pricing, hours, and learn more about restaurants with Siri
Once you know where you're going, you might still want to know things like operating hours, price range, or even contact information. All you have to do is ask.
Press and hold down your Home button to activate Siri.
Ask Siri for information on a restaurant. For example: "Show me information on Red Lobster in Michigan City, IN." or "Find information on Maxine's Restaurant."
You can tap on the picture stack at the top left to see Yelp photos of the restaurant. Next to the picture stack is the price range in dollar signs ($ for cheap, $$$$$ for expensive). Tapping the phone number will call the restaurant (if you're on an iPhone). Tapping the website address will take you to Safari and show you the site (if it's not stuck in 2005-era Flash). Tapping the map will take you to the restaurant location in the Maps app.
How to make restaurant reservations with Siri
Press and hold down your Home button to activate Siri.
Tell Siri where you want to make a reservation. For example: You can say "Make a reservation at Bentwood Tavern." or "I need reservations at Quince at 8:30."
Tap the Make Reservation button to launch the Open Table app and complete your reservation.
How to get more help with Siri
If you still need help with setting up or using Siri with your iPhone Contacts, or any other Siri feature, head on over to our Siri Forum and ask away!
Master your iPhone in minutes
iMore offers spot-on advice and guidance from our team of experts, with decades of Apple device experience to lean on. Learn more with iMore!
iMore senior editor from 2011 to 2015.