How to AirPlay Beats 1 from iTunes on the Mac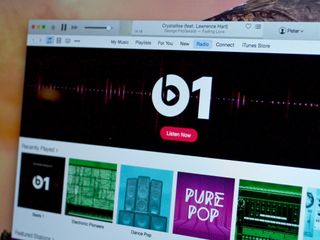 Right now the AirPlay button in iTunes 12.2 disappears as soon as you connect to Beats 1, the new radio station that launched as part of Apple Music service. If you're accustomed to streaming music from your Mac to an AirPlay music source like AirPlay-equipped speakers, an Apple TV, or an AirPort Express connected to a speaker system, this might seem like a deal-breaker. But it's not.
Hopefully the disappearing AirPlay button is just a weird bug that Apple will patch in a forthcoming iTunes update. Until then, there's a fairly easy workaround. Just bear in mind that this sends all of your Mac's audio to your AirPlay speaker, not just iTunes.
First of all, if you've already told your Mac to send audio output to an AirPlay source, it'll continue to send the Beats 1 audio there:
How to send Mac audio to AirPlay speakers
You can also use the MenuBar to get Beats 1 over AirPlay.
Hold down the option key on your keyboard.
Click on the Sound menu. (If the Sound menu isn't active on your Mac, you can turn it on by going to the Sound system preference and clicking Show volume in menu bar.)
Select the AirPlay source you'd like to output to.


Sweet Music
(opens in new tab)
Millions of songs in your pocket.

Apple's music streaming service boasts over 70 million songs, live radio stations anchored by renowned personalities, and thousands of curated playlists spanning every genre you can imagine.
Get the best of iMore in in your inbox, every day!
You can also Airplay only iTunes if you have Airfoil.

Apple has disabled BOTH the play to previous airplay source and the option pull down in El Capitan's latest beta :-( I played to my B&W A5 from another channel and clicked on Beats 1 and it reverted to the computer's speakers. Likewise, clicking on the A5 from the sound with option held still shows the option, but it ignores the click and goes back to computer speakers. Wonder why they wouldn't want Beats 1 played aloud?

Thank you so much! I listen to everything on my FireTV and was very sad when I saw that "airplay" logo go away.
Thank you for signing up to iMore. You will receive a verification email shortly.
There was a problem. Please refresh the page and try again.