How to get the most out of the Octopath Traveler Prologue Demo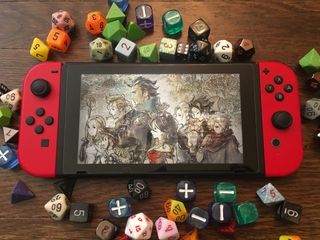 Square Enix's Nintendo Switch-exclusive JRPG, Octopath Traveler, is beautiful, mesmerizing, and captivating right from the very start. While the full game isn't out until July 13th, we have been graced with an extended demo that lasts three hours.
Now the full-game story is said to last about 40-50 hours on its own, and when you add in all the side quests and other areas you can explore, its said that the game could have up to 80-100 hours of content. That's a lot of gameplay hours that you can't possibly squeeze into a three-hour time limit, but surprisingly, the three hours you do get give you quite a bit of freedom.
Pre-Order Octopath Traveler (opens in new tab)
Three hours on one save file
The first thing you need to understand is the three-hour time limit is exclusive to your save file. Now, the demo only lets you have one save file, but if you start a new game and save over that save file, you can play again up to three hours on that new file.
Essentially, this means you can keep playing the demo over and over again, as long as you keep overwriting your old save file. It's important to keep in mind, that your data from the demo will transfer over to the full game when its released, so make sure you end with the result you want.
Eight characters to try out
There's eight different playable characters in Octopath Traveler, and when you start the game, you can choose which character to play. Each character has a prologue which includes learning the game, a unique character history, and an adventure and boss they must defeat.
My suggestion is to start a game as each character in order to find your favorite and get a good feel for the game. Each prologue for the different characters probably takes roughly 45 - 60 minutes to complete, so if you do this eight different times, you've already played five more hours than the three-hour time limit!
Rushing the demo
The other reason for playing all the characters is it will allow you to learn the game really well and allow you to speedrun the demo, so to speak.
Once you have a few plays under your belt, and you have the lay of the land, you can go around and recruit the other seven characters in the game. This certainly takes time, and doing it fast can be a challenge, but if you skip all the cutscenes and dialogue (by mashing the A button) and you kill enemies you encounter as quickly as possible, its doable in about 2 hours.
This lets you explore even more of the game and areas available to you and can allow you to see the most content possible within the three-hour limit. Of course, this is a demo and you won't be able to see everything as some areas of the game are completely blocked off.
How are you tackling the demo?
Are you taking your time to smeel the roses, or are you rushing as fast as you can to see the most you can? Let us know in the comments down below!
Get the best of iMore in in your inbox, every day!
Luke Filipowicz has been a writer at iMore, covering Apple for nearly a decade now. He writes a lot about Apple Watch and iPad but covers the iPhone and Mac as well. He often describes himself as an "Apple user on a budget" and firmly believes that great technology can be affordable if you know where to look. Luke also heads up the iMore Show — a weekly podcast focusing on Apple news, rumors, and products but likes to have some fun along the way.
Luke knows he spends more time on Twitter than he probably should, so feel free to follow him or give him a shout on social media @LukeFilipowicz.
I LOVED the demo, and I'm pretty sure you could probably get another save file if you create a second user on the Switch. That being said, I adored my three hours and don't really want to do other stuff to redo it later, I feel like that really can take away from a game, besides I'm totally sold on the upfront cost of the game on launch. One bit of advice, I wouldn't pick the dancer to start. There's a boss that you get with her that I think is required before you can go anywhere else and that dude is hard! I was originally put off in the first demo because I wasn't able to beat him and he was pretty early game if you start with her. It looks like they've added in more spaces to buy upgrades and equipment so it's probably doable but much harder than the route I went with the second time. On this newer demo I tried out the scholar (who's kinda like a black mage I think?) And aside from the very Japanese problematic way his story starts out (spoiler, a girl with a crush spreads a rumour about him and another student in order to get him in trouble, he ends up getting fired but ends up telling her that he doesn't mind because he's going to go on a quest ... it's a story beat that would have felt okay on the SNES, but it's 2018 and making light of a what realistically would be a false sexual harassment complaint is a pretty big deal today). Thankfully as far as I can tell that plot point is a small one and after that the rest of the game plays beautifully and the 2DHD graphics are gorgeous. They make you feel the way that you remember feeling about those 2D sprite RPGs like FF6 or Chrono Trigger. They also do some really great stuff with the lighting that's hard to describe but'll make you happy when you experience it. I can't wait for this game to launch! (Despite all the gushing, I promise I'm not a paid person, I just love the game.)
Thank you for signing up to iMore. You will receive a verification email shortly.
There was a problem. Please refresh the page and try again.