How I learned to love the selfie stick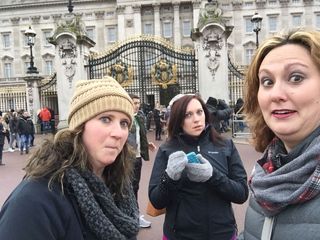 iPhone selfie sticks used to appeal to me about as much as taking photos with an iPad. I didn't think it was possible for me to loathe an accessory more, and when I first saw it, I literally face-palmed.
Yet the impossible has happened: I went on vacation and quickly found myself on a mad search across London for the one object I swore I'd never buy. Yes, you heard me right — I bought a selfie stick, and it was totally worth it.
I'll start by saying that I consider myself a pretty prepared person. I have lists for lists — and then maybe even a list for that. So when I started packing items for an upcoming European vacation with my partner and two close friends, I thought we had every accessory that we could possibly need. An Olloclip, my Nikon, a fancy wide angle lens, my new tripod, and more.
Nowhere on my list, however, was a selfie stick. No way — we didn't need that. And if anyone had told me I would've been on a frantic hunt for one in just a few short days, I would have laughed them out of the room.
And then the subpar selfies commenced.
On the left is a photo that took four attempts to get the Tower Bridge in the background. Each time, one of our heads was in the way, or I couldn't hold my hand steady enough without earning the title of Mr. Blurry Cam.
The one on the right, well, it speaks for itself. Not only can you see Tower Bridge, but I snapped an angle I could have never gotten with just my arm. Selfie stick: 1. Ally: 0.
Honestly, the selfie stick should really be called the groupie stick. That's where it really shines, and what I like most about it. It's hard enough getting a shot of one or two people with subject matter in the background; squeeze in four people, and it's just plain awkward. The shot above shows me failing at getting an acceptable group selfie of four people with only my arm; below are two shots using the selfie stick that only took one take to shoot.
Aside from getting great group shots, I quickly realized that the selfie stick is fantastic for capturing accidental moments. There were numerous times where I accidentally snapped photos while setting up for a shot, but they ended up being some of my favorites from the entire trip.
A perfect example is the main image of this article: It was totally a half-accidental, half-silly shot from a set of bursts I didn't mean to take. Below are accidental pictures we took while trying to figure out the selfie stick and just being silly. Comical and great memories we won't forget — all thanks to the selfie stick.
Now, I still think there's a time and place for selfie sticks. Will I be taking it with me to every event I attend? No. But will I bring it with me on vacations and to events where I don't want to take my DSLR camera everywhere (or at all)? Absolutely. Not only is it much easier to set up and control than a remote, or my regular camera, but smartphone cameras are even getting good enough to do the heavy lifting on their own. And if a selfie stick is the accessory that finally makes me confident enough to leave my heavy camera bag at home, I'm okay with that. So to all you selfie stick users out there, rock on. I get it now.
Do you own a selfie stick? If so, how do you feel about it? If not, let me know your thoughts on them regardless. And if you're interested in picking one up, hit the link below!
iMore store - $34.95 - Buy now
Amazon - $20 and up - Buy now
Master your iPhone in minutes
iMore offers spot-on advice and guidance from our team of experts, with decades of Apple device experience to lean on. Learn more with iMore!
iMore senior editor from 2011 to 2015.