How I pack for a tech conference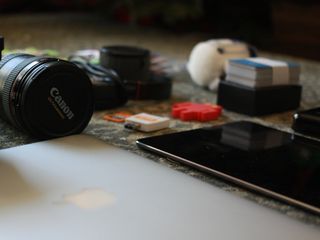 (opens in new tab)
If you follow tech news at all, you might be aware of a teensy little event coming up in Las Vegas, requiring the talents of most of the iMore and Mobile Nations staff.
CES is a strange and unique snowflake in the land of tech conferences, to be sure — but when it comes to prepping for it, I actually pack many of the same things I'd pack for any other tech conference or work trip. Having done the whole tech reporter gig for a few years now, I've got a pretty good system going for packing efficiently. So here, dear iMore readers, is generally what I take when I travel for work. I wrote this in part so that I remembered to pack everything — but hopefully it'll also prove entertaining reading for you folks.
How to mentally pack for a tech conference
Step one: Remember that you are but one human, and emergency bags don't have to contain everything in the world. Pack for what you're going to do. Are you really going to need that laptop, or can you get everything done on your tablet and phone? Are you expected to take a lot of fancy macro and zoom photography, or can you get away with covering things with a smartphone camera?
Step two: Lay out everything you want to take on a flat surface of some kind, and evaluate. Do you really need that third lightning charger cable? Really?
Step three: If you've gone on more than one trip in the past year and said, "shoot, I wish I had [X gadget]," that thing should always go in your bag, no matter what. My personal "gotta have it" item is the Scosche BoomBottle mini (opens in new tab) — inevitably during any trip I find myself with a need to boost sound from a laptop, iPad, iPhone, you name it, and the BoomBottle is compact, wireless, water-resistant, and holds a charge for ages.
Step four: Don't forget about the non-tech items that you really should have in your tech bag. Money, identification, and a water bottle are the big three, but also think about your situation: Are you going to be walking around a lot and need energy boosts of some kind? Do you need a nice pair of flats to change into for evening meetings after a day of running around in big hulking sneakers? Are you bad about spilling things on your clothes and need a change of shirts (or a really good Tide Pen (opens in new tab)?
What's in my small bag: For quick reporting and general activities
Backpacks are useful when you want to carry everything you own around a show floor, conference, or work event, but I have a particular fondness for smallish cross-body bags with lots of pockets. They force you to pare down your gadget choices, for one, and end up being a whole lot lighter on the shoulders throughout the day.
My cross-body bag of choice for CES is Kate Spade's Cobble Hill Mini Carson (opens in new tab) — it may look tiny, but has a few hidden compartments that make it easy to pack in all that I need for a light day's roaming.
For CES, the Cobble Hill bag is my go-to for any event where I don't immediately require a computer on-site. I can write, shoot, and edit most things on my iPhone these days, so for events that don't absolutely require a computer, I end up just taking a little satchel like this. It does the job of a regular old bag by holding money and identification, of course, but it also packs away a bunch more.
First and most important, I've got my iPhone 6 and my new favorite external battery pack, the Anker Astro E4 13000mAh (opens in new tab) (thanks to The Wirecutter's Twitter feed for the recommendation). It holds enough juice to give my phone 4 or 5 full recharges, and it's sleek enough to fit nicely inside the main compartment of my bag. (Also: It has a built-in flashlight! Best unnecessary feature on a battery pack ever.)
I've also got a 5GB thumb drive (in the form of one Red Robot) for any quick file transfer needs, a pair of Sennheiser OCX685i emergency headphones (opens in new tab), and my Rayban Wayfarer Folding sunglasses — which are not only cool because they're essentially Transformers, but they take up very little space in the bag.
I didn't bring my iPad mini on this journey, but the Cobble Hill's outer pocket can actually comfortably fit a mini when standing upright; if I'm carrying around a DSLR on my other shoulder, I'll usually tote the mini along so that I can transfer images to it with a Lightning to SD Card Camera Reader (opens in new tab), which then syncs the images to iCloud Photo Library.
I've also got a little tiny bottle of hand sanitizer in my bag — because the annual CES plague is not a plague I'd like to catch — along with a couple dozen iMore business cards.
What's in my big bag: For full-day conference fun and traveling
My backpack of choice, the Osprey Pixel Daypack (opens in new tab), was originally purchased on a recommendation from a friend, and I am so glad I did: The lightweight bag uses zippers and clasps to shrink or grow as you need the space, and has a surplus of useful pockets to hide things away. It's also made by a company that specializes in hiking gear, so it's ridiculously comfortable on the shoulders even with a full load of gear within it.
Here's what I've got in the big bag:
Gear: My iPad Air 2 and 11-inch MacBook Air, both hidden away in one of the Pixel's side pouches. I rarely travel with both the iPad and the MacBook Air, but CES is a special case. Also, it lets me choose which device I want to use while live-covering the show floor.
Camera: My Canon Rebel DSLR and my 40mm pancake lens

(opens in new tab)

, along with a 64GB memory card and an EyeFi 16GB X2

(opens in new tab)

card. The EyeFi can be finicky sometimes, but it beats having to carry around SD card readers. For this show, I'm also carrying around an external portable LED light and a secondary lens — the Canon L-Series 24-105mm

(opens in new tab)

— for larger shots.
Cords: A Magsafe 2 charger, two Lightning cables, a Thunderbolt to Gigabit Ethernet Adapter

(opens in new tab)

in the event of terrible Wi-Fi, a Belkin Headphone Splitter

(opens in new tab)

(you never know when you might need one), a USB to mini-USB cord and a USB to micro-USB cord, a Thunderbolt to HDMI adapter, and one power brick.
Audio: The aforementioned Scosche boomBottle mini

(opens in new tab)

, along with my trusty pair of cheap-o Sony Stereo Headphones

(opens in new tab)

for editing audio on the go. (Traveler's tip: Don't bring the fancy headphones to a tech conference. They always break or go missing.) I usually also travel with a small USB mic, but not this time.
Munchies: Energy chews, Shot Bloks, and a bunch of single bags of English Breakfast tea. (I don't drink coffee, and that usually means suffering through Lipton if I want a hot caffeine fix from the CES food vendors. No more!)
Clothes: An extra sweater and flats. Las Vegas gets cold at night, and it pays (in warmth) to be prepared.
Healthcare: More hand sanitizer. Tissues. Zicam — zinc-based remedies may well be placebos for fighting the common cold, but they work for me. A Bobble filtered water bottle

(opens in new tab)

. And a small bottle of Motrin.
A tiny little Artoo plush: Because sometimes you need a silly prop when covering a silly tech show.
What do you bring on your work trips?
Now that you've gotten a tour of my CES bags, it's your turn, iMore readers: anything you consider essential to take on a business trip?
Get the best of iMore in in your inbox, every day!
Serenity was formerly the Managing Editor at iMore, and now works for Apple. She's been talking, writing about, and tinkering with Apple products since she was old enough to double-click. In her spare time, she sketches, sings, and in her secret superhero life, plays roller derby. Follow her on Twitter @settern.
Condoms. Always condoms. Posted via the iMore App for Android

He tends to do that. For some reason he feels he can flip this apple site on it head and make the people here see the error of their ways. Posted from the amazing whatever device I can afford because I'm a broke college kid.

That would be "err"... But, I wouldn't expect you to know that... Posted via the iMore App for Android

I always pack condoms... How is that tasteless? Posted via the iMore App for Android

You'll have to excuse the broke college kid. Not only is he broke, but he's also slow and still a v-card carrier. While most college kids never leave the house without a condom, the only use he has for one is to keep his hand clean.

That's clever m8, I'll have to learn how to be offended about being called a virgin. And you're right, I don't need condoms. Seeing as I'm sterile, what's the point? As for slow? That's debatable and since I don't care much for anyone's answer except for my own Y'all can have fun with that debate. Posted from the amazing whatever device I can afford because I'm a broke college kid.

Sterile doesn't keep you std-free, moron... Especially in Vegas... Posted via the iMore App for Android

That's why one doesn't bone strangers, and you completely missed the part that I'm still toteing a "V-card" so that's keeps me STI free. Posted from the amazing whatever device I can afford because I'm a broke college kid.

Are they the edible kind? Sent from the iMore App

I have an Evernote that I duplicate for each trip. It has sections for different purposes. It doesn't just call out "clothes" but details what I need each day. As I pack it gets checked. When I'm done packing unchecked items are deleted. Then when I come home, as I pack to leave, each item is unchecked as packed. This has saved several Bluetooth speakers from being left. And more than one sock. As for actual items:
I used to take my Apple TV but switched to just a lightning to hdmi & hdmi cable. I stream video from iPad or iPhone via that. If I'm getting a car I take my car mount, a usb car charger, lightning cable, and (rarely needed these days) Bluetooth to FM transmitter. All packed together in one bag, placed so I can quickly grab them at destination. I found using my own gps car setup is much easier on my brain already having to deal with a new car.

I didn't know they made lightning-to-hdmi cables. Thanks for the tip! Great recommendations, by the way!

Evernote list is a great tip actually, I'll have to implement that into my rare travels. Posted from the amazing whatever device I can afford because I'm a broke college kid.

Thanks, Serenity!! Awesome list!! Have fun, and I look forward to all of the great coverage you guys provide!!

Great article! Very interesting!

Nice idea, i have also like these, and i put tags also especially all my device chargers.. Sent from the iMore App

A tip for all those cables and little trinkets
-
Grid-It organizer by Cocoon
-
They are offered in sever shapes & sizes. I have two for my work backpack. Genius little thing. They even make a backpack with a Grid-It system built-in, but it wouldn't fit my 17" laptop, and was a little too minimalistic for my needs. I showed a friend, she uses it with her 13" MBA. Sent from the iMore App

I think of you go to the Cocoon GridIt website, you'll see they have a lot of different sizes and configurations.
Worth a look, maybe. :) Sent from the iMore App

Hey durf, what 17 inch laptop? For perspective. I use one as well, but mine is rather thin. Posted from the amazing whatever device I can afford because I'm a broke college kid.

Razer Blade Pro 2013. Very long. I ended up getting an awesome bag from Monoprice, only $45. Fits more than my back cares to carry. Sent from the iMore App

I just tried to find my backpack on monoprice, looks like they don't have it anymore. It's held up for over a year of daily use at work. *knocks on wood. Sent from the iMore App

I found it on amazon search 108868. Must be EOL. Great bag. Sent from the iMore App

On, that's a nice laptop I used to have a 2012 Blade Pro, but I traded up for an MSI Stealth Pro a few months ago. Yeah, the GRID-IT bags don't fit. I'm currently using a High Sierra Access because I duel purpose it for a hiking bag. Lots of pockets, lots of space. I might pick up one of the GRID-IT organization things anyways just cause. Who know, maybe I'll use it instead of losing my cables. Posted from the amazing whatever device I can afford because I'm a broke college kid.

Sounds like a good set up. I was kinda looking forward to the 2014 RBP, but it was barely incremental. They put all their focus on the 2014 touch screen blade. Next year, maybe it'll have an up to date GPU.
.
I have many backpacks! Laptop, hiking (kid-carrier), snowboarding (camelback), biking, normal book bag, slim camelback (fit under my ruck in the Army), and my old Army duffle bags with the backpack straps.
-
Also, I found the tag that came with the laptop bag. PID 8868. No result from their site. I googled "Monoprice 8868", found link to mp dot com, shows ETA-TBD & "notify me" link. I guess the demand for 17" bags is dwindling. Sent from the iMore App

One day I'll be able to afford all that kid of stuff lol.in give or take 7 years when the American education system is done shafting me. Posted from the amazing whatever device I can afford because I'm a broke college kid.

Get Mommies permission? Sent from the iMore App

Yes, your mom insisted... Apparently she knows Vegas better than I do. Posted via the iMore App for Android

Would love to read a review on your Canon Rebel DSLR serenity. Sent from the iMore App

Like that daypack..Le Sportac Kasey is my crossbody bag of choice. I have a business and leisure travel list...check off as I pack.. On both lists is my 'sanity check' items. Last thing I do is walk around checking (off) that everything (that needs to be) is turned off; the last item on list is front door. Added door to checklist 4 yrs ago when I ran back in (to drop off pkg from mailman) and discovered I had forgotten to lock door

LowePro FlipSide 200 camera backpack. Cheap, rugged, configurable, relatively small, and can't be unzipped while it's on your back. Klean Kanteen water bottle with Sports Cap. You need to stay hydrated to be happy and efficient, and the stainless steel Klean Kanteen lets you sip on the go without using any disposable plastic. Amazing how people overlook hydration.
Thank you for signing up to iMore. You will receive a verification email shortly.
There was a problem. Please refresh the page and try again.