How to install Kodi on the first generation Apple TV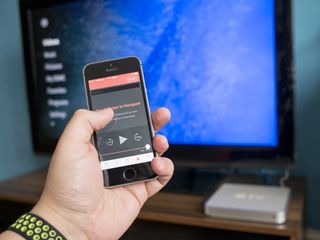 Kodi's open-source media center is a perfect way to bring that first generation Apple TV you have stuffed in a cupboard back to life: It's not officially available on the App Store, but it's still a perfectly legal app to install it on your first-generation Apple TV.
What is Kodi?
A brief explainer from the official Kodi website:
In the very early days, Kodi — or XBMC as it was first known — was a hack to add true media center functionality to the original Xbox console. As it has evolved, it has turned into one of the most powerful systems available.
Kodi itself is perfectly legal: It's a piece of media center software and does not provide nor condone piracy; there are also a number of legal add-ons that can be attached to Kodi, as well as connecting live TV and your own media library.
What you need
There's not a lot of supplies needed to get this little project rolling. Besides your first-generation Apple TV — 40GB or 160GB, it doesn't matter which — you need a PC or Mac to download the files you need, along with an 8GB or larger USB flash drive. You'll also need an Ethernet cable to hook up your Apple TV to your local network during the install process.
If you want to further upgrade your Apple TV, you can even swap out its Wi-Fi card for an HD decoder in its place. (More on that below.)
Before you begin: Visit your Apple TV's settings and find the option for RGB High. Make sure this is enabled, otherwise you risk issues with your picture quality — no one wants their screen covered by a pink tint, and if you forget this step, you'll have to restore the original Apple TV operating system and start again.
How to download Kodi to the first-generation Apple TV
For the first generation Apple TV you can go one of two ways with your Kodi install: OpenElec or OSMC. Both are custom builds of Kodi that work great on older or less powerful hardware; they're popular with Raspberry Pi fans.
For the purposes of this guide, we'll be using OSMC. It's a great Kodi build with a really nice custom user interface that works great on a TV. You can run it solely from a USB flash drive if you wish, but for this guide, we're installing it directly to the internal HDD.
Grab your PC or Mac and your flash drive, then follow these steps:
Head over to osmc.tv/download in your browser.
Select the installer for the operating system you're currently using.
Download the installer and launch once complete.
Connect the flash drive to the computer.
Select Apple TV from the drop down box.
The next stage is to select the build. Choose the latest version from the dropdown box for HDD.
The next step will ask you where to install, but it won't let you change the options. So just click next.
Select your flash drive location.
Accept the license agreement and the install can begin.
How to install Kodi to your first-generation Apple TV
Plug the USB flash drive into the back of the Apple TV.
Boot your Apple TV. After a small delay, you'll see a Linux-style boot screen (OSMC is based on Linux).
If everything went to plan, the OSMC installer will begin: Go make a coffee and wait.
If you didn't boot into the installer, reboot the Apple TV and try again.
How to customize Kodi on your first-generation Apple TV
From here on out, Kodi is yours to build out into the media center of your dreams.
Kodi itself has no content pre-filled, but you can download any number of legal add-ons; these include well-known names like YouTube and Twitch, along with clients to hook into your own cloud media from sources like OneDrive and Dropbox. You can also plug your Plex server directly into Kodi and your HDHomeRun tuner for live TV. Both services have official add-ons.
What if I need a remote?
Good news: You already have an awesome physical remote with your Apple TV, assuming you didn't lose it. The stock Apple white IR remote will work just fine with Kodi, allowing you to navigate the interface and control playback without the need for additional hardware.
You can also get additional remotes easily on your iPhone or iPad by downloading one of the Kodi remote apps from the App Store. There are a few to choose from, but I recommend Blue Remote and Armchair Remote, which both Apple Watch companions; Blue Remote is totally free, while Armchair has a paid upgrade to unlock everything.
How to restore Wi-Fi to your Apple TV
Kodi disables your internal Wi-Fi antenna, but you can get it back if you need with a USB wireless dongle. (Note: If you're running Kodi from a USB stick, you'll need a USB hub to add a wireless dongle.) If you're looking for the right Wi-Fi adapter, the Kodi/OSMC forums are a great help. We also recommend the OSMC Wi-Fi adapter; it's been certified for all OSMC compatible devices, including the first-generation Apple TV.
See at OSMC
How to add a hardware HD decoder
Since you won't be able to use the internal Wi-Fi card with Kodi, if you're feeling brave enough for a hardware project you can swap that card out for a Crystal HD decoder; there are things that old hardware just can't do.
It's a pretty inexpensive card and a simple swap — as long as you have a bit of free time and patience for the stubborn screws on the bottom. The OSMC folks have put together an in-depth guide on how to tackle this upgrade:
How to install a Crystal HD decoder in your Apple TV
Your tips?
Are you thinking of running a media server on your old Apple TV to give it a new lease on life? Let us know below!
Master your iPhone in minutes
iMore offers spot-on advice and guidance from our team of experts, with decades of Apple device experience to lean on. Learn more with iMore!