How to make the Mac your whole house audio jukebox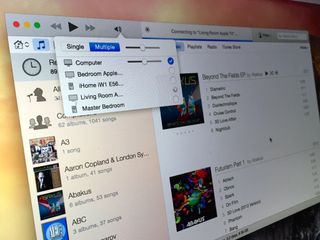 All you need is your Mac and the right kind of speakers. Thanks to AirPlay, you can make music wherever you have Wi-Fi. There's a bonus tip in here too, to help you control your Mac from your iPhone, iPad or iPod touch.
Set up iTunes
iTunes is that app that some of us love to hate. I've ranted about it before, and changes since then have arguably made iTunes worse rather than better.
Having said that, iTunes is unquestionably the easiest way to manage your digital music on the Mac. Once you have your music loaded in to iTunes, you shouldn't need to do anything else except play the music on whatever speakers you'd like to use. When you have AirPlay speakers attached, should should see them listed by clicking on iTunes' volume button. You can select multiple AirPlay speakers if you want to stream music everywhere, instead of just on one speaker system.
The Apple TV is also an audio output system, so iTunes should find any Apple TVs running on your network. If you have nice speakers hooked up there, you can stream audio to your Apple TV sound system. That's what I do in my living room, where I have an Onkyo soundbar hooked up to the Apple TV.
If you want to make one Mac the main jukebox for your home, but you want to share the music you have there with other Macs, you certainly can. Click on the File menu in iTunes, select Home Sharing and enter your Apple ID. That will enable you to share music, movies and other iTunes content with up to five computers in total, also logged in using that Apple ID.
Sharing music isn't required to stream music, however. If you just want to play the music in your iTunes library, you're all set already.
Set up AirPlay speakers
AirPlay speakers enable you to stream audio from iTunes. AirPlay speakers connect to your home Wi-Fi network and appear as an output option in iTunes on the Mac and the Control Center on the iPhone, iPad and iPod touch.
There are some big advantages in choosing AirPlay over Bluetooth. The range of AirPlay is anywhere you have Wi-Fi. So you can listen to music anywhere you can get connected, instead of only within a range of about 30-100 feet from the host computer, as is the case with Bluetooth. What's more, any device or app capable of AirPlay is able to use it.
Here's a roundup of some of the best AirPlay speakers:
You can go from mild to wild on AirPlay equipped speakers, but there's really no need to spend a lot. Any AirPlay speaker works the same, so if you have a limited budget, you can find cheap speakers too. Here are three AirPlay-equipped speaker systems that cost less than $100:
iHome iW2:
Philips AD7000W:
Sony RDP-XA700IPN:
AirPort Express
If you already have a stereo system you love, you can connect it as an AirPlay-compatible speaker system using Apple's AirPort Express, a small Wi-Fi router that includes a 3.5mm digital optical audio jack. You can connect it to an input on your home stereo or entertainment system, and it'll appear as another AirPlay option in iTunes.
Download Remote
Remote is a handy app made by Apple that lets you control the music playing on your Mac, PC or Apple TV. It works with iTunes and iTunes Radio, and enables you send music to any AirPlay speakers connected in your house. You can even control the volume on each speaker independently.
What's more, it's absolutely free. All you need to use it is a Mac or PC with iTunes and iOS 7.1 or later.
Working with Sonos?
Sonos makes lovely whole-house speaker systems that work differently than AirPlay. Sonos devices connect together using their own "mesh network" to enable wireless music streaming. We're big Sonos fans at iMore, so we've compiled some helpful how tos.
Your tips?
How are you handling audio in your home? Let me know!
Master your iPhone in minutes
iMore offers spot-on advice and guidance from our team of experts, with decades of Apple device experience to lean on. Learn more with iMore!