How to make your Android phone and iPad play nice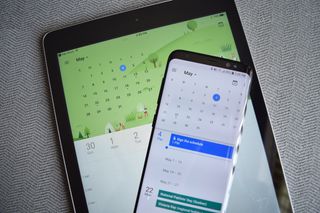 If you're a "daywalker" and use both Android and iOS, you probably wish your Android phone and iPad could play as nicely as an iPhone and iPad.
Well, they can't. And here's what Apple thinks whenever you wish for it in your heart:
They might work together one day, but for now, Apple has its ecosystem on lockdown, and only Apple products can talk to other Apple products. That being said, there are still a few ways you can at least keep your data in sync between Android and iPad.
Google apps
All you need is a Google account (Gmail) and you immediately get free access to Google's apps: Docs, Sheets, Keep, Photos, Drive, Calendar, and more. Google Drive is where you can upload all of your data — files, photos, music — whatever you want. You get 15GB of free storage, as well as unlimited photo storage (well, it's a petabyte, but I defy you to fill up 1,000TB).
You'll already need to use a Google account with your Android phone anyway, and most Android phones come with all the Google apps pre-installed, so Google is definitely your best option for keeping your data synced between your Android phone and iPad.
Dropbox
When you think of cloud storage, one of the first names that pops up is probably Dropbox. Dropbox lets you create folders and share them with friends and family. It's a secure place to store your photos, files, music, and other data.
You get 2GB of free storage space, and after that it's $99 per year or $9.99 a month for 1TB of storage (Dropbox Plus).
OneDrive
Do you have an Android phone, an iPad, and a PC? Then OneDrive might be best for you, since you'll be able to keep your data synced across all of your devices. OneDrive is Microsoft's cloud storage service, which gives you 5GB of free storage. If you have Microsoft Office, you can collaborate on documents in Word, Excel, and Powerpoint, much like iCloud and the iWork apps.
If you need more storage, it's $1.99/month for 50GB, or you can jump to Premium, which is $69.99 a year and includes the Office suite and 1TB of storage.
If you walk in all worlds when it comes to your tech, then OneDrive may be your best option for making everything play together nicely.
Any other tips?
How do you make your Android phone and iPad play nicely? Is that even important to you? Sound off in the comments below.
Get the best of iMore in in your inbox, every day!
Mick is a staff writer who's as frugal as they come, so he always does extensive research (much to the exhaustion of his wife) before making a purchase. If it's not worth the price, Mick ain't buying.
MySMS to sync text messages!

Here's the right way to do this.
Step 1) Sell your Android phone. I know the resale value on those are not great, but the longer you wait, the worse it gets. Think on the positive side, your next phone will have great resale value.
Step 2) Buy an iPhone.
Step 3) There is no step 3. You phone and tablet will play along very well.

I find that Android users are more likely to have the Android phone + iPad combination if they need a phone and tablet. The Android phone because the lack of restrictions versus an iPhone, but an iPad because the quality of apps are better than any Android counterpart. So this is a very valid point the article makes, and one that Android users appreciate. Posted via the iMore App for Android

Your comment makes me laugh, because there's a lot of truth to it. As much as I like Windows (and tolerate Android), Apple is tops at getting users fully integrated into their ecosystem.

Mike, I'm confused about the G Suite option you mention. There's the free account (with 15GB of storage) but to my knowledge, this does not include the free G Suite or 1PB of photo storage. Can you clarify?

I had incorrectly referred to Google's free apps as G Suite. While G Suite does encompass those apps, it is another service available to business and school, and it does cost money. That being said, when you sign up for a Google account, you automatically get 15GB of free storage with Google Drive, and you get "unlimited" (1PB) photo storage with Photos, so long as those photos are 16MP or less (storage is less otherwise).

In this situation, I'd simply replace the iPad with a Windows or Google Play Tablet.

I have a Samsung Galaxy S7 and LTE iPad Air 2. I find this combination to work well. I think Google services are better than Apple's.

I have an iPhone 7 Plus right now and I have a work phone and I can wait for and iPhone 8 or get a Samsung S8. I have debated just try out an android. I have never had a full android device other than a Kindle.

A helpful article as always... How to make Android and iOS play nice: They can't. Here are some cloud storage providers though.

The article is here to help in whatever way possible, it's not iMore's fault that there isn't a very good solution, but there is a partial solution here which is better than none
Thank you for signing up to iMore. You will receive a verification email shortly.
There was a problem. Please refresh the page and try again.