How to manage or cancel Newsstand subscriptions on iPhone or iPad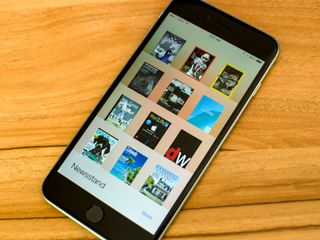 Newsstand lets you subscribe to your favorite magazines and periodicals right from your iPhone and iPad, no paper copies required. When new issues are available, they're delivered right to Newsstand in digital format. In most cases you pay for Newsstand subscriptions just as you would a physical magazine subscription. However, managing and canceling Newsstand subscriptions is much easier than canceling physical ones!
How to view, manage, and cancel Newsstand subscriptions
Launch the Settings app.
Tap on iTunes & App Store.
Tap on your Apple ID at the very top.
Tap on View Apple ID in the popup menu.
Tap on Manage under the Subscriptions section.
Here you'll see a list of all your subscriptions to apps and newsstand items. Tap on the one you'd like to change, view, or cancel.
On this screen you can unsubscribe, change your subscription if there are multiple options, and view details.
That's all there is to it! As you can see, there isn't a dedicated section for Newsstand subscriptions, they are put in the same section as all of your other subscription services. This makes it convenient to edit all of them at one time. And if you ever decide to change a subscription again, just follow the same steps again!
iMore senior editor from 2011 to 2015.
This is weirdly difficult to find. I struggled a while back when I needed to cancel something. There should be settings in Newsstand itself, even if its just a shortcut to the right place in the main settings screen. Newsstand is great for publications that have fully embraced what the iPad offers. Sadly many haven't, and a depressingly large number are still just PDFs with text so small as to be difficult to read on an iPad, and next to impossible to read on an iPad Mini Retina. (let alone a non-retina one) Many also don't auto download the latest issue, or even send a notification when a new issue is available. It's all rather hit or miss, and to be honest, mostly miss at present.

Thank you very much. This was very helpful. Is there a way to do the same thing on a Windows with iTunes?

This is the most unused app and I wish there was a way to uninstall it from my device.

I have a special folder that I put on the last screen called "Unused". It gets out of the way anything that I can't uninstall and never use.

I've found that the magazines I subscribed to I ended up canceling. The biggest problem for me is inconsistent user interface within the magazines themselves. I tried it with "Rolling Stone" and "Keyboard" magazines and while I found the reading interesting, the weird ways to turn pages and unintuitive ways to get additional information — which way should I swipe? — made me cancel everything. Apple is right to focus first on the user experience and I wish content providers better understood this. I banish NewsStand to the "Unused" folder.

I have subscriptions, Barron's being one, that does not show up here nor offer a convenient way to cancel, you have to call an 800 number to give them a chance to talk you out of it... Sent from the iMore App

i just sign up for Dolly Aus Subscription yesterday, Unfortunately I did it for 1 year, and when i go to download page on my new stand, - the download process Always failed, and i just be able to read 5 pages only in the beginning..
i went to my Account and canceling my subscription, but apple already charge for 12 edition -
so is there something i could do to complain? or at least I could get my Mag Completely?
ive tried several times in different places in case the connection was the problem, but Its still the same

I seem not be able to find the Subsription/manage part. It is not available for me in the "view apple id" screen.
I do have a subscription to a dutch News-paper (NRC) and i am logged into the newspaper as well. What i would like to accomplish is that i
- can set a max to the amount of saved newspapers. Like deleting newspapers older the 2 weeks
- automatic download of the latest version. Anyone an ID how to do this? (the app details dont give me this option either)
Thank you for signing up to iMore. You will receive a verification email shortly.
There was a problem. Please refresh the page and try again.