How to manually update to iOS 6 over-the-air (OTA)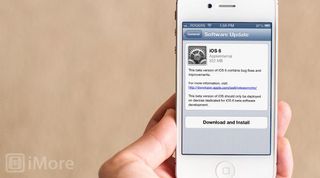 iOS 6 is here -- read our complete iOS 6 review! -- and if you're itching to get your hands on it but your iPhone, iPad, or iPod touch isn't yet alerting you that it's available, you can manually update over-the-air.
Follow along and we'll show you how!
How to manually update to iOS
Launch the Settings app.
Tap General.
Tap Software Update.
If there's nothing new, you'll be told just so. Otherwise, you'll be presented with all the details about the update.
Tap Download and Install
Agree to the Terms and Conditions
Watch the progress bar (This part depends on the speed and quality of connection. Don't be alarmed if it takes a long time, speeds up or slows down, or appears to jump around -- be patient.)
Once it's finished downloading, you'll be prompted to instal (and restart) your device. If you don't explicitly hit Later or Install within a few seconds, it will install on your behalf.
Apple will verify the install.
You're done! Your iPhone, iPad, or iPod touch is ready to go on iOS 6!
Get the best of iMore in your inbox, every day!
iMore senior editor from 2011 to 2015.
My internet at work is KILLING my excitement. still stuck on a blip of blue.

my ipod touch is telling me my software is up to date...?

turn it sideways and try again.

so is mine, nothing. hmm...... well its not 1pm yet....

I'm in Dallas and no updates on my end either...

Same here on East coast. Nothing iTunes, but if you try OTA, it shows there is an update available.

Nothing yet in St.Louis...

I'm in STL, and the OTA update is working just fine now.

Downloading OTA..."about 23 minutes remaining" (London)

Available here. :D
India.
File size for the 4s is 626mb.

at work using wifi, little blue bar and "4 hours remaining" FML

What size is the iPad 3 update, need to make space when I get home.

You need to have available 2.7GB on your Ipad 3

this is new for me......just wondering if the screen has to be "active" for the download to continue or will it continue in the background? I do have it on the dock but just wondering if I need to make sure the screen is lit for the process. Sorry if that's a dumb question..

Not a dumb question. It continues regardless of whether the screen is on. It's meant to run in the background.

My iTunes update is going pretty swiftly, I think. I thought it might be quicker than the OTA, turns out I was correct. 10 minutes in, says I have 6 minutes to go.

Just started my update on my Ipad 3, can't wait until I get my Iphone 5 this Friday!

Not available for me yet in Maryland

Available here in Los Angeles, but lacking Wi-Fi access. Will update once I get home on my 4S. IPad 3 on the other hand, will have to wait until a Jailbreak is Available, which probably won't happen til next year.

Available here...updating both my iPad3 and 4S....saying 24 mins on each over wi-fi. I want it to go faster so I can play with iOS 6!!! Looking forward to Siri working in Canada!

Available here... the OTA download has tanked for my iPhone 4 - five different times now, using 4G WiFi. :-( Guess I'll wait till I get home.

I'm going home sick "cough".

I thought only point releases could be updated OTA, Great news if that's not the case! Also people complaining about their office internet being slow... it's more likely apple's servers getting slammed with requests. Later tonight or tomorrow should go a lot faster.

warning: if you're jailbroken backup first (though everyone should do that anyways) but i'm jailbroken on a 4s and tried to update through itunes. it's deleted all my content and it's taken so far 2 hours and about 30 minutes to restore my apps. still a few to go. but i got errors, had to restore, etc. Now to copy a ton of music back. But backup your stuff and prepare. if yours goes like mine it may take hours.

I've be at this since @ 1215, and I still have @ 4 hours remaining....WTH?!?!?!?!!?!!?

Currently performing OTA on my 4s. 50Mb wi-fi at home. Took 3-4 min to download. Now waiting on the "preparing the update" progress bar to complete. Looking forward to iOS 6.
Edited to add: whole process took 30 minutes start to finish. Looking good and trying it out.

Status (w/internet download speed of 10MB, and MBA ethernetted to TimeCapsule)
OS X 10.8.2.12C54 on mid 2011 i7 264 GB MBA (ca. 50 min to download, 10 min install & reboot),
iOS 6 on:
- iPh4s 64GB (ca. 40 min download + 15 min "prepare" + 20 min for 1st install & reboot phase, 5 min for 2nd install & reboot phase);
- iPa3 64GB 3G: failed to install 5x, throwing an unspecific "Update Failed" message (moving on to iPa2);
- iPa2 64GB WiFi-only: failed to install 8x, same as iPa3 (assuming overloaded servers at Apple's end, so going to dinner now!) Reminder to everybody, before doing all your updates, don't forget to do something like this:
- allow enough time to do the process ... it took me about 2 hours (most of which was for doing the download and then for my iPh4s to process and install iOS6 ... so don't think you will save much time by skipping all the back-up steps that I include below out of an abundance of caution);
- start with charged-up devices (computer and ios units), keep plugged-in during the update process;
- back-up mac (or PC);
- import photos from iOS devices and sync/backup that device (my backup is to my mac, yours may be to the iCloud or elsewhere like a PC);
- back-up mac (again, note each successive back-up is faster because of the first one);
- d/l and install OS X 10.8.2 and restart (see notes above for my times);
- back-up mac (this will take some minutes because your are backing up the new OS X)
- d/l and install iOS 6 on your devices;
- when the iOS 6 screen finally pops up after 75 minutes, tap the "i" at the bottom to expose an information screen with IMEI and ICCID data; make a screen shot of it (simultaneously press sleep and home buttons for a second, the screen should flash white and, if volume is on, the camera shutter will make a noise);
- slide to open, enter your screen-unlock passcode (and if you don't have one, shame on you and don't forget to go into settings and set one up!);
- complete the short series of set up screens;
- sync/back-up your iOS devices (this appears to have begun automatically on mine after completing the preceding two steps and before the SIM unlock screen ever appeared);
- "finishing sync" taking ages, assume due to SIM card locked, pulled iPh from dock, shut-off and restarted; reentered screen and sim codes (1h20m since start); resyncing ... now it has decided to sync/copy all 2083 photos on the phone (didn't expect this!) ... photo sync complete 1h54m after start;
- back-up mac ca. 5m
- done (ca. 2h from start-to-finish; compared to the A5 processor in my iPh4s, the 2x faster A6 processor in the iPh5 is sounding pretty good just about now!) Other:
- I stopped updating apps about 2 months ago because I wanted to wait for the improved security (for contacts, etc.), so I have about 53 updates to make yet ... this will add some more time to the whole update thing...
- I did a normal slide to shut off, and noticed that the spinning wheel is almost imperceptably dim...

Does anyone know if the Original iPad is getting updated?????

What is the most current ios version that the original ipad can run?

can the west coast wait 3 more hours to download? im on the east coast and you all must have just come home from work. It just failed once and i'm trying again. let me download this!!!

Does OTA update to iOS 6 from iOS 5 preserve content in the device?