How to mark an email as read or unread on your iPhone and iPad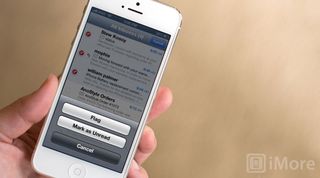 If you come back to your iPhone, iPod touch, or iPad only to find a ton of new emails you really don't want to go through, or if you opened an email by accident and don't want to forget about it later, you can easily mark one or more messages as read or unread right in the built-in Mail app.
Launch the Mail app from the Home screen of your iPhone or iPad.
Tap on All Inboxes.
Tap the Edit button in the upper right hand corner.
Find the mail message (or multiple messages) you'd like to mark as unread and tap on each one.
Once they're highlighted, tap on the Mark button in the lower right hand corner.
And lastly, tap on Mark As Unread.
That's all there is to it. The mail messages that you chose will now appear to be unread and the badge will re-appear on the Mail app just like they were never opened.
Get the best of iMore in in your inbox, every day!
iMore senior editor from 2011 to 2015.
Anyone else notice that sometimes an email you've marked as unread ends up being marked as read a moment later? I notice I have to mark it as unread, exit the mail app, then go back and mark it as unread again for it to finally take.

Are you tired of going office daily? Earn 50$ per hour working from home with Google! I get paid over $87 per hour working from home with 2 kids at home. I never thought I'd be able to do it but my best friend earns over 10k a month doing this and she convinced me to try. The potential with this is endless. Here is what I've been doing, GoogleCash.fab17.c0m

In the native iOS 6 email app I have a random problem. My emails are all gmail accounts.
Sometimes when I open an email I can 'Flag it' for future review. I have the option to either
Flag, Mark as Unread, or Cancel.
Other times when I open an email that I want to Flag that option is NOT there. Only the option to Mark as Unread or Cancel. Is this a bug? Any fixes?
Thank you for signing up to iMore. You will receive a verification email shortly.
There was a problem. Please refresh the page and try again.