How the Nintendo Switch handles your privacy when using the store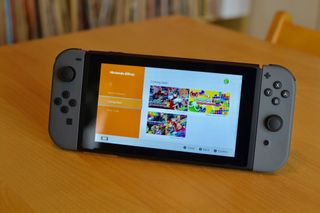 (Image credit: iMore)
When you use the Nintendo Switch eShop (or any of Nintendo's online services), there's an understanding that some of your personal information is going to Nintendo. Obviously, your card is being used to make purchases, and with that goes your name and billing address and zip code...and possibly more.
Nintendo has laid out what it does with your info in its privacy policy, but it can be a bit dense. So what's actually happening with your info when you make an eShop purchase?
What information does Nintendo collect when I use the eShop?
The eShop, like most other online stores, collects a bunch of your personal information. Specifically, this information may be collected and stored with Nintendo as a part of your use of the eShop or any other Nintendo online service. The policy states the following:
Any information you provide while using the eShop or your account. That can mean your name, email address, phone number, date of birth, country, language, gender, and time zone.
Information that can be gleaned from how you use the eShop. Nintendo can collect data on your Switch itself (such as its device model and serial number, operating system, Internet provider, IP address, etc), location, and (obviously) the purchases you make
Your precise location
Information about how you connect with others, your gameplay, and your history of using Nintendo services
Anything you upload or have uploaded to Nintendo services, such as text messages, images, or video. These, in particular, aren't likely to be collected specifically as a part of eShop use, but if you're using the eShop you're likely using the rest of Nintendo's online services, so this data will be collected if you ever upload anything.
Your purchases, including associated account and credit card information, and your billing and shipping addresses.
How does Nintendo use that information?
Nintendo makes use of your data beyond the initial purchase you make. For the most part, Nintendo uses the information it collects to make internal decisions about things like the eShop and how to market games. It also reserves the right to use your information as a way to share new features with you that, based on data it has collected, it thinks might be relevant to you, and may also tailor ads to your profile. It will also send you emails alerting you to new games or features.
Does Nintendo share my information with third parties?
The short answer is yes, but no more than just about any other online service. The information collected listed above may be shared with certain Nintendo partners, or for what Nintendo refers to as "legal and business purposes," which can include enforcing Nintendo's copyrights, selling company assets, or complying with an investigation.
Your information will also go to any third-party services you opt to connect with, such as by logging into a Hulu or Epic Games account through your Switch, so purchase and download those services knowing that using them will also give them your data under their own privacy policies.
What Nintendo will not do is sell your information to other companies, or share it for the purpose of advertising.
Can Parental Controls stop Nintendo from collecting my child's information?
To a degree. Nintendo doesn't knowingly collect information on children under the age of 13, but in order for Nintendo to be aware of a child's age, you'll need to use parental controls to define what information is acceptable to collect. You can keep your child from making purchases and control how their information is shared by downloading the free Nintendo Switch Parent App.
Can I opt out of sharing my information?
Not really. The only real way to opt out of sharing information on your Switch is to never connect to the Internet or use the eShop, in which case you'll only be able to play physical Switch games, and even then you'll be missing out on any online updates. The best you can do is ask Nintendo not to save your payment information, and share as little information as possible in your various online profiles.
For the full text of Nintendo's Privacy Policy, check it out on the website.
Master your iPhone in minutes
iMore offers spot-on advice and guidance from our team of experts, with decades of Apple device experience to lean on. Learn more with iMore!