How to quickly access draft emails on the iPhone and iPad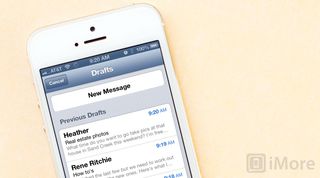 If you're writing an email on your iPhone, iPod touch, or iPad and you don't have time to finish, or you're simply not sure you're ready to send it yet, you can always save it as a draft and come back to it later. However, it can take a lot of hunting actually find that draft and get back to it! Luckily, iOS contains a gesture shortcut that can make tracking down all your draft emails a lot faster.
How to quickly access draft emails on the iPhone and iPad
Launch the Mail app from the Home screen of your iPhone or iPad.
In the lower right hand corner, hold down on the Compose button. This will bring up the drafted emails.
Simply tap on the draft you'd like to finish writing and you can fire away the email as soon as you're done. That's all there is to it.
Get the best of iMore in your inbox, every day!
iMore senior editor from 2011 to 2015.
Wow! I never knew that. Thank you for sharing this tip. :)

Great tip! I didn't know about this.

Another little hidden option. Love it.

This is a good trick to know if you are a MailShot user, as saving the email to drafts then bringing it back like this expands the group out into its constituent contacts, and you can easily check the group or edit who is included on the email this way. just thought I'd mention it.

Great tip that I can't believe I didn't already know! I use 3 email accounts between personal work and youth coaching. Switching between mailboxes to find drafts was a real pain - this will be a very helpful time saver.

Thank you, that's a brilliant tip. I can't believe I've been retrieving my drafts the long way for all this time.

No problem! I've got 9 inboxes so finding drafts was a pain until I found this little gem a while back.

What a great tip! I can't believe it's been hiding there this whole time.

thats great thanks for the tip!
although i have been looking at email apps that can do a bit more than the default Mail app
altamail seems a good one and lets you do custom notifications?

Thank you! I was trying to help my mum out with a formal letter on her iPad and couldn't find the draft to attach a rather important table since I don't use one. This really helped me out.

This feature did not respond iPad 3 help?

Anyone ideas on iPad remote location employs / Bz / employment that yields @ least $3500 mthly?