How to quickly charge your iPhone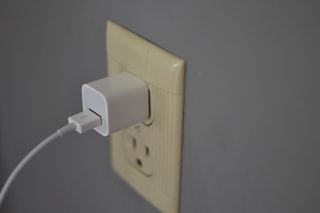 The iPhone's battery life is pretty decent, especially in the iPhone 7, but to get to 100% can often take just a bit too long. Fast charging isn't available for any iPhone model yet, but there are some things you can do to speed up the charging process.
The science behind charging your devices
How exactly does charging work on your iPad? Let's break it down.
Watt (W): Total power and capacity of either a battery or an adapter.
Amps (A): The current at which power can flow between a charger and a battery.
Voltage (V): The amount of power being pushed from an adapter.
When you charge an iPhone, iPad, or computer, you're resupplying its battery (measured in watt-hours) from a power source like a wall outlet, usually via an adapter. That adapter controls how much power you can get (volts) from that outlet, and the speed at which you get it (amps). Those two factors multiplied result in the adapter's total available power.
So how can you tell which adapter is best for your device? It's not about total watts — it's all about the amps and voltage. Modern iPhones and iPads support charging up to a current of 2.4A at 5V, while older devices charge around 1A at 5V. To get the best adapter for your device, you want one that charges at the appropriate amps (1-2.4A) while supplying the right amount of voltage.
Can I short-circuit my device with the wrong adapter? In short, no. Modern devices are built to only accept specific amp levels, so even if you plug your iPad into something like Apple's USB-C MacBook Pro adapter, you'll only get the bare minimum the adapter supports (which, in this case, is the 12V/2.4A charging spec).
What do you need to charge your iPhone more quickly?
An iPad adapter!
Apple 12W iPad adapter
The adapter that comes with your iPhone is a 5W adapter, which charges your iPhone with 5V at 1A. The iPhone 6 and later can actually accept up to 2.1A. The 12W iPad adapter charges with 5V at up to 2.4A, so it effectively doubles the current of the standard iPhone charging adapter.
This is the best option for more speedily charging your iPhone.
See at Apple (opens in new tab)
Best tips to charge your iPhone more quickly
If you don't want to shell out for an adapter or the 12W adapter still isn't enough for you, try these.
This may seem pretty obvious, but an iPhone in use with ultimately charge more slowly than an iPhone that's asleep. If you're trying to charge quickly, you best bet it to turn off the screen, lay your iPhone down, and forget about it for a bit. This way the battery isn't keeping the screen on while it's also trying to juice up.
Disabling connections to Wi-Fi, Bluetooth, and cellular data is a great way to charge your iPhone a little more quickly. Letting the radios go to sleep is a great way to take some strain off your battery.
Background apps, radio antennae, the works. If you turn your iPhone off, it all goes to sleep and then some. This'll help your iPhone charge much more quickly than when in use or still receiving text after text. Don't need it for a bit? Just turn it off.
If you have to use it, take it easy
If you really have to use your iPhone while you charge it, then turning off unnecessary connections, closing unnecessary apps, or even switching to power saving mode will all help it charge more quickly than if you were using it at full tilt. Also try turning down the screen brightness and disabling Background App Refresh and Location Services. Every little bit helps.
It's pointless to try and charge anything with a computer, since USB ports only output 0.5A. If you're using your iPhone, you might even be using up the battery faster than it can stay charged.
Any other tips?
Let us know in the comments below!
Mick is a staff writer who's as frugal as they come, so he always does extensive research (much to the exhaustion of his wife) before making a purchase. If it's not worth the price, Mick ain't buying.
I've always found that charging my iOS devices from my Mac to be faster than an outlet. Then again it could be because when it's connected to my mac I actually leave it and let it charge since my focus now shifts to Mac work

Correct! Macs can supply up to 2.1 A per USB port when certain Apple hardware such us iOS devices or the USB Superdrive are connected. The extra current is unleashed simply by connecting the device.

Use the shortest càble possible. All cables lose power over distance. A three foot cable will charge your phone quicker than a ten foot.

I imagine that the difference is incredibly small, I'd like to see some stats about the difference in charging time between a three foot cable and a ten foot

Bunk. Since at least 2011, Apple computers have been able to supply an additional 1.6 A on demand for a total of 2.1 A for charging iOS devices. Possibly earlier but I have no access to any earlier Macs than 2011.
Charging an iPhone from an Apple computer is completely feasible.
Do your research.

The wife said that the charger was broken since the charge decreased while she was using it whilst on charge. Here screen brightness was on manual and on max!

@xvlfaf whilst what you say is technically correct (cables do cause losses and the longer the cable the larger the loss) the difference would be minuscule over that distance and would be hardly noticeable.

It literally would be minuscule, the cable length isn't really a factor here

Another tale from the wife files. Her: "Why does the iPhone not charge when I plug it into the computer?" Me: "It would help if you turned the computer on."

Just get an anker powerport 2, $12, 2 USB ports and maximum charging speed.

Hey Mike and Serenity, You've got your physics a little mixed up! Voltage = Potential Energy per Electron (Joules/Coulomb, AKA Volts) Current = Electrons per second (Coulombs/Second, AKA Amperes) Power = Voltage x Current (Joules/Second, AKA Watts)
Thank you for signing up to iMore. You will receive a verification email shortly.
There was a problem. Please refresh the page and try again.