How to sell your Nintendo Switch game cards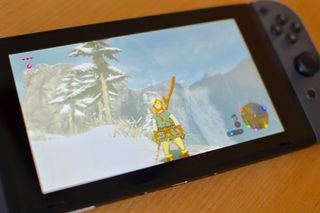 (Image credit: iMore)
Some video games can be played over and over again without causing the slightest bit of boredom. Some video games can only be played once before the secrets are spoiled. If you've started a small collection of Nintendo Switch games that you've either grown tired of or have beaten and won't likely play again, you can sell them for cash or trade them in to put toward another awesome Switch game that has yet to come out yet! Here are the best places you can take your game cartridges for top dollar and trade-in credit.
eBay
To get the most return on your used Nintendo Switch game, try eBay first. The resale market is fairly strong for Switch games. You won't get full price for your used games, but you'll get about an 80 percent return on the most popular titles, like Legend of Zelda: Breath of the Wild and Mario Kart 8 Deluxe. You have to put in the work, like packaging and shipping, but you can set the price you want to sell your items for and whether you want to include the cost of shipping in the sale. Though it's not the easiest way, it's definitely the most financially beneficial way to sell your Switch games.
Check out eBay for more information
GameStop
The easiest way to trade in your used Nintendo Switch games is by taking them into a game shop for store credit. GameStop is the most common game shop around and offers some great trade-in deals on top titles. You can earn extra trade credits for certain games, get extra savings on new games, and more. The value won't be as high as selling your game cards on eBay, but it's much easier than packaging and shipping games across the country. If you have a GameStop in your area, you should definitely check out what trade-in deals they are offering.
Check out GameStop for more information
Amazon
Amazon has this great feature that allows you to trade in electronics, DVDs, books, and video games that you've purchased from its site. All you have to do is visit your trade-in store to see what is eligible and select items you want to trade in. You can even add items you bought somewhere else. Once you've selected the items you want to trade in, you can print out shipping labels and send them to Amazon in exchange for a gift card to use to buy more stuff. Some games have a pretty low trade-in value, while others can be as high as 40 or 50 percent. If you got a 20 percent discount for preordering a game, the overall savings can add up.
Check out Amazon for more information
Glyde
Glyde is an online video game reseller. It's similar to eBay but focuses on electronics. You can search for items that are already on sale and set your sell price higher or lower, depending on how fast you want to get rid of it. Glyde supplies you with the packaging materials and a pre-paid shipping label. All you have to do is package it up and take it to the post office. Glyde determines what to sell on its site and currently there are no Switch items available for sale, but it'll be a matter of time before the company starts getting requests for games and consoles. So put this one on your future list and check back often to see if Switch items become available for sale (or purchase).
Check out Glyde for more information
Facebook
In the not too distant past, Facebook added a function which allows you to sell things on their site. It functions similarly to Craigslist does with the added bonus of being able to check out the profiles of the people that are contacting you to buy your stuff. Theoretically, that should allow you to filter out the whackos. The upside to selling on Facebook is that you wont have to ship anything if you are selling to someone locally and you can get a little more money than if you were selling to GameStop. Just remember that if you are going to meet someone to sell them something, do so in a public space and check out their profile to make sure that they aren't up to no good.
Your suggestions?
Do you have a favorite place to sell your video games, whether online or in person? Let us know in the comments so we can check them out, too.
Updated July 2018: Added more info about selling your Switch games!.
Get more iMore in your inbox!
Our news, reviews, opinions, and easy to follow guides can turn any iPhone owner into an Apple aficionado