How to shoot a killer portrait with your iPhone
Take studio-level shots with your iPhone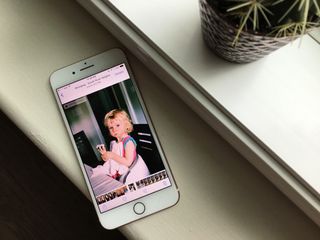 Shooting a portrait with your iPhone may seem like something that's nearly impossible, when in reality, it's actually quite a simple thing to do.
All you need are a couple of tools, a few key tips to keep in mind as you shoot, and a whole lot of experimenting, getting creative, and playing around!
Here's how to shoot some killer portraits with your iPhone — whether you have Portrait Mode or not!
Find a cool location
iPhone photography can be tricky, and shooting portraits with your iPhone can be even trickier, so having a great, interesting-to-look-at location as your backdrop can detract from small technical errors and clarify issues that an iPhone may encounter.
Whether you're shooting on the iPhone 7 Plus, the iPhone SE, or the iPhone 6, the picture quality will never quite be that of a DSLR camera. Portrait shots take a bit more precision and focus when it comes to snapping something that's truly worth showing off, so having a bright, colorful graffiti background or a beautiful, vibrant nature setting can force whoever is looking at your photo to take in more than just the subject standing in front of them.
As a bonus, shooting, exploring, and searching for interesting settings can be quite the photography adventure on its own: I often check online message forums about abandoned buildings in my city to see which ones might be interesting for shooting portraits in, or creep other people's Instagram and Flickr feeds to search for typically unseen locations to shoot at (just be careful and make sure you're not trespassing!).
Angles, angles, angles
Sometimes it can be tough to look at the world from a whole 'nother perspective, and other times it'll help you take a truly killer portrait with your iPhone.
When shooting portraits, people tend to stand directly in front of their subject and get an almost headshot-type of shot of them. While this is standard portrait photography, it can sometimes get a bit dull to shoot someone dead-on over and over again.
Switching up the angle not only allows you to see your subjects from an entirely different position, but it also lets you play with things like lighting, background, and more. Changing up your angles and shooting from higher or lower or to the side can show off your subject's features in different ways and maybe even show them a side of themselves they didn't even know about.
Portrait Mode (and lighting!) is your BFF
If you're someone who's lucky enough to have the iPhone 7 Plus, an iPhone 8 Plus, or an iPhone X, then you've probably taken the time to play around and shoot with Portrait Mode, and if you have an iPhone X, then you've probably messed around with portrait selfies and Portrait Lighting, too.
Whether you're shooting your colorful appetizers at a fancy restaurant during date night or snapping a picture of the makeup you just did for your BFF, Portrait Mode takes what would normally be a standard photo of someone and turns it into a near DSLR-quality photograph.
It's obvious to me to say, "Just shoot with portrait mode and you're golden!" but unfortunately not all iPhones are able to support this feature. Right now you can only get Portrait Mode pictures with the iPhone 7 Plus, an iPhone 8 Plus, or an iPhone X.
If you have an older version of the iPhone and want to play with Portrait Mode, don't worry — there's an app for that!
Edit + blur
It can be difficult to achieve the true look of a classic portrait with just your iPhone, especially if you're not shooting in Portrait Mode with the iPhone 7 Plus, and that's where a little bit of editing comes in!
Downloading and playing around with a couple of different editing apps that'll allow you to blur the background like a typical portrait, or smooth out sharp edges or mistakes that might detract from your subject, is a great way to truly capture and make beautiful portraiture photography.
I like to use apps like Facetune while touching up some of my mobile portrait photography, as it allows me to quickly and effortlessly blur and smudge the background like a photo from a DSLR.
With apps like Facetune, you can also manipulate and edit the background, so if you want more color, less texture, or whatever else your heart desires, you can easily make your adjustments without messing around with 600 different apps.
Tools and tricks
Sometimes, some of the easiest ways to get a great portrait shot is to have a few tools up your sleeve that can help you light your subject, steady your angle, and really capture the best photograph your iPhone can handle.
By using a tripod, you'll be able to adjust your iPhone so the angle is perfect, while simultaneously directing your subject into the most perfect position possible — you won't have to worry about losing the shot with that beautiful graffiti wall in the background as you move your subject into place and get her perfect angle on camera.
When you use external lighting (or just mess with natural lighting at different times of the day), you're able to play around with how your subject looks and which features look the most crisp on your screen. You can choose to use bigger, brighter lighting like a Lume Cube that'll really brighten your subject up, or more creative, fun lighting like copper tea lights.
Another tip for shooting portraiture: Why does it have to be a photo? Why can't it be a Boomerang? Try playing around with your subject to shoot "living" portraits with apps like Boomerang (and all the new Live Photo editing features for iOS 11) or even mobile photography devices/accessories that work with your iPhone, like the Prynt.
Change your camera app
If you've tried shooting portraits with your standard Camera app on your iPhone and just can't seem to get the shots you're looking for, and if you're not ready to drop some serious dough on a DSLR, then do yourself a favor and switch up the camera app you're using!
Halide is a recent camera app that's been making the rounds online as potentially one of the best camera apps ever developed for the iPhone:
There are plenty of other camera apps out there that will take your iPhone's camera and knock it up a couple of notches — you just need to experiment, research, and find the perfect one that's right for you.
How do you shoot your portraits?
Are there any tips and tricks that you swear by while you shoot your iPhoneography portraits, or would you rather snap your pictures with a DSLR?
Are there specific tools and gadgets that you use to get the most perfect mobile photography photo, or do you do a majority of your tweaking in a particular editing app?
Let us know how you shoot your portraits in the comments below!
More iPhone photography guides
○ Best iPhone for photographers ○ How to use Portrait Lighting ○ Best iPhone tripods ○ Tips for shooting great Stage Light Portraits ○ Night Mode tips and tricks ○ Camera app: The ultimate guide ○ Photos: The ultimate guide ○ Best digital cameras ○
Master your iPhone in minutes
iMore offers spot-on advice and guidance from our team of experts, with decades of Apple device experience to lean on. Learn more with iMore!
Cella writes for iMore on social and photography. She's a true crime enthusiast, bestselling horror author, lipstick collector, buzzkill, and Sicilian. Follow her on Twitter and Instagram: @hellorousseau