How shortcuts changed the ways I use my iPad for the better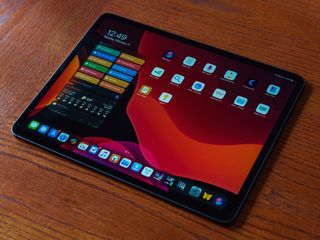 (Image credit: Joseph Keller/iMore)
Shortcuts have become an essential part of my digital life, not only for productivity but also for entertainment. At the same time, the iPad Pro has become equally vital to me, whether I'm writing an article (like this one), catching up with my favorite shows, or diving into another level of Where Cards Fall.
Because these tools are so important to me, I'm continually looking for ways to make them better or refine how I use them. Accordingly, over the past couple of months, I've changed how I organize my iPad, particularly in regards to apps and shortcuts. I've relegated apps to the dock, and shortcuts now dominate my Home screen, both on the Home screen itself and in the ever-present Today widget.
Together, the widget and my Home screen shortcuts combine to make my use of the iPad Pro more productive and more enjoyable.
The Home screen
Except for the Shortcuts app itself, as well as the occasional new app, my Home screen is now a shortcuts-only zone. The reason for this is simple: I wanted my Home screen to be centered around doing things. They could be work things. They could be entertainment things, but instead of just tapping into an app, sometimes mindlessly, the icons that now inhabit my Home screen perform a specific task. These can be as simple as opening iCloud Drive so I can find a particular file or adding a new task to Things.
Note: Many of these shortcuts require third-party apps
Each of the Home screen icons for these shortcuts comes from the beautiful MacStories Shortcut Icon collection, designed by Silvia Gatta. While you don't have to use these icons by any means, if you're a devoted Shortcuts user, you might want to give them a look.
The Widget
The items on the widget are, generally, different than those on the Home screen proper. I'm not going to go through all of them, because most of them are very specific to me and my personal needs, and likely won't do you much good on their own. Something you should know about most of these is that they are dictionary-based shortcuts, meaning when I tap the button for one in the widget, they display a list of choices to pick from without being sending me to the Shortcuts app.
Closing thoughts
I still use shortcuts with Siri, or by opening the Shortcuts app, all of the time on my iPad. But the way I have things configured now has made using my iPad Pro a lot more exciting and fun. Also, getting any social media client off of my Home screen and into a folder, where I have to go search for it deliberately, has been a lot better for both my productivity and my peace of mind.
My essential, must-have apps are still just a tap or swipe-and-tap away, sitting on the dock for when I need them. But everything else sits in my folder, getting out of the way so my Home screen can become a place for initiating action rather than encouraging consumption.
Your turn
How do you use shortcuts on your devices? Is it different on iPhone vs. iPad? Let us know in the comments.
Joseph Keller is the former Editor in Chief of iMore. An Apple user for almost 20 years, he spends his time learning the ins and outs of iOS and macOS, always finding ways of getting the most out of his iPhone, iPad, Apple Watch, and Mac.
I agree. Shortcuts has definitely changed how I work on the iPad as well. However, a few things broke for me as of iPadOS 13. In 12, I could create a PDF quickly from multiple screenshot images, save it in Dropbox, and preview. However, since 13, I haven't been able to create a PDF from more than maybe 2 or 3 images. I even rebuilt my shortcut from scratch in 13, but same result. I've had to revert to using a 3rd Party app again. Have you found issues with your previous shortcut workflows since upgrading to 13? Thanks.

Shortcuts reminds me of the old AppleScript. Very powerful, massively useful, but I just found it more trouble than it was worth. Admittedly you use a bunch of apps that I don't so those are straight out. The closest one to something I might use, and one I tried to set up, is your Send Audio Shortcut. Sometimes I want internal speakers, sometimes the external BT speaker, sometimes the BT headphones. But after a week of fiddling with it I gave up. It just refused to work. I tried several other scripts as well and found them finicky and unreliable. It was just easier to open the app and get the document I wanted, or open Bluetooth and select the speaker, it was just easier to do it manually. That's why Shortcuts remind me of AppleScript. There's all sorts of things I could do with it, but setting those things up takes too much time away from what I actually want to do on my iPad. Back in January you wrote a big article about Shortcuts and how to use them. That was the last time I tried to make them work.
Get the best of iMore in in your inbox, every day!
Thank you for signing up to iMore. You will receive a verification email shortly.
There was a problem. Please refresh the page and try again.