How to cancel your Apple Music subscription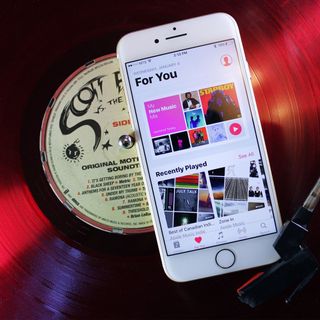 Apple Music is one of several different streaming music subscriptions, along the likes of Spotify and Tidal. However, Apple Music is integrated directly into the iOS and Mac ecosystem, with things like Siri. However, it's not for everyone, and it is missing some features that you can find in other services (like a dark mode on iOS). While Apple does offer a 3-month trial for Apple Music, if you decide it's not for you, then cancelling is an option. Here's how to do it.
How to cancel your Apple Music subscription on iPhone or iPad
Launch the App Store on your iPhone or iPad.
Tap on your Apple ID Avatar in the top right corner.
Select Manage Subscriptions.
Locate Apple Music Membership under Active Subscriptions and then tap on it.
Select Cancel Subscription.
Confirm your cancellation by tapping the Confirm button.
You can also use this screen to change your subscription plan. For example, if you are on an individual membership, you can change to a family membership by tapping on the option.
If you do cancel, you're still able to use Apple Music until the end of the free trial or billing cycle.
How to cancel your Apple Music subscription on Mac
Launch iTunes on your Mac.
Click on Account in the menu bar.
Click on View My Account in the menu.
Log in with your Apple ID and password.
Scroll down until you see Subscriptions.
Click on Manage.
Find your Apple Music subscription and then click Edit.
Click Cancel Subscription.
Confirm the cancellation.
Questions?
It's an easy and straightforward process to get rid of Apple Music if you're not satisfied with it as a whole. What music subscription service do you prefer? Have any more questions about cancelling Apple Music? Let us know in the comments!
May 2019: Updated for iOS 12 and macOS Mojave.
Sweet Music
(opens in new tab)
Millions of songs in your pocket.

Apple's music streaming service boasts over 70 million songs, live radio stations anchored by renowned personalities, and thousands of curated playlists spanning every genre you can imagine.
Get the best of iMore in in your inbox, every day!
Christine Romero-Chan was formerly a Senior Editor for iMore. She has been writing about technology, specifically Apple, for over a decade at a variety of websites. She is currently part of the Digital Trends team, and has been using Apple's smartphone since the original iPhone back in 2007. While her main speciality is the iPhone, she also covers Apple Watch, iPad, and Mac when needed.

When she isn't writing about Apple, Christine can often be found at Disneyland in Anaheim, California, as she is a passholder and obsessed with all things Disney, especially Star Wars. Christine also enjoys coffee, food, photography, mechanical keyboards, and spending as much time with her new daughter as possible.

I haven't signed up yet and so I still have my free 3 months. I don't tune into music as much these days. I tune into more audio blogs these days which are free. I think what really turned me off was when I was subscribed to SiriusXM Music which was $15 a month. The App at the time really SUCKED. At first I just thought it as my old slow iPhone 4 and I put up with it. But then I upgraded to the iPhone 6 and it was just as bad. The other thing, Unlike if you have a Satellite receiver where you can just get Music or just get talk channels or both, with streaming, you had to get everything and so it was $15 a month and Like I said the App sucked!!!! I had enough of it and so I canceled and haven't gone back. I was paying Pandora for a few years for the premium service which was like $25 a year to have a few more skips and no commercials. Which I was OK with. I finally just moved to Amazon Prime Music. I've had that service for a number of years for the free 2nd day shipping. I still don't watch much of their video content as I'm on Netflix, but Streaming their Music is FREE. if I'm I'm already paying Amazn, why not take advantage of the free music also? The great thing about it, is they have their Music Channels like Pandora, and you can thump up and down like Pandora, but unlike Pandora I can skip forward as much as I want. Not only that, I can skip backwards a number of songs also. That's much nicer. Plus it has features like Spotify, so I can search for Music and put it in my playlists. The only negative I guess is the music library isn't as large unless you pay for their Premium Music service of $9.99 a month I guess which puts them up there with Apple Music and Spotify. I could care less, I have enough music to tune into. They did update the app for their Premium service and so I'm not a fan of the app as much as before, but I still use it. PLus since I have T-Mobile service, they have free Music streaming. This is their current list. 8tracks, AccuRadio, Amazon Music, Apple Music, Aud.io, Bandcamp, Beatport, Black Planet, Chilltrax, Dash Radio, DatPiff, Digitally Imported, ESPN Radio, Fit Radio, Google Music, Groove Music, iHeartRadio, Jango, JAZZRADIO.com, KCRW, Napster, Nextradio, Noon Pacific, OHIO.FM, Pandora, PreDanz, Radio Danz, Radio Disney, Radio Paradise, radio.com, radioPup, RadioTunes, ROCKRADIO.com, Saavn, Samsung Milk Music, SiriusXM, Slacker, SomaFM, SoundCloud, Spinrilla, Spotify, StreamOn, Tidal Music, TuneIn Premium, Uforia So as you can see, some of the well known Music Streaming services are supported including Amazin Music, Apple Music, SiriusXM, Spotify, Tidal, Google Music and even Microsoft's Groove Music. So I turn to streaming up to the highest setting for my app's. I'm always streaming and none of it counts against my Data use. For Video, T-Mobile's list of free Streaming is much longer. What I'm normally streaming away from home is youtube, which is free. So I have like 12 Gig's of Data or more at this point on my account I can use. Wait I just looked, it's now at 20 Gig's in my Data stash. Unlike other company's that throw away any unused data every month, You don't lose it on t-mobile. It also shows I've used 1.54 gig's of my monthly 3 Gig's, yet shows 6.01GB of Total on network data. So it's the 19th of the month. I've used just over 6 gig's of Data in streaming music and video, and yet only wasted 1.54 gig of my 3 gig's. Nice!!! That's one of the reasons why I like T-Mobile. I'm not paying a huge high price for Unlimited Data fro someone. Out of the U.S. things are cheaper, but here in the U.S., It's a pretty good deal. This allows me to stream all the music and video's I want. Plus the unlimited calls and texts. I'm a huge fan of Wifi Calling. Where I live and my brother live are dead zones from all the services, my by brother more so and same at work, it's weak, but going into the production rooms which are like a Faraday Cage, It kills everything. Cell, Wifi, etc. Not long ago I wired up a router and dropped one of the Antenna's into one of the connected rooms. Now I can get on the Internet and make phone calls and it works better then I throught it would with just that 1 antenna as the signal bounces around all the metal walls and ceilings. These are insulated walls because the rooms can be refrigerated. Now when I need to call tech support for something as it does happen once in a while, instead of running back and forth from my office in the middle of the factory, I can talk on my phone right there at once of the machines. So Ya for Wifi calling. No one else has that Wifi password other then the plant manager.

Not sure why someone would cancel. ;-) It love having it for the family. Makes it super easy for us to play any song we want when we want. Also in the Apple use world the best option.

I love it, too! But you never know. :)

If you cancel and then want to return to Apple Music, is your collection remembered or do you start from zero?

Good question, I just don't know. BUT if I was Apple, I'd forget it all. Keeps you motivated to keep paying every month. Not cancel for a month here and there when you know you won't need it to much or at all. It would be a way to keep you locked in. I have no Idea if Spotify and the others would do the same or not either. It's all just a guess. You can try it and see what happens and let others know.

I returned to Spotify and my collection was still intact. Not 100% committed yet to cutting the AM cord and wanted to know before I do.
Thank you for signing up to iMore. You will receive a verification email shortly.
There was a problem. Please refresh the page and try again.