How to switch from Microsoft Surface or other Windows 10 tablets to the iPad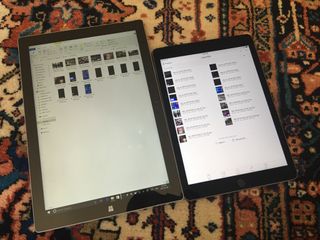 Once upon a time, people thought you had to use Windows to be productive. But Apple has put a lot of effort in to ensure that the iPad, along with iOS and the developer ecosystem on which it relies, is robust enough for even the most epic bouts of productivity — and focused enough to avoid distraction. Even Microsoft has gotten in on the act, making tablet-optimized versions of Word, Excel, PowerPoint and more, all for iOS and the iPad.
Why switch from Windows 10 to iPad?
If you're considering a switch to the iPad, chances are you already own an iPhone, but for whatever reason — work, personal, or just plain enjoyment — you still use a Windows laptop. But as capable as Windows 10 is, it lacks the hooks into Apple's ecosystem that work so well with the iPhone, Apple Watch, and the company's other devices.
Moreover, despite improvements in the hybrid laptop space, Windows 10 still works best with a mouse and keyboard. That's not to say there aren't apps that have been optimized for touch, with many more being updated all the time, but iPad developers have had six years to create hundreds of thousands of apps specifically designed for touch.
That means iPad isn't a PC trying to be a tablet; it's a tablet through and through.
What you can bring from Windows 10 to the iPad
When moving between devices, you're likely going to want to bring over your important files, photos, audio, and information.
Luckily, owning a computer these days isn't just a siloed affair: most PC owners connect to the cloud in some way, using services like Dropbox or, at Microsoft's increasingly forceful behest, OneDrive. This allows local folders and the files within them to be mirrored in the cloud, and easily accessed within the iPad ecosystem. You'll also be able to transfer your contacts and email using cloud services.
What you can't bring with you from Windows are your apps themselves. Although many companies, such as Adobe, Microsoft and others, have versions of their apps for both platforms, the app bundles can't run on both platforms — you'll need to download new versions of the programs on iOS to use them.
How to move files, photos and other data from Windows 10 to iOS
Unlike switching from one PC to another, transfering files is a bit more complicated than connecting an Ethernet cable between your devices: While the iPad can connect to USB thumb drives via the Lightning to USB 3 Adapter or connect directly with Lightning-compatible drives, you often need special apps to properly access your files. There are, however, a number of ways to directly bring certain types of content to your iPad.
Lots of Windows users have either Dropbox or OneDrive installed, allowing you to keep local files synchronized with multiple devices. For photos and files, having either of these programs installed on both a Windows PC and an iPad allows easy transfers of your most important documents.
And thanks to the iOS Extensions framework, files stored in either Dropbox or OneDrive can be opened in other iPad apps — a PDF stored in OneDrive, for example, can be annotated in Readdle's excellent PDF Expert 5.
Emails, contacts and calendars
It's similarly easy to transfer your email, contacts and calendar appointments to the iPad. By default, you can use iOS's native Mail, Contacts, and Calendars sync to access your email; this will copy over your Outlook accounts as well as any other programs, including Google.
Note: If you use two-factor authentication with your Outlook account, you may need to create a one-time password when logging in directly on the iPad.
You also have the option of using the Microsoft Outlook app on your iPad to manage your Outlook email and calendars. To do so, all you need to do is grab the Outlook for iOS app, log in, and away you go!
The old-fashioned way: iTunes
If cloud-syncing hurts your head, you can always get information to your iPad the old fashioned way: through iTunes. While iTunes for Windows isn't a particularly good piece of software, it does the job where it counts — synchronizing photos, contacts, and calendar entries stored on your PC. Be aware, however, that if you're using iCloud Photo Library, local photo sync is not possible.
Once you're finished moving all your information over from Windows, you can further customize your iPad to your liking. Check out our getting started guide for more information about setting up your new iPad, and feel free to pop in any questions you're having below or on the forum!
Updated October 2017: Updated to reflect changes in iOS 11.
Master your iPhone in minutes
iMore offers spot-on advice and guidance from our team of experts, with decades of Apple device experience to lean on. Learn more with iMore!
Daniel Bader is a Senior Editor at iMore, offering his Canadian analysis on Apple and its awesome products. In addition to writing and producing, Daniel regularly appears on Canadian networks CBC and CTV as a technology analyst.