How to transfer your iPad cellular data plan to your new iPad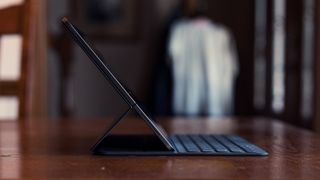 (Image credit: iMore)
If you're picking up a new cellular iPad, it won't be the best iPad if you can't transfer your current plan. The good news is you have some options for how to an iPad cellular data plan to a new iPad, depending on what kind of SIM card your iPad uses. Whether it's an embedded SIM or nano-SIM, Apple tries to make the process as painless as possible.
Our glowing iPad Pro (2021) review talks about just how amazing Apple's latest iPad can be, so don't let the fear of not being able to transfer your iPad cellular data plan stop you from getting one. Here's how you can transfer your iPad cellular data plan to your new best iPad.
How to transfer iPad cellular data plan with eSIMs or Apple SIMs
These instructions apply to the 9.7-inch, 10.2-inch, 10.5-inch, and second-generation 12.9-inch iPad Pro, as well as the first- and second-generation 11-inch and third- and fourth-generation 12.9-inch iPad Pro with eSIM. The iPad Air 5 also supports eSIM.
Open Settings on your new cellular iPad.
Tap Cellular Data.
Tap on the carrier you used with your old iPad.
Tap Transfer Service in the window that pops up.
Follow your carrier's directions to finalize the transfer of the data plan. The exact process will depend on the carrier.
It may take a little time for your iPad's cellular data plan to transfer, but when it does, you'll be ready to go to use cellular data on your iPad.
How to transfer a data plan from one iPad with a SIM card to another
If you're transferring a physical SIM or nano-SIM card from your old iPad to another, here's how.
Turn off both your old iPad and your new iPad.
Open the SIM tray on your old iPad by using the SIM removal tool that came with your iPad.
Remove the SIM tray from your iPad.
Remove the SIM card from the SIM tray.
Repeat steps 2-4 for your new iPad, though, depending on the model, it might not come with a new SIM card of its own.
Discard the SIM card that may have come with your new iPad.
Place the SIM card from your previous iPad into the SIM tray of your new iPad.
Insert the SIM tray back into your new iPad, taking care to completely close the tray.
Turn on both iPads. Activation may take a few minutes.
If the SIM cards of the two iPads are of different sizes, you'll need to contact your carrier to get a new nano-SIM to put into your new iPad. Once you get it, you'll follow the steps above, including removing the SIM from your old iPad. You just won't be moving that old SIM into your new iPad.
That's how you transfer your cell data
Transferring our cellular data to a new iPad will come in handy anytime you upgrade your iPad. Especially, if you are hoping to upgrade soon to an M1 iPad that can support cool new features like Stage Manager coming in iPadOS 16.
Updated June 2022: Updated for the latest version of iPadOS 15.
Get the best of iMore in in your inbox, every day!
Joseph Keller is the former Editor in Chief of iMore. An Apple user for almost 20 years, he spends his time learning the ins and outs of iOS and macOS, always finding ways of getting the most out of his iPhone, iPad, Apple Watch, and Mac.
Just for comparison: I've been told that it's even illegal to sell locked SIM cards in the EU, and I live in the Netherlands.
So I could just move the card from one device to another. I happen to be fond of the dual SIM-cards ("identical twins") that T-Mobile (NL) offers as an option. I have four pairs of them. I can toggle one device to Airplane mode, toggle the one with the matching card off Airplane mode, and I'm ready to use the other one on mobile networks. For the curious: One pair of twins serves a larger and a smaller iPhone, another pair two Android smartphones, a third serves either an iPad or a "matching" Android tablet, and the fourth serves a large iPad, but defaults to my home mifi. (I'm a real cord-cutter: no wired Internet, no "traditional" television.)

Yeah, "locked" sims are mostly only a thing in the USA. This article suffers from the fact that it's subject matter (and therefore the claims made) is far too broad and very specific to the USA only. I mean, no matter what, the process would be different for different companies as well as different countries, provinces, etc. The whole idea of making an article that says "this is how you do X," when "X" might be entirely different depending on where you are or what company you've contracted with, is a bit dumb for sure. These boilerplate 'cut and paste' articles don't work for everything. Lazy writing.

I'm wishing to transfer the esim plan from my old iPad to my new one, but frustratingly there's no "transfer" option. Maybe it's different here in Australia.
Thank you for signing up to iMore. You will receive a verification email shortly.
There was a problem. Please refresh the page and try again.