How to transfer your iPhone and iPad photos to Windows 10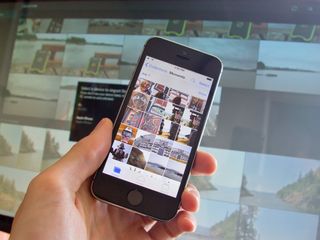 You've been taking some beautiful pictures with your iPhone or iPad, and you want to be able to see them on your Windows 10 computer. Maybe there's some tweaking you want to make before sharing them, or you want to have a long-term archive for your shots. Whatever your reason, we'll help you move those photos painlessly.
The easiest way to go about this process is to set up an automatic sync between your iPhone or iPad and your Windows computer. This will make sure your photos transfer to your computer without you having to do anything other than open the folder they're supposed to go into. This can also make sure your Windows pictures show up on your iPhone or iPad. Take a look at our guide on setting up an iTunes sync for Windows to see how this works. If you would rather have manual control over how photos move from your iOS device to your computer, we'll show you how here.
How to transfer iPhone or iPad pictures to a Windows 10 computer using File Explorer
Install iTunes — this ensures your computer can communicate with your iPhone or iPad even if you don't specifically use iTunes to transfer files.
Plug in your iPhone or iPad with your Lightning to USB or 30-pin Dock to USB cable.
Launch Windows Explorer from the Start menu, desktop, or taskbar. The button looks like a yellow folder with a blue stand. You can also use the Windows key + E shortcut on your keyboard.
Click the arrow next to This PC. It's located in the menu to the left of the window and looks like >.
Click NAME's iPhone or NAME's iPad in the This PC sub-menu.
Double-click Internal Storage.
Double-click DCIM.
Double-click a folder — these all contain images.
Click an image. You can hold Ctrl on your keyboard and select multiple images. You can also hit the Ctrl + A shortcut on your keyboard to select all photos.
Click Copy to. It is located near the top of the window.
Click Choose location... to select a location. You can also click one of the options already listed on the dropdown menu.
Click a folder where you'd like to move the photos.
Click Copy.
How to transfer photos from your iPhone or iPad using the Windows 10 Photos app
If you're feeling adventurous, you can also use the Windows Photos app to import your photos. It can easily transfer your photos in bulk, and the app is very nice for looking at your pictures.
Install iTunes — this ensures your computer can communicate with your iPhone or iPad even if you don't specifically use iTunes to transfer files.
Plug in your iPhone or iPad with your Lightning to USB or 30-pin Dock to USB cable.
Launch the Photos app from your desktop, Start menu, or taskbar.
Click Import — it is located at the top right of the window.
Click any photos you'd like to not import. They will all be imported by default.
Click Continue. Your photos will now be imported into the Photos app.
How to transfer photos from iPhone or iPad to Windows 10 using iCloud
Windows 10 has the ability to use iCloud to wirelessly sync your photos as long as you've backed up the photos on your iPhone or iPad to iCloud. Here's how to do it.
Launch your favorite web browser from the Start menu, taskbar, or desktop.
Navigate to the iCloud for Windows download site

(opens in new tab)

.
Click Download. You might have to scroll down a bit to find it.
Click Save.
Click Run when the download his finished.
Click I accept the terms….
Click Install.
Click Finish. Your computer will restart and, upon restart, the iCloud window will automatically appear.
Type your Apple ID.
Type your password.
Click Sign In.
Click the Options button next to Photos.
Click the box next to My Photo Stream so that a checkmark appears.
Click the box next to Upload new photos from my PC so that the checkmark disappears. You can set these options how you'd like, but this ensures you're just getting the photos off your iPhone or iPad onto your PC.
Click Done.
Click Apply. Any photos in your iCloud will now download to your PC.
Questions?
Let us know in the comments below!
Cale Hunt is a staff writer at Mobile Nations. He focuses mainly on PC, laptop, and accessory coverage, as well as the emerging world of VR. He is an avid PC gamer and multi-platform user, and spends most of his time either tinkering with or writing about tech.
Very clear steps and advice. Thanks. Just one problem for me--my iPhone does not appear as an external drive under This PC since I upgraded to Windows 10. I really want to make sure I have all my pictures, and I need to delete them off the phone to save space. I'm afraid iTunes and iCloud will delete them once I delete them from my phone. And I don't use Windows Photos.

You should install drive for your iPhone, and in this article, it said that you'd better install iTunes, which is a good way to install drive for your iOS device, and make your windows 10 show your iPhone as external drive. In my opinion, not better than using some third part software, such as copytrans or anytrans, also helpful for transferring some other types of files on your iPhone.

I don't have Windows 10, I'm still on 8. I want to copy the photos from my photo stream onto my PC harddrive and save some onto memory sticks for digital frames the family have, as well as onto external harddrive (I want multiple back ups). However, I cannot seem to do this. I've installed iCloud on my laptop, set it up as per the instructions on apple site and nothing. Getting really frustrated as also have 11 days left to build a calendar that is being printed as Xmas presents but can't get to my photos unless I email them - rather lengthy as some months have 3-5 pics..... HELP - Please

Yesterday I followed your instructions for loading my photos from my iphone6 to my windows 10 photos app. All went well, I was able to remove photos not wanted to import and ended up with what I wanted have in the windows photo program. Today I opened photos and saw them briefly then they were gone. I connected my iphone again and tried to download as done previously but the program would not recognize my phone. My phone is recognized by itunes so I know it is connected. Don't know where to go from here.

mikeislost : did you get a reply from anyone?

I have the same darn problem with Windows 10 Photo App on as mikeislost!!! Had to replace my iphone 6 with a duplicate, so first tethered up to Photos, and transferred 3,963 photos. I actually SAW all 3,963 photos IN THE PHOTOS APP, closed it, and the erased the old phone to send it back. Activated the new phone, and there are only about 1,100 pics in the Photos app!!! Says I have like 13 for November 2015, yet I know I took 200 at our Thanksgiving Dinner 2 weeks ago! What the heck is going on here! Had a LOT more pictures that were important to me. This is unacceptable. What did either I or the app do wrong??? Thanks for anyone's response. Appreciated.

I have tried the Windows Photo app to transfer from my iPhone, however it only shows 341 photos. I want to transfer 1000+ Are they in the cloud and if so how do I expose them to the Windows Photo app for transfer ?
Thanks

Having the same problem not all my photos and videos are showing up on my windows 10 PC.

Any help is appreciated. Thanks!

I have over 1,400 photos and some videos. The storage on my iphone 6 is almost full. I have tried everything that I can think of to download this stuff to my dell windows 10 desktop so that I can delete this off of my phone to free up storage space but when I do import it only selects a random few things and not all of the things to download and then there is not an option of way of getting the things not selected to be able to download. PLEASE someone HELP!!!!!!!

Hey I'm in almost the same boat. I'm basically doing everything recommended on this site with Windows explorer and iTunes but of over 2000 pics on my iPad only 80 come across and most of those are quite recent pics.#*!
Help

I can't transfer My Photo Stream pictures from my iPad to my PC (Windows 10). I see them in the iPad, but when I plug it into the PC it's like the pix don't exist. This is the case whether I use the desktop files or the Windows 10 Photos App ("there is nothing to download"). Help!
P.S.-Is anyone monitor this thread, or it is just an open forum?

Very nice presentation of instructions--thanks! It all worked well for me when I transferred a single image from my phone to computer (Windows 10). But, when I tried to attach it to an email, there was a message that indicated a problem, and that it failed. I tried both inline and as attachment, but it still failed. Yet, as I attempted again just now as I was writing this, it was successful! So, all's well that ends well, and I thank you for guiding me through this otherwise impossible task for tech-challenged me : )

Very nice, but I couldn't find a way to erase from iphone the imported photos.

Every time I try to import photos its says there's a problem and then it just stops importing....

I have been having the same issue and cannot resolve. c2000 photos and videos on iPhone 6 Plus, trying to save them to my Windows 10 PC, the windows photo app constantly fails. I click import, it finds all the files and then says it wont work, try again..and again...and again I have also tried manually accessing the files when linked via lightning cable and copying and pasting to my pictures folder, says access denied!! What can I do to move my pictures before i lose them?

Hi, when i'm transferring pictures from my iphone 5 to my Windows 10 laptop, some of the videos (but not all) are showing up as PDF documents! Even when i copy them to my computer, they still do. They appear exactly the same on my phone. Anyone have any idea why this could be? I'm thinking it must be some setting on my computer but no idea what it could be!

Are they really PDF documents or do you have Acrobat set as the default video player? Right click one of these videos and click open with and choose a video player or itunes and see if they play.

When I try to import photos photos through the windows file explorer it says 'wrong parameter' and when try it using windows photos it states 'something went wrong'. I have been facing this issue since last month, please help.

Install OneDrive on your phone, enable photo upload, wait for upload, profit.

With Apple products, when you want to switch, you will have h*ll to pay (seriously iMore????) when trying to take your files with you that may have been created when using Apple's devices. No one should have to compromise their choice in devices for this reason. Apple itself is now a compromise.

I don't even understand what you're talking about. Would you care to elaborate? Or are you just here to throw around rhetoric?

Very informative article with clear steps. Thank you.

Or you could just install the OneDrive app and enable photo upload.

Exactly what I wanted to post. OneDrive app on the iPhone - enable photo upload. Then, easiest is to make sure that you sync OneDrive's Camera Roll folder with your PC, and it all happens without any action from your side . Or, if you don't want every single photo, don't sync the folder, just download the ones you want from onedrive.com as and when you want to.

I need some clarification please: isn't using OneDrive going to take up space on the OneDrive servers? Or are you talking about using OneDrive in both places to only act as a conduit to get photos from phone to PC?

Yes using One Drive will use space on the One Drive servers. Once you have uploaded to photos to One Drive and they download to your computer you can move those pictures out of the One Drive folder to get that space back. You can do the same thing with Dropbox if you prefer that to One Drive.

Yeah, it's insane to think the easiest ways to get photos from your phone to your PC, both of which are in the same room and connected via USB, is to go through the cloud. That's not cool.

can you describe how to sync one drive's camera roll with your pc? i am using one drive and everything is appearing in the windows 10 photo app beautifully, but the photos coming from my phone don't appear to be saving on my hard drive anywhere for future external hard drive backups, etc. thanks!!

The easiest way to do it is connect the phone, let itunes sync, then right click on the phone in Explorer and choose "Import Pictures and Videos". It walks you through it from there, even asking if you want the pictures removed from the phone or how you want them labeled.

That'd be great -- if the iPhone showed up in Explorer after it was done syncing. Which it doesn't for me in Win10 Anniversary. EDIT: Looks like you have to hit Windows, type Autoplay, change Apple iPhone from [whatever] to "Open device to view files" under "Choose AutoPlay defaults". Why iTunes can't add an image import feature, I have no idea. It's already a giant bundle of everything plus the kitchen sink, and this extra would actually be helpful. 🙄

So, I've been struggling with importing photos from my phone for the longest time. Once upon a time, almost all photo import solutions would allow you to create a separate folder in your destination for each day that photos were taken. For example, in the \My Photos\ folder, there would be \2016-11-16\ folder and a \2016-11-17\ folder if you took photos on both of those days. Now, I'm not seeing that there is any clear option to do that. The built-in Windows functionality doesn't do it properly anymore, iTunes sure as crap doesn't do it, Windows Live Essentials has been replaced by the horribly junky Win10 Photos thing that you talk about above, and even Google Picasa is dead. I've been using some free software called Zoner Photo Studio, which does the job I guess, but I'd sure love something more elegant... Any ideas?

Adobe Lightroom?? But seriously I'm not spending $100 to transfer photos.

iCloud is a good method. However, compares with some 3rd party software, iCloud cannot be as convenient as them I think. Last month, I use a 3rd party software in my friend's computer who is work in a software company. The software are just like a iPhone management tool. You can view the files there and transfer them between iPhone and computer, even iPhone and iPad. A different experience from iCloud or iTunes.

Which data transfer software did you use, bro? I've been used the FonePaw iOS Transfer, it's useful and convenient for me. It can transfer photos, contacts, songs, videos etc between iPhone/iPad and computer. However, I want to see if other software are better or can support more types of files.

"Windows computers sometimes interact oddly with Apple products". not sometimes but always. i don't know iPod or iPad, but windows explorer didn't help to backup my iPhone photos to pc. As for transferring assistance, i really think WinX MediaTrans matches up to Anytrans. Not found it on the list, any one use WinX MediaTrans to transfer movies, videos and photos between IOS devices and PC too ?
http://www.macvideoeditor.com/touchcopy/
Get the best of iMore in in your inbox, every day!
Thank you for signing up to iMore. You will receive a verification email shortly.
There was a problem. Please refresh the page and try again.