Apple's TV app has changed how I watch television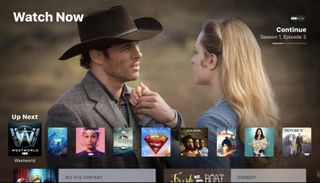 When Apple first announce the TV app for tvOS and iOS, my first thought was, "meh." Especially after learning that it isn't even compatible with Netflix, which is one of the few streaming entertainment services I subscribe to. Considering I don't subscribe to any cable services, it didn't seem like it would benefit someone like me, a "cord-cutter."
Then it launched. I had to check it out — it's my job — and I was surprised at how much it opened my options. TV.app recommends shows based on my previous TV and movie watching activities, and suggests new stuff to watch, even from channels I didn't know I could access. I now have a lot more to look forward to than rewatching Always Sunny in Philadelphia again (which I could do forever).
More channels to watch, more shows to discover
If you visit the Store tab of the TV app, you'll see a section called "Start Watching Now." This lists a number of the most popular services that offer content without a cable subscription, either paid or free. Some have their own bite-sized monthly costs, like HBO Now, Showtime, and Starz, but others provide free content that can be watched without any kind of subscription whatsoever, like ABC News and PBS.
When you find a channel that looks interesting, download its app onto your Apple TV, iPhone, or iPad. Once it's installed, open it and confirm permission for Apple TV to access your activities on it. Then, the TV app will start recommending shows to you from that app.
When I first started, I was only offered content from Hulu. But, after downloading and installing a few channel apps on my Apple TV, I was recommended shows and movies from Fox and NBC, both of which offer limited free content that I can watch without a cable subscription.
Get right to it!
The Up Next feature in the TV app is like my dream come true. Sometimes, I'm watching something on Hulu, sometimes, I'm watching something on the CW. It used to be that, I'd sit down to watch some TV and I'd think, "What was I watching yesterday?" Or even worse, "Which app had that show?" I'd jump into the Hulu app, search around my recently watched list, not see it, jump into the CW app, search around for it, maybe find it. Then, I'd finally start watching TV.
With Up Next, I just open the TV app and browse my recently watched content across all of the apps I watch stuff in (except Netflix). Sometimes, I'll have forgotten that I was watching a show and can pick it up without missing a beat thanks to Up Next.
It's so much less frustrating and time consuming than having to search around a variety of apps looking for something to watch. I used to spend 15 minutes (or more) looking for something to watch. With Up Next, I spend less time looking for something and more time just watching.
Get more with more money
Because the TV app gave me a taste for more content than just what Netflix and Hulu have to offer, I actually decided to subscribe to a couple of services. I wanted to see what it would be like to have even more to watch. I now subscribe to Starz because it features a lot of those broad, blockbuster type movies that you can just numb out to. I love a good Soviet montage film from the 1920s (who doesn't!), but sometimes, I just want to veg out with something that will make me laugh, and Starz is full of the easily-digestible movies that make for a fun popcorn night at home.
I also started a subscription to Shudder, because horror. Unfortunately, Shudder isn't supported in the TV app, which is a bit of an irritation. Ideally, all of the services I subscribe to would be supported in the TV app, so I never have to leave Apple's user-friendly interface when I'm looking for something to watch, but that's an editorial for another time.
I regret nothing!
Even though I'm spending more money now on TV and movies than I used to, I still feel like I'm more in charge of what I watch than I would be if I just watched cable TV outright. I don't regret adding new subscriptions to my entertainment set up because now I have even more options available to me.
Though, I could go back to just Netflix and Hulu and be happy. Especially since there are so many channels that provide, at least limited free content in their apps, which I can find easily through the TV app.
It's not perfect, but it's a good start
The TV app, and Apple TV itself, are not perfect. There are still a lot of limitations and we are definitely at least a decade away (if ever) from any sort of real à la carte cable watching experience that we have always dreamed of. But, the TV app on Apple TV is about as close as it can get with the restrictions cable providers place on how we watch TV. I'm on board.
○ Apple TV 4K Review
○ Apple TV buyers guide
○ Apple TV users guide
○ Apple TV news
○ Apple TV discussion
○ Buy at Apple (opens in new tab)
○ Buy at Amazon (opens in new tab)

Get the best of iMore in your inbox, every day!
Lory is a renaissance woman, writing news, reviews, and how-to guides for iMore. She also fancies herself a bit of a rock star in her town and spends too much time reading comic books. If she's not typing away at her keyboard, you can probably find her at Disneyland or watching Star Wars (or both).
This article hit is right on the nail (for me at least) although I came about my discovery in a slightly different manner. I too gave the TV app flak when it was first introduced as a gloried TV guide without giving it a chance. I cut the chord over 6 years now and have never looked back and recently I jumped on the DirectvNow deal (for the free apple TV) and began watching tv similar to those who had cable and then I discovered something while flipping through the DirectvNow channels (the setup is pretty nice) I discovered that I liked looking through the somewhat tv guide setup. Thats when I realized that thats exactly what the TV app does (to an extent but better) it pretty much throws out a list of shows that you may be interested in based off of what you already watched or are currently watching. This is a great app (cough Netflix algorithm ) as it can also be used as a watchlist to setup your watch preferences for the week or month. Apple has a funny history of coming out with apps/gadgets that get laughed at and lauded at first and then get praised for the same thing.

it might change how i watch it if my provider would get on board but i doubt comcast will be doing this any time soon.

Comcast doesn't support single sign-on (yet). That doesn't have any negative effects on the TV app. You're probably already signed in to the individual apps anyway. What I found is I would first have to visit a supported app, start a program, and then it would appear in TV. It automatically pulled in recent iTunes purchases and unwatched rentals.

You may be referring to Single Sign-On (which is annoying that Comcast does not yet support). I'm referring to the TV app, which is more like an aggregate for content you already watch through your various channel apps on Apple TV, iPhone and iPad.

Until VUDU returns, the Xbox One is the winner!

I don't know why more people haven't reacted to the TV app like this. It's really great. I don't use my cable tuner much anymore. I prefer to stay in Apple TV since no one seems to have trouble using it, vs. my FiOS box which is a UI nightmare. On the go, I watch on the iPad. Everyone other solution is a hassle to deal with when you have family members that are really young or not tech savvy.

It's all the rage to jump to conclusions these days and not bother to actually get experience with the things we say we hate because we might actually find out they're good, and we'd be wrong.