How to unlock your iPhone with Face ID while wearing a mask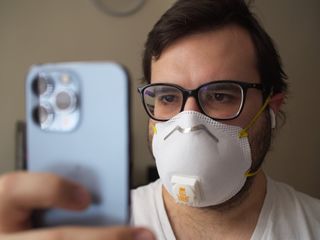 (Image credit: Luke Filipowicz / iMore)
A facial recognition security system and face masks were never going to be well-suited, but Apple has made some updates to iOS that make it easier to unlock your iPhone while wearing a mask. Include allowing your phone to recognize you by just the areas around your eyes when you're wearing a mask or allowing you to skip straight to the passcode entry screen when your phone detects a face mask.
There are also other options for the best iPhone unlocking experience possible while wearing a mask, like setting an easier-to-enter passcode or allowing your Apple Watch to unlock your phone for you. Here's what you need to know.
How to quickly unlock your iPhone while wearing a mask
In iOS 13.5 and later, Apple has tweaked Face ID to better recognize when an object like a mask obstructs your face. With these tweaks, your iPhone will now jump immediately to the passcode screen when you swipe up instead of waiting several seconds for Face ID to try and work again.
When you're wearing a mask, swipe up from the bottom of your iPhone while holding it as you would to unlock it with Face ID. Your iPhone should jump immediately to the passcode screen.
Enter your passcode.
How to set up Face ID With a Mask in iOS 15.4
What's better than getting to your passcode screen more quickly when wearing a mask? That's right, not having to enter your passcode at all!
With the release of iOS 15.4, Apple is offering users exactly that with the ability to use Face ID as normal on compatible iPhone models even when wearing a face mask. This means no more passcodes — just like the days before wearing masks.
To get started:
Install iOS 15.4 or later.
Tap Get Started on the Face ID setup page that should be activated once the update gets installed.
Choose Use Face ID with a Mask
Tap Get Started and perform the required scans of your face.Note: You don't need to wear a mask while setting up the feature.
Redo Face ID setup for a second time.
If you want to use Face ID With a Mask while wearing glasses, you will have to perform an additional scan without your glasses on.
If you pressed Set Up Later on the initial prompt to set up Face ID with a Mask, you can activate the setting later. Here's how:
Open Settings.
Tap on Face ID & Passcode.
Toggle Use Face ID With a Mask to on.
Follow the steps above to scan your face.
That's it! You can now use Face ID even when you have a mask on.
How to use your passcode instead of Face ID to unlock your iPhone
If you want to unlock your Face ID-enabled phone when it's not directly pointed at your face, you've probably encountered that moment where your iPhone tries to find you before defaulting to the passcode screen.
You can make that process quicker by following the below steps. This is great for when your phone is sat on the table or out of Face ID range on a desktop stand or car mount.
Swipe up from the bottom of your iPhone's screen while you're not looking at it (otherwise, it'll jump right to the passcode screen).
Tap Face ID in the middle of the screen.
Enter your passcode.
How to set a four-character passcode on your iOS device
If you generally run with an alphanumeric passcode on your iPhone but are looking for something shorter and easier to enter for when you're out and about while wearing a mask, you can do that if you so choose.
While I would choose the six-digit option instead, you can create a four-digit passcode if you want. It's inherently less secure, but it's going to be faster to open than an alphanumeric phrase.
Open Settings on your iPhone.
Tap Face ID & Passcode.
Enter your passcode.
Tap Change Passcode.
Enter your old passcode.
Tap Passcode Options.
Tap 4-Digit Numeric Code to create a four-digit code or Custom Numeric Code for a six-digit code.
Enter your new passcode.
Enter your new passcode again to verify it.
How to unlock your iPhone with your Apple Watch
In iOS 14.5 and watchOS 7.4, Apple added the ability for Apple Watch wearers to automatically unlock their iPhone with their Apple Watch when attempting to use Face ID while wearing a face mask. The Apple Watch must be worn, unlocked, and be in close proximity to the iPhone.
Be sure to check out our guide on how to unlock your iPhone with your Apple Watch if you want to turn this feature on.
Stay safe out there
There's always a trade-off between security and convenience. Still, it's great to see Apple has quickly adapted iOS to cope with the increased use of face masks worldwide while balancing the security risks.
Wearing a mask can be uncomfortable enough as it is without your phone making your life harder by refusing to unlock. The tips above should hopefully assuage any concerns.
Updated May 2022: Updated for the latest version of iOS.
Joseph Keller is the former Editor in Chief of iMore. An Apple user for almost 20 years, he spends his time learning the ins and outs of iOS and macOS, always finding ways of getting the most out of his iPhone, iPad, Apple Watch, and Mac.
I thought this was an old article and couldn't believe it when I found it was actually written today! For starters, the feature itself is old, old, old. Anyone who has an iPhone with FaceID and doesn't already know about this feature is possibly "problematic" lol. Secondly, in almost all countries ... the mask mandate is also long over. If you're wearing a mask at this stage, you either part of a small minority that has a serious health problem, or you're just misinformed as to the science. But then if you don't believe in science ... why do you have an iPhone? The presence of this article on June 1st in 2022 makes no sense other than as filler.
Thank you for signing up to iMore. You will receive a verification email shortly.
There was a problem. Please refresh the page and try again.