How to unsubscribe from and cancel iTunes Match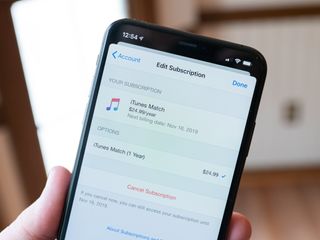 (Image credit: iMore)
Apple offers the functionality of iTunes Match as part of its Apple Music streaming service (opens in new tab), so if you are subscribed to both, you can save $25/year by turning off automatic renewal.
Here's how you go about doing so on an iPhone, iPad, or Mac.
How to unsubscribe from iTunes Match on your iPhone or iPad
Open the App Store app.
Tap your avatar in the top-right corner.
Tap Manage Subscriptions.
Tap iTunes Match.
Tap Cancel Subscription.
Tap Confirm.
How to unsubscribe from iTunes Match on a Mac
Open iTunes on your Mac.
Click Account in the Menu bar.
Click View My Account…
Enter your password if asked.
Scroll down and click Manage next to Subscriptions.
Click Edit next to iTunes Match.
Click Cancel Subscription.
Click Confirm.
If you're using macOS Catalina, this process is the same, it just takes place in the Music app, which supplants iTunes.
Great iPhone accessories
(opens in new tab)
RAVPower Ace (opens in new tab) ($42 at Amazon)
Charge your iPhone or iPad on the go while it's gobbling up your juice to install the software beta. Don't leave home without it!
(opens in new tab)
SanDisk Dual Drive (opens in new tab) (From $25 at Apple)
In iOS 13, you'll be able to access jump drives right on your iPhone or iPad. This dual drive has a reversible USB-C and USB-A connector.
(opens in new tab)
Apple USB-C-to-Lightning Cable (opens in new tab) (From $19 at Apple)
Excited about SideCar in macOS Catalina and iOS 13? Get this adapter cable so you don't have to worry about running out of power while using your iPhone as a second screen.
Questions?
Let us know in the comments.
Get the best of iMore in in your inbox, every day!
Joseph Keller is the former Editor in Chief of iMore. An Apple user for almost 20 years, he spends his time learning the ins and outs of iOS and macOS, always finding ways of getting the most out of his iPhone, iPad, Apple Watch, and Mac.
Actually that's the App Store, not the iTunes Store in the iPhone instructions (though you can do it from either one), and you tap on "View Apple ID", not View Account. It may seem trivial, but this kind of stuff confuses people.

Frankly this is all very confusing. And I have a feeling its not just me. Can someone give a clear, concise, explanation of all of this? I've listened to a couple of iMore podcasts on the subject and it gets super confusing due to the interjection of opinions over the straight story. For example, I import a lot of my personal CD's into my iTunes account. Many of these are rare CD's that aren't available in the US and absolutely not available on iTunes. So what happens to those if I unsubscribe to Match? But like I said, I'm not a coder and don't understand how all of this works.

http://www.imore.com/apple-rolling-out-improved-itunes-match-apple-music...
Apple Music will now let you store your music library DRM-free via @iMore Sent from the iMore App

I rather hold on to iTunes Match since my subscription is expiring soon. At least it gives me insurance that my personal collection will still be DRM free while Apple Music is rolling out its "acoustic fingerprinting" method. Sent from the iMore App

Agreed! I think I'll keep my iTunes Match subscription going for at least another year, to make sure any teething problems have been sorted out.

Given the fact no one will have no idea, until u try it out..... Match is probably best bet anyway.....

I would hope Apple wouldn't charge you twice for the same service if you have both.

This might finally put me over the edge if it does what I am hoping it does. Right now I have a large music library with a lot of ripped and uploaded/matched content. I do currently buy new music from the iTunes store, but I have over a decades worth of CDs in my collection. iTunes Match has been great for that, but only for me, and not for my wife (since iTunes Match doesn't give her access to OUR entire library in the cloud). I can see everything from my phone, ipad and work computer and stream or download it. She can still only see the small amount of music she purchased on her own Apple ID, and - via Family Sharing - my purchased music as well. Maybe someone that has some experience with this new set up can answer this: If I sign up for Apple Music Family Subscriptio, and it now has Match built in, will she finally be able to see our ENTIRE iTunes library from her devices, including all that music we ripped and either matched or uploaded? Also, will she also see all of the synced playlists that currently only I see? I know with Apple Music she'll have access to all/most of those matched and uploaded tracks as long as they're available on the subscription service, but will she get our meticulously curated playlists and smart playlists that currently only I can access since I am the primary account that iTunes Match is tied to?

Note: If u have Auto-renew "OFF" with iTunes match, u can no longer manage subscriptions in iTunes at all.. to see any subscriptions, which is kinda stupid... This should really be separate. This basically forces the user to say "if i wanna turn off iTunes Match I must get my subscriptions to all other services sorted out first".

The process has changed a little bit as of Feb, 2017, on iOS 10. Instead of looking under "iTunes in the Cloud", you should tap on "Subscriptions" just above it. There you will see your iTunes Match subscription and be able to cancel it. I was able to do this on my phone, but was unable to find it on iTunes for Mac.
Thank you for signing up to iMore. You will receive a verification email shortly.
There was a problem. Please refresh the page and try again.