How to use Bluetooth headphones with the Apple TV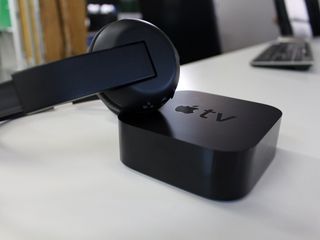 Whether you're a night owl hoping to find domestic bliss (because "Die Hard with a Vengeance" keeps disturbing your sleeping partner) or you just need some one-on-one time with your favorite new game, using Bluetooth headphones with Apple TV can be a great way to focus on your entertainment and drown out your environment. The pairing process is fairly simple; here's how it's done!
How to pair your Bluetooth headphones to your Apple TV
Put your headphones in pairing mode.
From the Apple TV Home screen, go to Settings
Click on Remotes and Devices.
Click on Bluetooth.
Let it search for Bluetooth devices.
When you see your headphones pop up, choose them from the list.
Some Bluetooth accessories require a PIN. If Apple TV prompts you, type in the PIN.
How to unpair your Bluetooth headphones from your Apple TV
If you just want to temporarily disconnect your headphones from your Apple TV, switch them off. If you want to fully unpair your headphones, here's how:
From the Apple TV Home screen, go to Settings
Click on Remotes and Devices.
Click on Bluetooth.
Find your headphones in the list and choose them.
Choose Forget Device.
Choose Forget Device once more to confirm.
Switching audio outputs on your Apple TV
There might come a time when you want to keep your Bluetooth headphones connected and just temporarily switch audio outputs. Apple TV lets you do that!
From the Apple TV Home screen, go to Settings » Audio and Video » Audio Output.
Choose which audio output you want to use.
Questions?
If you run into trouble or have any questions, gimme a shout. We'll tackle the Bluetooth troubleshooting together!
Get the best of iMore in in your inbox, every day!
Mikah Sargent is Senior Editor at Mobile Nations. When he's not bothering his chihuahuas, Mikah spends entirely too much time and money on HomeKit products. You can follow him on Twitter at @mikahsargent if you're so inclined.
Are there any Bluetooth headphones that you would recommend that will allow you to change volume via the  tv ?

In my experience you can change volume of any Bluetooth headphones connected to the AppleTV using the AppleTV remote. Also the AppleTV seems to keep a different setting for the volume for Bluetooth output and for your normal speakers so when you switch between the two it remembers the last volume setting for that device.

Agree with Alldaybreakfast here. Any Bluetooth headphones should work! That said, check out this post for Serenity's picks for Best Bluetooth Headphones for Apple TV!

Is this just in the new Apple TV? Sent from the iMore App

Yes. Unless the old ones have had some sort of update, but I'm 99 per cent sure they haven't. I used to have to airplay audio from my old apple tv to my iphone with wired headphones attached, using an app, because bluetooth headphones weren't supported

LunchPailTree, what was the app you used for that? I have been looking for an app that does that.

Does anyone else find that your Bluetooth headphones are out of sync with the sound on video content? I've tried this with two different AppleTV 4 and a number of different Bluetooth headphones. I'm not sure if it has something to do with my tv adding a delay or it's a general problem with AppleTV 4.

I've used four different Bluetooth headphones with Apple TV and haven't noticed any lag. I imagine you tried all the typical troubleshooting? Unpair/repair/restart/etc.

I tried every solution I could find on Apple Community Support and web searches. My fear is that somehow my tv adds a bit of video latency which puts it out of synch with the audio coming from the AppleTV though why that would be happening I don't know. I also played with all relevant tv settings to no avail. Thanks for the feedback.

i have the beats solo3s but i see they werent mentioned here. i havent tried to see if that universal sync that happens with the new W1 chip applies to apple tv 4. I am curious though

just checked and te answer is no, it doesnt link the apple tv.

Well, that's disappointing! I was hoping Apple TV would be part of the program, but Apple doesn't mention it in any marketing copy when they talk about the fancy new iCloud/Bluetooth pairing for the W1.

After searching at least 5 other help sites yours finally solved my problem with addition set up steps that the others neglected. Thank you thank you thank you.

Sorry, what were those steps exactly?

Our new Apple tv box bluetooth function does not find our iphone or ipad mini. It had no problem finding and pairing with a Plantronics bluetooth earphones. We followed the menus to have the Apple box search for bluetooth devices and no luck with iphone or ipad mini. Can't figure out what more to do. Thanks for advice.
Thank you for signing up to iMore. You will receive a verification email shortly.
There was a problem. Please refresh the page and try again.