How to use a GameCube controller with every Nintendo Switch game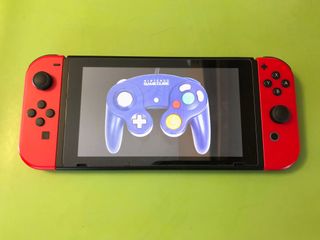 With all the hype building around the imminent release of Super Smash Bros. Ultimate on Nintendo Switch, it's entirely possible that you climbed up into your attic to retrieve a dusty old box. You opened the box and pushed aside the old issue of Nintendo Power until you found what you were looking for; that old GameCube controller is about to see some use for the first time in a long while.
Whether you just want to feel it in your hands again or you want to get it all warmed up for Super Smash Bros. later this year, using your GameCube controller with your Switch is super easy. Here's how to do it.
Adapt or perish
If you want to start using your GameCube controller with your Switch, the first thing you're going to need is an adapter. Perhaps you've been through this before on your Wii U and you already have one. If you don't, your solution is just an Amazon order away. For just $20 you can have an adapter with ports for up to four different GameCube controllers. Now that is a bargain!
Plug it in, plug it in
Once you have your adapter, setting everything up is a pretty simple process. Simply plug the adapter into your Switch and plug your controller into your adapter.
Once that difficult bit of business is out of the way, you need to pair the controller. From the main menu, head to the controller settings. All you have to do now is press the L and R buttons on your GameCube controller and you will see it show up as a USB controller in the menu. You're now ready to play old school style.
Know your limitations
While the GameCube controller is an awesome little bit of hardware, it's important to note that are a few things that you won't be able to do with it. In fact, there are two very specific things you can't do with it. First off, there are only three shoulder buttons. Any game that is going to require you to hit the second left shoulder button may leave you a bit frustrated. In addition, there is no home button which could also result in feeling a bit vexed. All that being said, the GameCube controller will work just fine for tons of games.
If you have but one GameCube controller but you want to have enough to fill up that adapter, you can always head over to Amazon and pick up some more for only $12 each. You also have a veritable smorgasbord of color choices available to you!
The GameCube controller is a bit of an odd duck when it comes to controller design. Despite (or maybe because of) its uniqueness, it is a beloved controller. I think it's great that Nintendo is aware of the love that people feel for the GameCube controller and have chosen to support it.
Are you going to be rocking a GameCube controller with your Switch?
Let us know in the comments!
Master your iPhone in minutes
iMore offers spot-on advice and guidance from our team of experts, with decades of Apple device experience to lean on. Learn more with iMore!