How to have text read with speak selection for better accessibility on your iPhone and iPad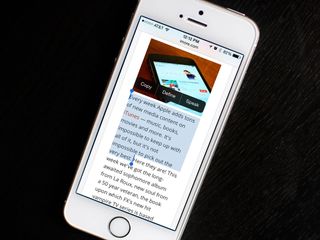 Speak selection is an Accessibility feature that reads aloud any text you've highlighted on your iPhone or iPad. It's ideal anyone who has difficulty making out text because of small size or style, have dyslexia, is just learning a written language, or for any reason just want the words spoken to improve understanding. Speak selection can even highlight words as they're read to aid in comprehension, and adjust dialect and speed so you or a family member can better follow along.
How to enable and use speak selection for better comprehension while using iPhone and iPad
Launch the Settings app on your iPhone or iPad.
Tap on General.
Tap on Accessibility.
Under the Vision section, tap on Speak Selection.
Turn On the toggle to enable Speak Selection.
Optionally you can also control the speech rate and turn on and off word highlighting on this screen.
Press and hold on text and select what you'd like Speak Selection to read to you.
Tap on Speak in the popup menu.
Speak Selection should work anywhere you are able to highlight text, including in apps from the App Store. It's great for anyone, young, old, or in-between, who has trouble visually discerning writing, or needs extra help learning or understanding a written language.
If you've given speak selection a try, let me know how it works for you!
How to get more help with accessibility for iPhone and iPad
Get the best of iMore in in your inbox, every day!
Mick is a staff writer who's as frugal as they come, so he always does extensive research (much to the exhaustion of his wife) before making a purchase. If it's not worth the price, Mick ain't buying.
Ha, I feel weird; I use it to read articles when I am too last to :P

I just set it up and it works great.
Thank you for signing up to iMore. You will receive a verification email shortly.
There was a problem. Please refresh the page and try again.