How to use your Apple Watch with multiple iPhones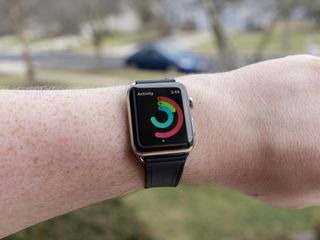 (Image credit: iMore)
So you love your Apple Watch. And maybe, for some reason, you have two iPhones. It could be that one's your personal phone, and one's a work phone. Or maybe you've really bought into the idea of having a day phone and a night phone. Doesn't really matter. The point is this: you have one Apple Watch, and two iPhones. Can you feasibly use your watch with both phones on a regular basis?
No. Not even a little bit.
Because when most people who express the wish to use their Apple Watch with two different iPhones, I have to imagine that they want to move freely between iPhones, being able to quickly transfer the watch's ability to accept calls, texts, and all sorts of other notifications, between both devices, and keep workout data consistent between the two, as well. And unfortunately, Apple doesn't provide that capability. While you can now use multiple Apple Watches with the same iPhone (an everyday watch and a fancy dinner party watch, perhaps?), you, as of yet, cannot use the same Apple Watch with two different phones in any practical sense that would benefit most people in this situation.
But…
If you really need to switch between two phones a lot, and want to use your Apple Watch with both of them, there are some things to consider and options before you.
Thing to consider: Apple Watch data storage
The Apple Watch stores up to 30 days' worth of data locally, which lets you record things like workouts and hold on to other offline data for about a month without an iPhone nearby. So if you really want to keep using your Apple Watch while using an iPhone (such as a phone issued to you by your employer) to which it is not paired, you're perfectly able to do that.
The next time your watch is in range of your paired iPhone, it will sync data over, and it'll be like they were never apart. How sweet.
Option 1: The two watch method
Admittedly, this is explicitly not using the same watch with two iPhones, and is, in fact, much more expensive. Assuming you use the same Apple ID on both iPhones, you can get a second watch to go with your second iPhone, and sync data over iCloud between the two pairs of devices, including Health data.
What won't sync is your workout and daily activity progress. You won't be able to fill, for instance, your Move ring using one watch and phone pair, then see it sync over to your other watch and phone pair.
Option 2: The tedious method
This method lets you use your Apple Watch with multiple iPhones, but not in the way you probably want. This method assumes that you won't switch between iPhones with any great frequency. Using this method simply requires you to pair and unpair your Apple Watch from your first iPhone, then pair it with your other iPhone. When you want to switch back, you repeat the process in the other direction.
If you choose to head down this route, know that your Apple Watch backups will not move freely between your iPhones. If you're restoring your second iPhone from a backup of your first that you made after unpairing your Apple Watch, you can restore your Apple Watch from the backup when moving to the second iPhone. But, assuming you don't restore your first phone, you won't have the same luxury when moving your Apple Watch back to your first iPhone.
Option 3: Get a cellular Apple Watch
If what you're looking for is a continuous data connection on your Apple Watch, normally provided by the paired iPhone, and need to use two iPhones, then I would suggest picking up an Apple Watch with GPS + Cellular, rather than the standard (and less expensive) GPS model. While you still won't get your second phone's notifications and calls, you will be free to use your Apple Watch while it's connected to the internet.
Go cellular
(opens in new tab)
A constant connection.

If you want your Apple Watch to be connected to the internet no matter which iPhone you use, pick up a cellular model. The Apple Watch Series 5 adds the benefit of an always-on display.
Looking to the future
Right now, it's just not possible to switch your Apple Watch back and forth between iPhones in any practical way. But who knows? Maybe watchOS 7 will come along at WWDC 2020 and let you use your Apple Watch with your normal phone and your work phone. The Apple Watch has been growing more independent of the iPhone for a little while now, and maybe watchOS 7 will bring multi-phone usage with it.
For now, though, all we can really do is wait and hope.
Questions?
If you have any questions about using your Apple Watch with two iPhones, then let us know in the comments.
Updated February 2020: Updated to remove mentions of older versions of watchOS.
Get the best of iMore in your inbox, every day!
Joseph Keller is the former Editor in Chief of iMore. An Apple user for almost 20 years, he spends his time learning the ins and outs of iOS and macOS, always finding ways of getting the most out of his iPhone, iPad, Apple Watch, and Mac.
Yes, but... note that cellular capabilities (option 3) require some extra line. (Here in the Netherlands, I only know of one-line subscriptions, but I have learned that American carriers offer multi-line subscriptions.) In my view, option 2 is theorethical only. From recent factory-resetting, I'd assume each re-pairing to take at least half an hour. Plus maybe tweaking lost settings. Yes, I'm of option 1. I don't often wear a watch, but I have paired smartwatches with my two iPhones and two Android smartphones, and an older one paired with an Android tablet.
If I should replace my iPhone 7 Plus, I'll also buy a latest Apple Watch.

They need to make it possible to manage these smart watches from an iPad/iPod Touch and/or iMac/MacBook. Biggest issue is the fact that you absolutely need an iPhone. This means it's a complete non-option for a lot of customers who may like iPads or iMacs/MacBooks, but have no intention of buying/using an iPhone. I'm quite athletic and have had an abnormal ECG/EKG since I've ever had one done; so the fitness tracking and gimmick features are nor of any use to me. It would only be for carrying music with me and streaming to BT Earbuds where I cannot use my phone (or have it on my person), and notifications. Cellular Models at $10/mo. to your bill for most carriers, and some may have a device fee for having it on your account (depends on the carrier). At this point, I bias to the Samsung Gear Active, since they're cross platform.

The latest watchOS update allowed more things to be managed on the Watch as opposed to the iPhone, so hopefully if Apple keeps that up it won't matter what device you have.