How to use your Apple Watch as a stopwatch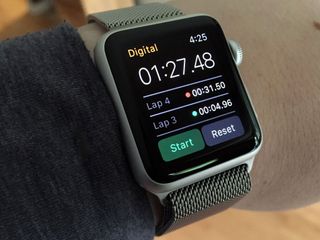 No longer do you have to pull out your iPhone, launch the Clock app, and select the stopwatch tab. Instead, just look down at your wrist, select the Stopwatch app on your Apple Watch and you're ready to go! You can even customize the look and feel of the Stopwatch app to suit the activity you need to time.
How to use the Stopwatch app on Apple Watch
Launch the Stopwatch app from your Apple Watch's Home screen.
Tap the green start button to begin timing.
To add a lap, tap the white button at the bottom right.


Tap the red stop button to stop the timer.


How to switch between stopwatch views on Apple Watch
Launch the Stopwatch app on your Apple Watch.
Press firmly on the screen.
Choose one of the four display types.
iMore senior editor from 2011 to 2015.
There are a lot of these "How to" blogs, but is it really necessary to teach someone how to use a stop watch? I mean, if they can't figure that out in the first place, they're probably not into tech enough to buy an apple watch to start out with. Stop doing these filler blogs!

It's their website, they can put whatever they want on it. You don't have to read it. Also not everyone has to be "into tech" to buy an Apple watch, look at all the non-tech people that use smartphones.

+1 Sent from the iMore App

As nice as a stop watch is, I tend to use a countdown timer much more often. Preferably one that counts down in seconds.and not just minutes Sent from the iMore App

the watch stopwatch is completely useless as the screen turns off after a couple of seconds and then when you wake the watch you must relaunch the app to see the stopwatch again. This gets old really fast!

Screen turns off to conserve battery power. You can go to activate on wrist raise in settings and change the wake option to last used app in order for it to wake to the watch each time. unfortunately that doesn't work if you have wrist raise turned off.

Thank you so much for that! I'm still discovering my apple watch and this has really helped!

I agree about some of the how to fillers... How to read the time, how to read a message and how to click start and stop on a built in app are a too basic to need a full post

One of the reasons why Apple watch is a must have is its usefulness. The features and functions are for real and will definitely help you with your daily lifestyle. https://www.imore.com/e?link=https2F2Flinks%2F1...

Well I found this helpful as I wanted to know how to keep the stopwatch on screen when running and I got my answer!!
There is another option for a timer for those that want a count down which is right next to the stopwatch app..
Thank you for signing up to iMore. You will receive a verification email shortly.
There was a problem. Please refresh the page and try again.