How to watch Blu-ray Discs on your Mac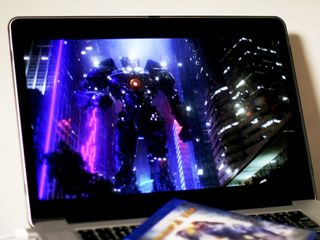 Blu-ray Disc is a good format for video enthusiasts looking for picture and sound quality, and there's no shortage of devices that work with the format straight out of the box. But the Mac isn't one of them. So how can you get Blu-ray Discs to play back on the Mac? Read on for details.
Steve Jobs famously called Blu-ray "a bag of hurt," suggesting Apple would take a wait and see approach on back in 2008. Apple sat on the fences for a long time and ultimately decided its Macs didn't need any optical storage at all, getting rid of internal DVD "SuperDrives" altogether (unless you count the lowly 13-inch standard MacBook Pro, still part of the product line but not updated since 2012). Apple continues to offer the SuperDrive as an external option, but it's limited to CDs and DVDs.
That doesn't mean the Mac can't play Blu-ray Discs. You'll just need a little help doing it.
Get a Blu-ray drive
The first thing you need is a Blu-ray Disc player. There are plenty of them available, and they'll work with the Macintosh without any problem, using the Mac's USB port. What's more, they're all burners, so you'll be able to burn Blu-ray Disc archives of your own (as well as CDs and DVDs), and they all work fairly quickly.
Here are links to a few you can buy which should work fine:
Samsung 6X USB 2.0 Slim Blu-ray Writer
OWC Slim 6X Portable USB 2.0 Blu-ray Burner
LG BE14NU40
Get Blu-ray software
Getting the drive is only half the battle, though. You'll also need software to watch your Blu-ray movies. Apple doesn't include drivers to decrypt that information, since Blu-ray isn't included on the Mac. Fortunately, there are several third-party apps on the market to help you along.
Aiseesoft's Blu-Ray Player, Aurora's Blu Ray Player for Mac and Macgo's Mac Blu-Ray Player are all available for trial download. They all let you watch Blu-ray movies on your Mac, and do more too, including reading data from Blu-ray ISO images and watching other movies on your Mac.
Aiseesoft - Blu-ray Player
Aurora - Blu Ray Player for Mac
Macgo's Mac Blu-Ray Player
If you're interested in getting the most out of your Blu-ray Disc drive as an archival storage device — after all, you can cram up to 50 GB onto a single dual-layer BD-R disc — make sure to look at Roxio's Toast 12 Titanium, which offers Blu-ray authoring capabilities among its many other features.
Any questions?
With the right software and hardware in place, you can turn your Mac into a powerful Blu-ray Disc system. It just takes a little self-reliance and some extra hardware and software to make happen. If you run into any road bumps or have any questions, don't hesitate to ask.
Get the best of iMore in in your inbox, every day!
Hi,
I was just wondering if there is a free or cheaper bluray player app for the Mac?
Can you recommend an app for ripping blurays so I can watch them on my ipad?
Thanks!

You'll need another application like Handbrake to convert MKV to a playable format by iPad. Otherwise, you can turn to other Blu-ray Ripping applications, (e.g. EaseFab Blu-ray Ripper for Mac) to achiever your goal.

I've often wondered why the SuperDrive never got updated to handle blue rays, especially when you can get so many third party drives for the same cost or less. The external SuperDrive just isn't any value anymore and has turned into one of things I scratch my at it for still being around in its current form. Sent from the iMore App

Steve Jobs claimed licensing and copy protection was "a bag of hurt" and said they weren't going to pursue it.

Rip the disc using MakeMKV. Watch files using Kodi (used to be XBMC.)

What if you want to compare the quality of the ripped video to the original bluray disc as quality check? I'm trying to do that now which led to search for a native bluray player for the Mac. I could pop the disc into my Xbox One or PS4, but then it isn't on the same screen as I'm watching the MKV file on.

Thanks so much Peter! Very timely because I'm unwrapping my new 27" Retina iMac on Xmas and I haven't unwrapped the super drive I picked up at the Apple Store yet because I realized soon after I got home I would want to play Blue Rays on that display! You can bet I'll be returning it and looking into the options listed. A nice Xmas gift from you to me--THANKS!!

This was very helpful. Thanks. Sent from the iMore App

Lol, if iMore was around in the 80s it would have said... "want to play cds on your stereo? Add a cd player!" had to laugh at this post.

Glad you had a laugh, but your smug condescension is misplaced: I had done an extensive search of the web looking for recommendations for Blue Ray players and software I came up empty and frustrated. Perhaps you'll say I did a poor job of searching, but, nevertheless, recommendations from a trusted expert about specific products are most welcome.

emjayess is right, some blu-ray drives won't work with Mac, and the playback software is key. I honestly searched for this a few years ago, and never came across these programs.
.
That being said, I was able to get VLC to kind of run Blu-Rays, but it was a mess. I would have gladly paid $25-$40 for a good player program back then.

Never had a problem with any blu ray drive working on my mac. My issue has always been software. Even on Windows the software is the issue.

Will these listed apps and Blu-Ray drives support playback from all Blu-Ray regions?

Macgo Mac Blu-ray Player is a region-free Blu-ray Player. I am using Macgo Mac Blu-ray Player and a LG Blu-ray Drive, both support playback from all Blu-Ray regions perfectly.

This article was about how to PLAY them. I'm more interested in how to rip the ones I own to digital files. The "digital copy" that they give you is either the ultra-violet mess, or not HD at all.
Would this setup serve both purposes? Sent from the iMore App

Or just buy a blu Ray player and save all the time, money and hassle of going this route. Sent from the iMore App

My hunch is that most people wanting to view blu-rays on their Mac already have a blu-ray player of some sort.

I've had the MacGo player for a couple of years. Works reasonably well. It seems that some players (perhaps even the Macgo) are just renamed and reskinned versions of the same code, and work the same way, with the same (or very similar) menus and commands. It doesn't seem to be a coincidence that most of them sell for the same exact price.

I'm still waiting for the WISA Blu-Ray drives to come down in price. Hook ONE up anywhere in the house and watch it… ANYWHERE ELSE in the house. Sharp has one for $4,000. Obviously too expensive though. Maybe we'll see something else come out at CES this year.

I'm in the UK, and I bought the LG drive mentioned above about 6 months ago. A couple of weeks ago it started having problems reading discs - constantly seeking on CDs - and I called LG for support, and they informed me that they don't sell that drive in the UK, and refused to offer any support. Turned out that Amazon was selling gray-market units (I bought it from Amazon, not a third-party seller), and when I called them, they agreed to refund me. So, just to say that this drive worked very well for a while, but died pretty quickly.

As I know, the best Blu-ray player software for Mac right now is Macgo. As the first Blu-ray program, it has been updated to relatively stable version with multifunctions like Blu-ray disc playback, Blu-ray menu support, DTS 5.1 and 1080P output and 4K Blu-ray movie playing. And most important, it's not that expensive after the discount.

The article is wonderful. External blu-ray drive, blu-ray disc and mac blu-ray player. Enjoy your blu-ray wherever and whenever you want.
http://www.bluray-player-software.com/

There are some software solutions out there, but I haven't tried most of them. I just got Macgo working on my Blu-ray disc and DVDs with region free. It might be worth a shot.
http://www.macblurayplayer.com/

Macgo is the first. I using Macgo Player. So which is the cheap copy? All the rest you know.

Yes, I also use Macgo. I have two (external) Blu-ray players/burners. And - I want to set the Blu-ray Region of one to A and of the other to B. MacGo doesn't seem to be able to do this; anyone any ideas of how to do so, please?

Hi, @msealey I think no app can do this, because this is a limitation of BDA organization. You can do this for DVD playing, but for BD there's nothing like to.

These three blu-ray player, Mac Blu-ray Player is the most popular and stable one. Macgo is the best Blu-ray solution I am aware of and the same as many others. http://www.macblurayplayer.com/
Thank you for signing up to iMore. You will receive a verification email shortly.
There was a problem. Please refresh the page and try again.