I will finally cancel my print magazine subscriptions when Apple releases a 12.9" iPad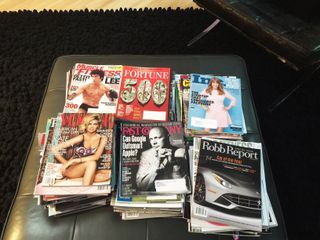 With word surfacing today that Apple may release a 12.9" version of the iPad in 2015, I'd be adding something stiffer than cream to my morning cup of jo if I were an executive on the print side of the magazine industry. Digital media has been attacking print for a long time now and it's a trend that is only going to continue. I believe a 12.9" iPad Pro would steepen the degree of that decline. At the least, I know it will impact my print magazine consumption.
A bigger iPad is something I've wanted for years now for one primary reason, and you're looking at it in the image above. I love magazines. Always have. Assuming they continue to exist, I think I always will. Between my interests in business, fitness, fashion and a few hobbies (watches, F1 racing, R/C stuff, etc.), I have 15 print magazine subscriptions going this year. That adds up to a big pile of paper - one that I could eliminate if I went all digital with my magazine consumption.
When it comes to books, I've been fully digital for years now. I typically buy books through Amazon and read via the Kindle app. Books and Magazines are very different though. When I read a book, I'm consuming text. I'm reading a story. I'm going cover to cover and the enjoyment and/or utility I get from the content is based on the quality of the writing itself — not its presentation.
Reading a magazine is much more experiential. The visuals matter. The presentation matters. And yes, the SIZE matters. I want my eyeballs to be assaulted by brilliant photography, funky layouts and beautiful ads (I love looking at magazine ads). Today's iPad can do that and more — especially with its glorious retina display — but it can't yet do it magazine BIG. Over the years I have read a lot of magazine content on my iPad and I even keep a subscription to Next Issue — the equivalent to Netflix for magazines — but the experience to date hasn't brought me the same level of enjoyment that I get out of a print magazine to make me cancel my hard copies. The visual impact of turning a magazine page on today's iPad just doesn't compare to that of flipping a page a print magazine. Yet.
In reality, the only thing keeping my print magazine subscriptions alive today is the limiting size of the iPad. Other than the iPad being physically smaller than print magazines, in almost every other way the iPad already beats print for magazine consumption (there is and always will be something to be said about being able to read a print magazine when the batteries on your iPad are dead).
I love that digital magazines can provide bonus content like additional photo galleries and videos that you just can't put into print. I love that I can zoom in on photos to see minute detail. I love that when I come across something of interest in a digital magazine, that I can immediately tap to go elsewhere on the web and learn more or buy an item. I love that I can have every magazine on one device and take it with me everywhere I go. I love that I can read magazines on my iPad in public with a fair degree of privacy — I'm geeky enough as it is that I don't need people to see the latest issue of Radio Control Car Action in my hand to remove all doubt. I also love that I can read a magazine on my iPad in bed in complete silence with the bedroom lights off so I don't disturb my better half who is sleeping. I'm pretty sure chopping down less trees to turn into magazines is good for the environment as well.
The bottom line for me? Magazine reading alone is reason enough for me to buy a 12.9" iPad the day Apple releases it. And that's only one example of where and why a bigger iPad makes sense. I'm curious to know where you'd put your bigger iPad to best use. Let me know in the comments!
Master your iPhone in minutes
iMore offers spot-on advice and guidance from our team of experts, with decades of Apple device experience to lean on. Learn more with iMore!