Are you using iCloud? [Poll]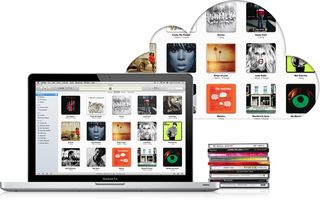 iCloud has been called Apple's key to the next decade, an online hub in the clouds to replace the outdated Mac hub in your home -- but are you using it?
Introduced alongside iOS 5, iCloud was the subject of Steve Jobs' final keynote appearance and the way Apple finally "cut-the-cord" to iTunes and kicked off their Post-PC era. For the first time, iPhones, iPod touches and iPads could be set up, backed up and restored and updated over-the-air (OTA) without having to be plugged into a Mac or Windows PC. In fact, iCloud solved the age-old problem of getting users to backup and update in an entirely new, and even easier way. I used to be terrible when it came to backups, now they just happen. (I still don't update, however, due to jailbreak
Along with PC-free, iCloud also formalized the ability to re-download App Store apps and games, and iBookstore iBooks, and added the ability to re-download Music in the Cloud, and now TV in the Cloud and Movies in the Cloud (where they're available). If you don't mind spending an additional $24.99 a year, you can even get iTunes Match and have your entire music collection scanned and store on Apple's servers, with any low-quality songs that are available on the giant iTunes catalog replaced with Apple's higher-quality versions. Then you can re-download those from up to 10 devices on the same Apple ID as well.
Photo Stream tries to provide a seamless way to have any photo taken on your iPhone, iPod touch, iPad, or in iPhoto or Aperture on your Mac stored on iCloud and pushed down to every other device on your Apple ID. It works much better now that, thanks to iOS 5.1, you can delete individual photos (or photo bombs!).
Documents in the Cloud intends to replace our local files and file systems with a worry-free online repository. There, our Pages, Keynote and Numbers files just kind of hang out until we need them. Unfortunately, Apple hasn't updated iWork on the Mac to support iCloud, and it looks like we'll have to wait for OS X Mountain Lion before any of that "just-works". What I was most excited about -- the idea that my Angry Birds levels on iPhone would simply sync to my iPad so I could game interchangeably on either one -- hasn't happened yet either. Hopefully we're getting there and it's just taking a little time.
MobileMe's Mail, Contacts, and Calendars have moved over to iCloud. I don't use them, but they're free now and they seem to be quite reliable lately as well so for many people they're a good option. Find my iPhone, which lets you track down a missing or stolen device, is also part of iCloud now. It is joined by Find my Friends, which may let you track down a missing or stolen friend but is really meant as a way to keep track of family or meet up with friends, if such a thing doesn't creep you out the way it does me.
iCloud isn't even 6 months old yet, and Apple has been adding new features like TV Shows and Movies in the Cloud, and if it's as important to their future as it seems to be, no doubt that will continue. So here's where I go back to my original question -- are you using iCloud? If so, which features? Vote in the poll up top and then tell me how you're using it -- and liking or not liking it -- in the comments below. And for more, jump into our iCloud Forum and have at it!
Get the best of iMore in in your inbox, every day!
Senior Editor at iMore and a practicing therapist specializing in stress and anxiety. She speaks everywhere from conferences to corporations, co-host of Vector and Isometric podcasts, follow her on Twitter @Georgia_Dow and check out her series at anxiety-videos.com.
Why can I only choose one feature, when I use several!?

I use iCloud for multiple things, but the poll only let me pick one.

Need to be able to choose more than option!

I stalk my mom on find my friends several times a day.

Uhmmm... you might be an inbred...

At first I use to use iCloud. Then I had to restore one day. That's where the nightmare began. I couldn't sync any of my purchase music from iTunes. It kept fraying them out, which was just weird to me. I never had that problem when I synced with my computer. Plus I have the 64GB version and backing up does take a while also. So I'm very hesitant to try iCloud again after that. I might try it in the future but as for now I'm happy syncing to my MacBook Air.

iCloud is great. My only complaint is that iBooks sync doesn't seem to work for PDF's. If I put a PDF on my iPad, it should show up in iBooks on my phone. It doesn't work though. I have it iBooks Sync turned on in settings on both and it doesn't work at all. It works flawlessly for Keynote, just not iBooks.

@gary, is your apple id and icloud id the same?
in my case i gave a gmail account which is my apple id but my icloud is me old mobile me address becaus it let me keep my extra 20gb.
So worth checking its not trying to restore your music from a different account than your apple id. If you do have two then best thing to do is check the correct one is showing on icloud settings for icloud and check at bottom of app store app which apple id you are logged in with.
Hope this helps.

I never thought of that. I'll definitely try that.

OTA and backup/restore are the only two useful features. All the other options have better implementations via Google or some other third party provider (ie iTunes Match is not as good as Google Play, Kindle better than iBooks, Gmail/Contacts better than iCloud Mobileme, etc.).

To each their own. I find that none of those things you've listed are true for me.

Use them all, love them all!

I wish there was a way to combine my Dropbox with my iCloud OR an OS level method for accessing Dropbox as needed.
iCloud is really broken up by file-type or by program. I wish it was more of a hard drive in the sky because there are many times I need to sync something other than a Document or a Tune.

iCloud save is my #1. I only buy guys now that support it. For games I've already got I pester the developers to add that feature. Just bought Swordigo and the saves work perfect.
With respect to Angry Birds the buggers are so cheap they sell iPhone and iPad separate so of course you won't be getting your iCloud save there.

I've been a iTools/.mac/MobileMe user since 2000, and have a legacy (and coveted) .mac address, and have used it for years. Plus, after being converted, I'm enjoying 25GB of free space until MobileMe goes dark.
There are issues with calendar sync and reliable email push (there's a 30-page or so thread on Apple Discussion forums about it), but overall I like the tight integration with Apple stuff at home.

I was also pleased with the move to iCloud as a long time users of .Mac ->. But also having issues with push, so I tried looking for the support chat. That's gone now, in May the iDisk will probably go. And I'm having a hard time being happy with this free thing apple gave us. I'd still rather pay the 79€ a year for something with added benefits and support. I'm also actually worried if this is they way apple will go now.

i didn't vote cause none apply. i use them for contacts but not mail or calenders. and then i use it for backing up podcasts or so the app says. other then that i don't use it. I've never bought music on itunes so i use google music instead.

Y'all should really choose a different polling system. They only work on my iPhone 25% of the time. I would have voted for every feature!
Also, if you want it as accurate as possible, you should split up mail contacts and calendar. Most people that use iCloud at all use the contact syncing feature but not the mail because an iCloud email address is required for "iCloud mail syncing"

I just wish there was a way to save game progress so when you remove an app from your phone but reinstall it later down the rode you can continue where you left off.

Why isn't it a yes or no question? When I got my 4S I jumped all in with the iCloud. I use everything and even use my new @me account as my regular email now.

I use all of iCloud's features and have absolutely no issues with it. I've noticed, since it was released, that many people have had issues with it. I must say that it was a bit confusing at first, maybe a bit of a learning curve, but in the end "it just works."
iTunes Match is awesome. Except for the essentials, I keep everything in the cloud. The biggest benefit for me is having my entire music library available without using all of my storage on my devices. It's well worth the $15/year.
As for iCloud...I've always used it from day one, but I never realized the full benefit until I bought new devices. It was so cool to do everything OTA. Gone are the days of buying a new device and having to plug it into the computer and sync everything up. It's all in the cloud now! Also, it's so nice to have automatic backups when I plug my phone in at night. When I wake up in the morning, it's done. I don't have to think about it anymore.
Photostream is great, especially now that I don't plug my phone into my computer to sync. There's no more making sure I sync my photos. They all just go straight to my PC.
The benefits for me are endless, but you get the idea...

Just want to say your article is as astounding. The clearness to your submit is just great and that i could think you're a professional in this subject. Fine with your permission let me to snatch your feed to stay updated with forthcoming post. Thank you one million and please carry on the gratifying work.
Thank you for signing up to iMore. You will receive a verification email shortly.
There was a problem. Please refresh the page and try again.