If the Apple Watch Series 7 has this one feature, it's an insta-buy for me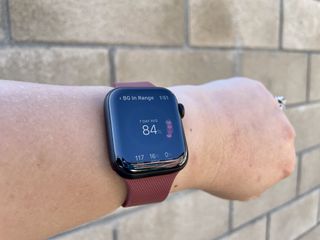 (Image credit: Christine Romero-Chan / iMore)
There's been a new rumor recently about the upcoming Apple Watch Series 7 and how it may include a blood glucose monitor. I'm currently using an Apple Watch Series 5, and while it still works great, I'm totally insta-buying the Apple Watch Series 7 if it can monitor my blood sugar levels. Here's why that's such a crucial feature for me (even more so than the blood oxygen monitoring in Apple Watch Series 6), and many other diabetics.
No more pricks every day
Back in 2018, I was diagnosed with Type-2 diabetes by my doctor. Before this, I was already struggling with pre-diabetes, but I never got it under control, so it became Type-2. While my diagnosis is actually on the more mild side compared to others, I decided I'm going to start monitoring my blood glucose levels every day to make sure that I'm doing okay and on the path to one day reverse it.
The blood glucose monitor that I chose to use, and have stuck with for the past two years, has been One Drop Chrome (this may not work for Type-1 diabetics). As I said in my review, I like One Drop Chrome because the system itself looks sleek and it's compact enough to bring with me everywhere, and it doesn't scream, "Hey, look at me, I'm a blood glucose monitor!" like a lot of other systems I've seen in the drugstore. The One Drop system also connects to the best iPhone through Bluetooth and the companion One Drop app, allowing me to see my levels and averages over the past two weeks, sync the data back to the Apple Health app, and I can even get one-on-one coaching with my One Drop test strips subscription.
However, as much as I enjoy the One Drop system, it still requires one thing that I hate: a prick on my finger. I've grown used to it after doing it multiple times every day for several hundred days in a row at this point, but I've wanted a better solution to know my blood glucose levels.
Yes, I'm well aware that there are continuous glucose monitoring (CGM) systems out there that monitor levels throughout the day without having to prick your finger each time. However, these still need you to stick a sensor wire under your skin, and I don't want to do that. I don't have much of a pain threshold, and I honestly hate needles, so the thought of doing that just kind of scares me.
That's why if the rumor is true, I'm ecstatic for the next Apple Watch Series 7, and it will be a day one purchase for me.
Blood glucose monitoring is my biggest Apple Watch feature request
According to the report, Apple isn't the only one — Samsung also plans to add a blood glucose monitor into the next Galaxy Watch. This would be a "no-blood sampling method that detects the level of glucose in the blood without blood collection using an optical sensor."
Even though it's just one of the rumors in the mill at this point, I still can't help but be curious about how Apple (and other companies) will manage to create a way for all of us to monitor glucose levels without actually having to draw blood. I mean, the Series 4 added ECG, and the Series 6 added blood oxygen monitoring, so I'm sure that the glucose readings just need the right sensor. Of course, how accurate these glucose readings will be compared to the traditional finger prick system remains to be seen. And Apple always warns against using such measurements for medical use because they're mostly to give us a holistic view of our overall health and well-being.
If the Apple Watch Series 7 does, in fact, have blood glucose monitoring, I will be one happy gal. I think I will keep pricking my finger to test the accuracy, but if it's pretty close, then I can't wait to ditch the finger prick.
Get the best of iMore in your inbox, every day!
Christine Romero-Chan was formerly a Senior Editor for iMore. She has been writing about technology, specifically Apple, for over a decade at a variety of websites. She is currently part of the Digital Trends team, and has been using Apple's smartphone since the original iPhone back in 2007. While her main speciality is the iPhone, she also covers Apple Watch, iPad, and Mac when needed.

When she isn't writing about Apple, Christine can often be found at Disneyland in Anaheim, California, as she is a passholder and obsessed with all things Disney, especially Star Wars. Christine also enjoys coffee, food, photography, mechanical keyboards, and spending as much time with her new daughter as possible.

As a user of the FreeStyle LibreLink attaching the sensor is painless. I don't even feel the "needle" go in. I was preparing for some pain the first time I applied it, there was nothing. There is a little, very minor discomfort after it's applied but I don't get that sensation any longer. It went away after the 3rd or 4th application. Defiantly better than the finger stick and it's only every two weeks.

Thank you for providing that insight! I've looked into those CGM systems and want to get them, just a little scared at the thought of the wire going under skin. Though I was afraid of pricking my finger every day but I seem to have gotten used to that by now, so maybe the same can be said for CGM. Thanks for your input!

As a current Type 1 CGM user and one who also is eagerly following this story, I regret to say that I think you will be sorely disappointed if this rumor is true. It is not possible to determine with accuracy your blood glucose levels using just a sensor over your skin like the heart monitor on the watch. I truly hope to eat this words someday, but I have followed stories like these for years and none ever come to fruition. For example, Google/Verily had a project to measure levels through contact lenses and through your tear fluid. That project has been discontinued. At best, if they are somehow able to launch something, I can't imagine it would be accurate enough that I would base my decisions on its readings. My guess is they're partnering with Dexcom (a current CGM provider) in some way to advance the current technology slightly...perhaps taking advantage of communication advances in bluetooth technology. Right now, readings come through a sensor on your skin...the wire as you put it, then through the phone and then through the watch. My guess is this launch will bypass the phone and allow readings directly from the sensor to the watch.

I'm just going off what the latest rumor is. I remain hopeful for this technology to be able to do it someday. I hope Apple does get it right one day, even if it isn't this year. Just looking forward to the day it can be done without sticking something in or under our skin to do so. Thanks for reading!

Have you tried using either dexcom or libre. Thded Dexcom which I use is not painful to insert and the needle is plastic I've been using it for ov er a year and a half without any real issues. I use my meter and a finger stick generally only once after a sensor change when the sensor is a little wonkey after that the sensor works nearly perfect. If Appple does get thier blood glucose system on the watch that may be better and if so I'll use it.

No, don't currently use it but I've looked into it. Just a little freaked out at the inserting under the skin part. I think I'll eventually get one, especially if the Watch won't have something anytime soon. Thanks

Come on, Christine. Don't freak out. You've been doing a finger stick, so painlessly inserting a tiny little cannula from a Freestyle Libre CGM isn't that big of a leap. I'm Type 1 and have been using the Libre for almost 3 years. It was a game changer for me, and now they have come out with a new sensor that will alert you to highs and lows. It's also much less cumbersome than the Dexcom G6 (fewer parts to replace). Like you, I hope the Watch 7 has a CGM. That will be the next enormous game changer. In the meantime, do yourself a favor, try the Libre and ditch the finger sticks.

Thanks! I will look into that one.

samsung now don't have precise sensors and algorithms for their smart watch. They say to work about measurement of glucose only because Apple is doing that. I'm waiting also for the glucose sensor on Apple Watch to improve the quality of my life and to take care about health (also if I don't have diabetes). It would be an innovation! Especially because Apple Watch now show to have a great standard of precision: it is saving lives. So I can say that only Apple can do that.

This feature would be fantastic if it worked. Unfortunately, I have the fatal feature that does work, the heart rate feature hat works every now and then, the floors climbed feature that does not work, and the VO2 feature that does not work and the miles walked/run is highly inaccurate. So what make you think this feature would actually work?