iMore Show 722: Emotionally Desperate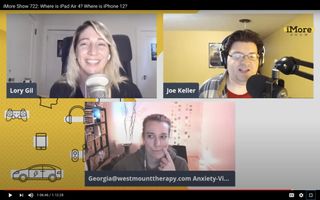 (Image credit: iMore)
The Apple/Epic court battle continues. So far, the judge isn't having it! The crew also discuss iPhone 12 mini and the timing for release of other models in the iPhone 12 family. iPad Air is eagerly awaited this month as well.
We also answer some questions from our live listeners/viewers, including a great one about Apple Watch family setup.
Listen now
Watch now
Links
Sponsors
Roman: Welcome to Roman, a digital health clinic for men. Go to GetRoman.com/imore today. If approved, you'll get $15 off your first order of ED treatment.
Hosts
Be part of the show!
Send in your comments, questions, feedback, or follow-up to:
Jim Metzendorf has been using Macs since 1994. He is a podcaster, freelance audio/video editor, and author of 'The Professional's Guide to Audio Podcast Production'. Jim also teaches audio production at a college in Cleveland, Ohio. Follow him on Twitter: @jmetzendorf
Thank you for signing up to iMore. You will receive a verification email shortly.
There was a problem. Please refresh the page and try again.