iMore Show 740: A Rainbow of iMacs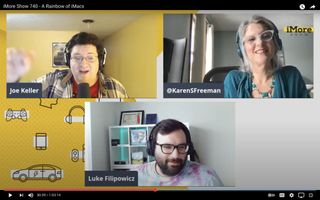 (Image credit: iMore)
Karen and Joe hang with Luke Filipowicz for a chat about Apple's celebration of Women's History Month this March along with their donation to the LGBTQ+ charity Encircle. And, of course, life wouldn't be complete without fresh MacBook, AirPods, and Apple Car rumors!
Listen now
Watch now
Links
Sponsors
Hello Fresh

(opens in new tab)

With HelloFresh, you get fresh, pre-measured ingredients and mouthwatering seasonal recipes delivered right to your door. Go to HelloFresh.com/imore10

(opens in new tab)

and use code imore10 for 10 free meals, including free shipping!
Hosts
Be part of the show!
Send in your comments, questions, feedback, or follow-up to:
Get the best of iMore in your inbox, every day!
Jim Metzendorf has been using Macs since 1994. He is a podcaster, freelance audio/video editor, and author of 'The Professional's Guide to Audio Podcast Production'. Jim also teaches audio production at a college in Cleveland, Ohio. Follow him on Twitter: @jmetzendorf