iMore's Best of E3 2018 Awards!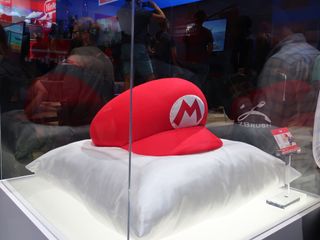 E3 2018 is now in the books. Just as it has been for quite some time now, this year's E3 was a veritable smorgasbord, offering vast multitudes of delights for gamers of all types. In the last few years, Nintendo has chosen to keep things subtle and succinct when it comes to their presentations. That being said, there was no shortage of enticing announcements to behold.
After the fervor of E3 died down, we took stock of what was coming from Nintendo and picked our favorites. Here are our picks for Nintendo's best in show of E3 2018
Super Smash Bros.
Now, we all knew that this was coming. The fact that Nintendo would be bringing Super Smash Bros. to E3 came as a surprise to no one. That being said, they still brought the goods. This installment of Super Smash Bros is shaping up to be an "everything and the kitchen sink" sort of title.
If you have an obscure character that you loved to play in previous releases, then you are in for a treat. This version of Super Smash Bros. will feature every character that has been in all versions of the game. No character will be left behind and a few new ones will be coming along for the ride.
Nintendo knows how to cater to their fans and Super Smash Bros looks like it's going to be emblematic of Nintendo taking great care to please the consumer.
Super Smash Bros. for Nintendo Switch: Everything we know so far!
Super Mario Party
This particular announcement actually did come as a bit of a surprise for some. The Mario Party franchise first made its way on to consoles in 1998. As the title suggests, it's a party game that allows multiple players to compete in Mario themed mini games.
Since there has been a Mario Party title for nearly every Nintendo console since the Nintendo 64, it makes sense that there would be one for the Switch. And considering the excellent job Nintendo has done in bringing other long running titles to the Switch, I would have to imagine that this one is going to be great as well.
Super Mario Party is going to feature 80 different mini games that will no doubt get creative in design but also how the hardware itself is used. I would have to imagine that Super Mario Party is going to put 1-2-Switch to shame.
Super Mario Party: Everything you need to know!
Starlink: Battle for Atlas
If space exploration and combat is your bag, then Starlink: Battle for Atlas will probably be right up your alley. There is a lot going on with this title. The game will feature an open and living star system that you can explore and traverse seamlessly. Players will build a crew made up of various different species from across the galaxy in order to take on your foes in awesome space combat.
In addition to the traditional elements of gameplay that Starlink has to offer, you will also have the option to collect toy-to-life elements to enhance the game. With a special mount, you will be able to attach a toy ship to your controller. When you swap out pilots and parts of your ship, those changes will be reflected in-game.
Oh and one more thing. Fox McCloud! That's right; the much beloved Starfox universe will be crossing over into Starlink: Battle for Atlas. So if you have been longing to revisit all your Starfox pals, this is the title for you.
Killer Queen Black
Now, this is pretty magic. In 2013 Bumblebear games released a video game called Killer Queen. And when I say video game, I mean a full-size physical arcade game. When it was debuted at the No Quarter indie arcade exhibition is was immediately loved by all those who got a chance to play it. Now it's coming to the Nintendo Switch as Killer Queen Black.
Killer Queen Black is an RTS platformer that looks deceptively simple. At first glance, you wouldn't be totally insane if you were reminded of the classic arcade title Joust. Visually, the playfield looks relatively similar. However, with a surprisingly complex depth of mechanics and various victory conditions, there is a lot going on here.
I am totally excited to team up with some friends and get into some fast-paced multiplayer action when Killer Queen Black drops this winter.
Fortnite
Just like the Blob in the film of the same name, Fortnite continues to grow and spread without showing any sign of slowing down. The way things are going, I will be able to play Fortnite on my Atari 2600 pretty soon. However, until then I am just going to have to be happy playing on my Switch.
At E3, Epic studios announced that Fornite was all fired up and ready to roll on the Switch and gamers everywhere rejoiced. The current champ of the battle royale genre offers players the opportunity to drop onto a map with 100 other players and fight it out until one victor emerges.
While I know it wasn't the intent, I am sure that Nintendo didn't hate that part of the byproduct of this announcement was Sony getting a little mud in their eye. Sony's continued refusal to allow crossplay on just about every title meant that those with a Fortnite account on the PS4 would not be able to transfer over to the Switch. We will have to wait and see what the fallout of this is. However, I would have to imagine that, if forced to choose, a lot of players would rather take Fortnite on the go with their Switch.
What got you the most excited?
There is always just so much to process after every E3. It's hard to pick favorites. Nintendo had a vast number of awesome titles announced over that weekend. These were just of few of the standouts for us but we would love to hear about the titles that have you the most excited.
Get more iMore in your inbox!
Our news, reviews, opinions, and easy to follow guides can turn any iPhone owner into an Apple aficionado