iMore's choice: Best apps for iPhone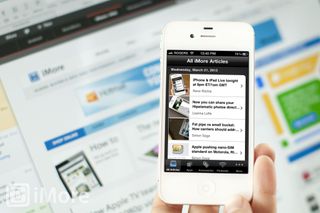 The absolute best App Store apps for your iPhone, carefully curated and often updated by the staff of iMore.
With hundreds of thousands of apps in the App Store it can be difficult -- and expensive -- to find the perfect one to fit your needs. That's where iMore comes in. Whenever we do an app review, an app vs. app comparison, or top apps pick, we take the best of the best of the best, the winners, the absolute staff favorites, and list them here. Focusing on beautiful design, simple usability, and phenomenal experience, these apps are iMore's choice.
Note: This list is very much a work in progress and we'll be adding to it, and changing the apps as new and better ones are released, so check back often!
For a broader sampling of apps and games that you can try without buying, check out our best free iPhone apps and best free iPhone games lists.
Best camera app: Camera+
If you've been looking to upgrade your iPhoneography from the built-in iPhone Camera app to something a little more flexible and powerful, then check out Camera+. Built by photographers for photographers, the latest update not only continues Camera+'s great features and filter sets, but adds the ability to lock focus and exposure, mulit-photo imports, improved social sharing, app integration (so you can get to Camera+ from within other apps), and more.
Best calendar app: Agenda
If you need both more functionality and more elegance than the built in iOS Calendar app, you need Agenda. In addition to performing the normal tasks you'd expect any good calendar app to do, Agenda also lets you confirm appointments via text message or email from directly within the app. Similarly, you can inform necessary parties if you're going to be late.
Best cloud storage app: Dropbox
Dropbox has become the default way to sync files on iOS. It does things iCloud wants no part of, and while pro accounts can still be pricier than competitive services, but most people won't need more than the free account offers anyway. iPhones and iPads are app-centric devices, and more apps work with Dropbox than anything else.
Best ebook reader app: iBooks
iBooks is Apple's free ebook and PDF reading app for iPhone. It's a stylish way to read not only books purchased from the iBookstore, but all the free books from the massive Project Gutenberg library as well as any of your own ePub or PDF files. Apple's book catalog isn't as big as Amazon's Kindle library, but the reading experience itself is far superior.
Best educational video app: Khan Archiver
(opens in new tab)
Khan Academy is one of the best products of education and the internet, and with the Khan Archiver app for the iPhone, you have free access videos on topics ranging from kindergarten, advanced science, humanities, history, and more. You can even download the videos to watch offline.
Best email app: Sparrow
Sparrow is great for Gmail users because it handles labels extremely well. It also supports iMAP for Google Apps, iCloud, Yahoo, AOL, Mobile Me and custom IMAP accounts, as well as POP. You can use Facebook to assign avatars to your friends, and add attachments while composing a message. It also has a beautifully designed pane navigation layout, pull to refresh, alias support, and custom signatures for each email account.
Best launcher app: Launch Center Pro
"Launch actions, not apps" is Launch Center Pro's motto and the app allows you to do just that. From composing an email/message (with or without a default recipient/body), to creating quick dialers, Safari searches and page launches, to a flashlight utility, and the ability to insert a custom URL string that can either launch an app function or a web page, Launch Center lets you do everything you need to do on your iPhone, faster than ever before.
Best navigation app: NAVIGON
NAVIGON is the best iPhone navigation map for those who want the security of on-board maps, anywhere around the word, without the hassle of huge, up-front downloads or updates. They've got a ton of options as in-app purchases, and while those can add up, you can also pick and choose only the ones you want to keep costs down. If you want power and flexibility, Navigon is a great choice.
Best password manager app: 1Password Pro
1Password lets you have the security of strong, unique password with the convenience of easy password entry. Store all your logins, accounts, cards, and notes securely, sync them via Dropbox, and open them in the built-in web browser. Everything you need to stay safe when you're mobile is built right in to 1Password.
Best personalized magazine app: Zite
Zite is not only personal to each user, but it grows more personal over time as you use it. The way Zite recommends new content is something none of its competitors can match. Bottom line, Zite is the best social magazine app currently available on the iPhone.
Best podcast app: Instacast
Instacast is expensive if you want the full package, but it's also the best overall podcast app for iPhone right now. It strikes the best balance between simplicity and features, making it easy to use but still powerful. For most users, most of the time, Instacast is podcast app to get.
Best read later app: Pocket
Pocket provides the best design and user experience for the broadest base of users, both on the app and on the website. If you want more than Apple's built in Reading List provides, or you're new to the whole idea of "read later" and time-shifting content, give Pocket a go.
Best RSS app: Reeder
The updated version of Reeder has made an already great app even better. Native Google Reader integration for subscribing and unsubscribing is not only a great addition but the developer managed to keep it clean, simple, and easy to figure out.
Best stocks app: Bloomberg
Bloomberg for iPhone is a great way for casual traders and investors to interact with their stocks and stay up to date with world news. Whether you need to casually monitor stocks on your iPhone or just find the urge to check out financial news, the free Bloomberg app has you covered -- for free!
Best streaming internet music app: Slacker
Slacker provides a nice streaming service for free with an easy to maneuver through interface. You can even get offline caching for only $4/month. That's a very sought after feature for many users who want to be more conservative with their carrier data. You won't get it cheaper than you do with Slacker.
Best text editor app: Byword
Byword is fantastic app for all writers, especially those who write in Markdown. The clean, simple environment will have a positive impact on your productivity -- guaranteed.
Best travel advisory app: Tripit
The free TripIt app for iPhone, when paired with a free TripIt account, becomes your virtual travel assistant. Simply email any flight or hotel confirmations to TripIt and they'll automagically get logged and displayed on your iPhone, along with helpful maps and additional information to make your travel safer and easier.
Best task management app: OmniFocus
It's hard to beat OmniFocus' feature set, which includes Siri integration, location-based reminders, and Forecasts. If price is no object, and you want the most powerful, versatile task management solution for iPhone, with options for syncing with iPad and/or Mac, then you want OmniFocus.
Best Twitter app: Tweetbot
Tweetbot might feel over-designed to some, but it's well-designed. It has a ton of features for power users, including the best push-notification implementation in the business. As far as general purpose Twitter apps go, Tweetbot hits the best balance for the widest range of our readers.
Best VNC app: Screens
With iCloud integration, SSH keys, and a re-designed Screens Connect, Screens 2.0 handles remote computing better and faster than ever before. Screens is also the most iPhone, iPad, and Mac-like remote computing app on the market today, and that makes it the easiest to setup and the most familiar to use.
Best weather app: Weather Neue
Weather Neue is an iPhone weather app designed for minimalists. Instead of a plethora of features and options, Weather Neue simply consists of one screen that gives you the current weather conditions, a 3 day forecast, and other basic weather information.
Best web browser app: Chrome
If you want a browser that has a better layout than Safari and allows you easy access to bookmarks and other open tabs across all your desktop computers, Chrome is it. There may not be gesture support or a ton of customization options, but it works flawlessly and has a beautiful interface.
Your choices?
Think we got it wrong? Think we included an app we ought not have included? Think we missed an all-star about we out not have missed? Let us know in the comments. We'll be updating this often, and our choices can and will change over time. This is your community, help us make iMore's choice, your choice.
Leanna Lofte and Ally Kazmucha contributed major sections of this article
Get the best of iMore in in your inbox, every day!
Rene Ritchie is one of the most respected Apple analysts in the business, reaching a combined audience of over 40 million readers a month. His YouTube channel, Vector, has over 90 thousand subscribers and 14 million views and his podcasts, including Debug, have been downloaded over 20 million times. He also regularly co-hosts MacBreak Weekly for the TWiT network and co-hosted CES Live! and Talk Mobile. Based in Montreal, Rene is a former director of product marketing, web developer, and graphic designer. He's authored several books and appeared on numerous television and radio segments to discuss Apple and the technology industry. When not working, he likes to cook, grapple, and spend time with his friends and family.
Best camera app: Camera Awesome It integrates video as well as photos and syncs automatically with Smugmug. The free filters and adjustments are great. Other than that - I like your list a lot. It gives me a list of some new apps to try.

Absolutely. As much as I want to believe Camera+ is the best, thanks to the efforts of Lisa Bettany, I friggin' LOVE Camera Awesome and couldn't imagine using anything else.

Thanks for a great list of apps. Now to break out my wallet.

Best navigation app for me is: Copilot GPS 1. It's free!
2. It requires no data.
3. It may require you to download some maps, but you can download as many of them as you want for free. The maps are current and have directed me around construction very well. There were just a couple of times it took me around in a route that wasn't necessary. The only thing I have had to pay for is unlimited access to 3D maps and voice navigation for $14.99. Not bad for unlimited use IMO as compared to the similar TomTom app for about $50. I haven't used navigon, I'm sure it's nice, I was just wanting to throw out my vote for best nav app.

It's Free!!! But wait... there's $14.99 for voice nav... blah blah blah... If someone has never used a stand-alone nav device, Copilot may indeed be great... but if you've ever had a Garmin Nuvi - Navigon is the way to go. You will get on your iPhone or iPad the closest end-user experience to using a Nuvi. Navigon on an iPad is simply awesome.

Whoah whoah whoah! Easy there big fella! What's with all the hostility? If you like Navigon that's cool with me. All I was saying that while the app is free, I did have to make one in app purchase. Which in comparison to any other GPS app is really good. The Navigon I would need is USA+Canada which is $40, plus if I want some of the same features that Copilot offers, it's going to be another $10-$20! Hey, if you want to pay that much just to "have your GPS app "look" like your old Garmin Nuvi", then be my guest. I have in fact used stand alone GPS units prior and that sort thing isn't a big deal to me. What is more important is that I get so where I'm going the best, most accurately, the interface is clean and legible and for not to much money. I'm not entirely enthused that you would attack my comment when I explicitly indicated that "for me", in my opinion is Copilot. I was in no way attacking iMore for their choice of app in this category, and I definitely was not attacking you sir!

GPS Drive by Motion X is only $9.99/yr. low data.

Good list guys I agree with most of your choices and like that you guys went with Chrome over safari. Changes in the list for me would be: Navigation-Waze
Personalized Magazine App-Flipboard

Safari wasn't considered because it isn't an App Store app.

i really very much like Maven as my iPhone and iPad web browser, even over Chrome.

I really like the list but I think Flipboard belongs here.

Zite beat Flipboard in our personal magazine shootout: http://www.imore.com/flipboard-zite-pulse-ipad-news-magazine-app-shootout But Flipboard to take the title back any update now.

I agree with all of these selections with the sole exception being "Pocket" as the best reader app. I think Marco Arment's "Instapaper" is a vastly better product. All-in-all, great article! On my way to pick up Navigon & Agenda to try.

Pocket won our read later app shootout: http://www.imore.com/instapaper-pocket-readability-iphone-read-app-shootout But we'll be keeping the list current and Instapaper (or any app) is only ever an update away from taking a top spot!

Best ediucational app - Star Walk and Solar Walk, if you're into space. Who is not?
Best camera app - Instagram
Best twitter app - Echofon, autoscroll and ability to delete tweets, manage accounts)

Zite rocks! I like your chices. I have a few already. Nicely done and appreciated.

Awesome list Rene. Definitely gonna try Zite.

P.S. Instacast is $1.99 for me. The Pro version (in-app purchase) is $0.99.

I agree with Chrome. It seems to be much faster than Safari.

Just downloaded Sparrow. So far so good :)

Rene the link that you have there for Tweetbot is a link for the iPad version, It says it's for iPad only.

Definitely best new finance app: Daily Income

Some of My favs: Camera: Camera+ (honestly I still used the stock app cause it's quick)
Cloud Storage:Skydrive (honorable mention:sugarsync)
Educational video:
Email: stock email
Navigation: Waze
Podcast: Downcast
Radio: tunein radio
News: Pulse (honorable mention: flipboard)
Cheap gas: gasbuddy
Browser: tie Dolphin & Chrome
Game: VIP Poker (hey i like poker)
Financial news: cnbc or bloomberg
Stock portfolios: wikiinvest
Cloud Music: gMusic (google music streamer)
Twitter: Tweetbot, Other nice apps I like even if I don't use them all the time. "Houzz": a great design idea app. Beautiful app. "Ness": restaurant app. "Craigslist Plus", "Salsa for Free" lol it even has top down footwork. "MLS Gameday", "NFL '12", "Nike Training", "Watch ESPN", "Instagram", "Fly Delta." Heard the delta app sucks but it's great for me. Easy check in and digital tickets. "BP Monitor Lite": simple blood pressure log. "Gate Guru", "AcePlayer": Plays mkvs.

It's great to see Slacker on the list. It gets ignored in most music app reviews. It has the best combination of features and price of all the streaming music options.

Regarding Sparrow for iPhone: while I agree with all the virtues of Sparrow, and would LOVE to use it, unless you are nearsighted or have eyes under the age of 30, it's simply too difficult to read without drugstore glasses. Come on, Sparrow, adding font size configurability has been suggest by thousands of users, yet it continues to be a message font so small it can't be read by everyone. I know some people like tiny fonts...but make it user-configurable.

I don't see the point in recommending inferior 3rd party apps like this one. Chrome comes to mind too. Edit: (yay) Inferior to the ones made my Apple of course and integrated into the OS.

Best calendar app: Week Cal (Week Calendar) Pro:
- Color icons display in Agenda, Week, and Mini-month views
- Quick look in multiple views
- Templates features available
- Copy/paste/move/drag&drop/resizing
- Landscape view Con:
-

Flipboard - combining "personalized news" and "rss"

I'd rather see some kind of table. It would seem the problem to me is picking categories to do best of. If you got a "best twitter" app, shouldn't you have a "best facebook" app? Best game isn't really great either. I consider Chess, for example, a category of its own wanting the best Chess app. That all said, I'm surprised not to see Skype, Air Video, Netflix, comic zeal, etc.

i think there's merit in this point. i don't use much of the stuff on here like rss feeds, and launch center, and slacker and pandora type apps.

Hi Rene, great list! It seems like you've invented 'Best ... app' for each and every app you love ;) But seriously, I would love to see a budgeting app, too. And since you have Agenda so it's not like you don't care about productivity, would you add a todo list or something like that?
Thank you in advance :)

where is best video player app? i'm waiting for it a long time but again it's not in the list :( plz add it

I really like Tweetcaster Pro It's great on the iphone and even better on the iPad. It has so many features. Lists, creation of lists, easy to add others to lists. The only feature it's missing is notification. Which is huge. But I love the UI and wasn't willing to pay for Tweetbot and possibly not like the UI. Tweetcaster is clean, great for power users. Has a zip function to hide tweets you don't want to see without unfollowing. You can get it free (with ads). But I prefer the uncluttered version. It works on both iPad and iPhone one purchase only.

does the pro version come with all those backgrounds that you have to buy in the free app or is it just ad free?

Screens is terrible over cellular data. LogMeIn Ignition beats it easily.

Would have had 'The Weather Channel' as the best weather app, and 'Echofon Pro' for best Twitter app, good choices though Rene!

My exceptions to this fine list are: Downcast for podcasts, Instapaper for RIL, and Flipboard for personal magazine... Great list. Trying out agenda...

Hi! Have you ever tried Newsify RSS Reader...
It's a great google reader integration like Reeder, MobileRSS or apps like that. It's a minimalist interface, it's free. So, try it.

Navigation: GPS Drive by Motion X only $9.99 for a year of live turn by turn voice directions. This app does not use much data.

Best RSS reader: Perfect RSS. With Reeder, trying to read an article on Reuters would land me not on the article but on their index page; no such issue with Perfect. Reeder also does not sort he list properly, with no option to reverse it. Better to scroll DOWN to read newer item than up. Best web browser: Mercury. Two words: Firefox sync. All the third party browsers use the same rendering engine so there is no difference there. Also, Mercury has some Built-in ad blocking.

I agree with most of the list, but I have to say Pocket Casts is by far the best podcast app I've used.
http://www.pocketcasts.com/

Productivity App Spotlight: Quick Sale =D

Great list Rene. Thank you. This are apps I find indespencible in my daily app usage: - myPhoneDesktop: https://bitly.com/NofDeY allows me to send almost any info from my computers (Mac OS X at home, Windows and Linux at work and full featured Web Client from any other place like friend's house, airport kyosk, local library, etc) to my iDevice (iPhone, iPad, iPod touch) and open such info in appropriate application. - InstaTodo: https://bitly.com/NojJnr very powerful todo app because it allows me to create reusable templates for any occasion Check out lifehaker's ownd review by Alan Henry (@halophoenix) : http://lifehacker.com/5818050/instatodo-uses-templates-to-make-adding-an... and also great review by Federico Viticci (@viticci) https://www.macstories.net/reviews/instatodo-the-to-do-app-with-template... - GoodReader: http://itunes.apple.com/us/app/goodreader-for-ipad/id363448914?mt=8&at=1... a super document reader! - Yelp: http://itunes.apple.com/us/app/yelp/id284910350?mt=8&at=10l3Vy indespencible in terms of searchability and reviews. - Flipboard: http://itunes.apple.com/us/app/flipboard-your-social-news/id358801284?mt... and Zite: http://itunes.apple.com/us/app/zite-personalized-magazine/id419752338?mt... - best apps for me to catch up on the exactely what I am interested in the "whats going on" on veriouse topics...

Great list Rene.
I would recommend to take a look at Must Do Today! http://mustdotoday.com/
It's a useful app for productivity and time management.
Thanks!
Thank you for signing up to iMore. You will receive a verification email shortly.
There was a problem. Please refresh the page and try again.