Instagram and Google Chrome get updated for iOS 6 and the iPhone 5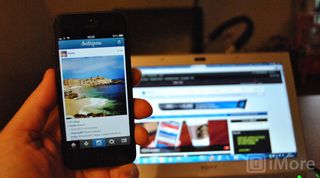 Instagram and Google Chrome have finally received updates for compatibility with iOS 6 and the iPhone 5's larger 4-inch screen. When we say finally, it's funny as the iPhone 5 has only been out for less than a week but it seems like if your app is not updated on the day of launch then it's already late to the party.
Instagram, which has over 80 million users worldwide is updated to version 3.1.0 and includes iPhone 5 support, iOS 6 support, improved password recovery procedures and a redesigned registration flow.
Google Chrome's update is equally as simple; it again includes support for iPhone 5 and iOS 6 as well as a few stability and security improvements.
There are still many apps that need to be updated for iOS 6 and the iPhone 5's 4-inch screen but at least as every day goes by we can tick more and more off that wanted list. Which apps are you waiting for to be updated for iOS 6 and the iPhone 5?
Free - Instagram - Download Now
(opens in new tab)
Free - Chrome - Download Now
(opens in new tab)
Get the best of iMore in in your inbox, every day!
UK editor at iMore, mobile technology lover and air conditioning design engineer.
iPhone 5 Vs iPhone 4S – Battery Performance Test http://iphonefre.com/iphone-5-vs-iphone-4s-battery-performance-test/

Chrome on the iPhone 5 with 4G runs so good. Very happy about this update. :)

Now that chrome is updated I hope YouTube is updated soon! It's quite annoying to watch double letterboxed videos ;)

They need to add an HQ button option like when you would save the safari page as a home icon.

Chrome is kinda glitchy at the moment, keep restarting for some reason.

Youtube and Google Voice.

YouTube update! Where are you?!

for those waiting on the youtube update, check out the "jasmine" app. awesome youtube client with full iphone5 screen support

Since I started with my online business I earn $62 every 15 minutes. It sounds unbelievable but you wont forgive yourself if you don't check it out. Red97.com

So being everybody is talking about this . what is the total cost of this and how many times are you gonna have to pay? I checked out the website and it said 97.00. so then i google it and a lot of people said it was a scam??? I would like to do this if someone can give me some insite on what all this actually hoestly cost??? THanks

youtube, gmail, voice, drive, scoremobile, whatsapp, vtok, offers, ebay, etc.
Thank you for signing up to iMore. You will receive a verification email shortly.
There was a problem. Please refresh the page and try again.