Instagram's new Q&A feature is a bigger deal than you think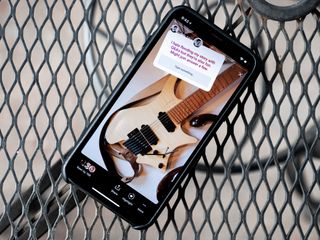 If you've been on Instagram in the last week or so, you've probably noticed some of your friends using the new Questions feature in their Stories. You might have even tried it for yourself — it attaches to an image or video in your Story just like any other sticker, and you can add whatever you want to the text field, resize or move the sticker, and field replies to answer and post to your Story.
You might even already be annoyed with the feature and how many Story posts it encourages — every time you answer a question, it gets shared to your Story unless you choose to send your response directly to the person who asked. Some users' Stories are longer than ever as they try to answer every question that crops up, but don't worry. As with any new feature rollout, use will settle down as more and more people get the initial urge to try it out of their systems.
Whether or not you like the implementation of Questions in Instagram Stories, they're a much bigger deal than you might think. Over the last few years, Instagram has gradually been inching away from its initial positioning as a social network strictly for photos. At first, it gained support for 15-second videos, then 60 seconds, and now IGTV supports long-form video up to an hour long.
On top of adding video support, Stories completely overtook Snapchat with ephemeral images and videos, filters, and add-ons like location stickers and polls. The new Questions sticker builds onto Instagram's empire with a more interactive and engaging nature; aside from polls, Stories have been more or less one-sided, giving your followers a peek into the behind-the-scenes goings of your daily life. Sure, you could send someone a direct message in reference to their Story, but this is different. This is entirely open-ended and public.
While it may be a bit annoying at first that every answered question takes up a post in your Story, it fills an important role in allowing Instagram to replace even more services. At this point, It's hard to imagine Instagram replacing sites like YouTube entirely, but a few years the same could be said about Periscope, Snapchat, and Vine. Questions obviates the need for popular Q&A sites like Ask.fm, Curious Cat, and to some extent, even Tumblr. It's almost even like Twitter in a way. If Instagram's goal is to keep you from going elsewhere — and it is — this takes them a step further in the right direction.
Have you tried Questions yet, or at least seen others use it? Do you like its open-ended nature, or are you tired of scrolling through endless answers in your feed? Let us know in the comments below!
Master your iPhone in minutes
iMore offers spot-on advice and guidance from our team of experts, with decades of Apple device experience to lean on. Learn more with iMore!