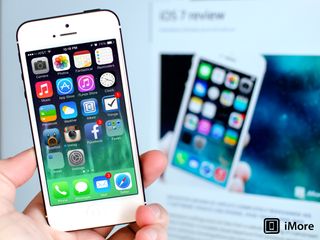 That time we've been waiting for since June is finally here - iOS 7 is out in the world. Reports are flooding in that people are able to download the new update. If you've been waiting, fire up Software Update on your phone and do it over the air, or get ready to download the update through iTunes once it's available.
That's assuming we haven't talked you out of it at this point. Just make sure you've backed up your iOS device first. Better safe than sorry! Also make sure you have enough free space: the download measures over 3 GB, installed over the air.
Expect unprecedented demand for the new release - there are more iOS devices in the world than ever, and iOS 7's release has been very well publicized. Don't be surprised if you get errors or see slow download times; just be patient, try again later, and upgrade when you can.
Are you looking forward to iOS 7? Have you been using it during its extensive beta period? Sound off in the comments! And for more information on iOS 7, check out these links:
More iOS 7 tips and how-tos
Get the best of iMore in in your inbox, every day!
The Apple Servers are getting too much of load with iOS 7 downloads, so you might get slow speed and error! , Here are mirror download links: www.is.gd/ios7final

Hasn't showed up on my iPod touch 5th generation or iTunes on my end.

I'll give it until 1:30EST and then I'll do OTA. Worried about server bombardments later...

Yeah not on iTunes yet wtf stop playing Sent from the iMore App

Backup up first might be a good idea. That is a LONG screen on the Learn More link. Needs 3.1 GB free. Had to temporarily delete a game.

I guess I can take a nap while it downloads.

Downloading now, gonna be a while.

Or not, it's almost done. Impressed!

Downloading it here in the UK!

Downloading now.
"About 7 hours remaining"

Will I able to do ota if I have the gm? Sent from the iMore App

GM is same as todays, so you'll not get an OTA no :)

how GM can upgraded to final?

So GM and today's release have no difference?

No difference. Gold Master is being released to everyone else today that wasn't a developer. There is no need to update again.

GM restore to ios 6.1.4. then check for OTA update on phone it will pop up...

As I and others have said. GM is the same as the public release today, developers just got it a week early

iTunes 11.1 still showing 6.1.4 as recent release here in Ohio. R

Doing OTA... "2 hours remaining" :-)

down to 35 minutes remaining

Why is this not being pushed to iTunes yet!

Based on past experience, the OTA release sometimes precedes its availability through iTunes.

Thanks for the reply Peter. Based on that past experience, how much later was it then available on iTunes? Thanks again.

Great question - I don't remember, unfortunately, but I seem to think it's usually a few hours later.

OTA , preparing update :)

Quit taunting me! I am unable to find a wifi network on lunch and the work site doesn't have wifi, this is going to be a long afternoon.....*le sigh* the life of a mobile enthusiast Sent from the iMore App

im on the same boat here. i hate that we're not able to do it over cellular i have enough data available and a pretty fast connection.

downloading now 6 min remaining

Yeah I tried iTunes with no luck, but OTA is downloading.

It went available a few minutes before 10 EST for me. In my iPhone 4S, it started with 6hrs, now, after a few minutes it says 2hrs remaining. (I'm in Buenos Aires, Argentina). In my iPad 2 it said 14 minutes remaining, but then it failed (I'm sure because I was doing the manual backup to iTunes while downloading the update to iOS 7 thru wifi)

I keep getting "software update failed"

me too, over a dozen time now, even after downloading for several minutes on iPad and iPhone...sucks.

Go off and do something else and try later. Let the rush die down a little.

Mine has failed several times also. I gave up for a bit but couldn't help myself and started trying again. I really wanted to download it at work so I could mess around with it tonight.

keeps failing!!!!!!!!!!!!! Multiple times on multiple devices. Apple has jumped the shark today.

OTA method is a giant ball of failing hurt today!

appears to be downloading cumulatively between each fail, don't give up! saying I have 5 minutes left on iP5.

I thought about waiting for the bugs to be worked out but nahhhhh! I have to get the latest greatest now!

I got software failed a couple of times...but it is in the "Preparing Update" now and the status bar is about 90% done.

I keep getting software update failed. Anyone??? Sent from the iMore App

Mine keeps failing too :(

yep, sucks, no explanation, can't download iTunes either. Apple=fail today so far

Yeah. On iphone 5 and ipad mini

Mine is failing also. Update: Seems to be working finally.

Getting Update Failed on iPad 3. Have tried several times.

Not in Texas Yet Sent from the iMore App

i'm in Houston i am updating via OTA

In lewisville and its still a no go Sent from the iMore App

Aargh! Mine still says 6.1.4 is the latest!

I keep getting the iOS7 failure message for my iPad too.

I'm on iOS 7 beta 6, will i get an update via iTunes 11.1? or i have to downgrade to iOS 6.1.4.
Someone please clear my confusion. Thanks

I'm in the same boat. Beta 6 GM...says ios 7 is up to date.....but need itunes 11.1 for it to read my phone--but that too doesn't even update. weeeeirrrrd.

I'm on a beta version of iOS can i still OTA or do an Itunes upgrade? do i have to do a restore or anything?

You'll have to use iTunes. Backup then restore to force the download of iOS 7 GM if your not running it already. GM is the same as todays release.

Ipad4 - downloading - 1hr to go
iphone5 - 4hrs
other iphone5 - 2hrs ipad mini however, keeps failing.. all in uk :)

WAIT! I'm confused! Didn't Peter just write an article telling us NOT to get iOS7?

LOL! Well, now you know why. ;D

I have the last beta now. Will the update be available for me via ota ???????

mine is GM looking for answer :(

Can somebody PLEASE tell me WHY my iTunes will not update to 11.1.....Windows 7 (I go to check for updates within iTunes and it says 11.05 is current, yet I need 11.1). Also, can someone PLEASE tell me why (always happens) I cannot download iTunes directly from Apple.com....I click download and it takes me to the Thank you for downloading page, yet NOTHING pops up to save. Help. I need a Mac! ;-)

https://www.apple.com/ca/itunes/download/#mn_p

I'm having the same problem, won't even download 11.1
Version 11.05 keeps telling me iOS 6.1.4 is the current version too. Typical Apple mess, their servers always suck. I don't even know why I try on the first day anymore.

use safari to download, save the file 1st before installing, same happend with worked with safari.. cheers

Thanks, now I have 11.1...Now I'm waiting for the "Check For Update" button to work. It's still telling me 6.1.4 is the latest OS :(

I believe you can to the Download ITune and download it from there and install it that way

I tried IE (didn't have Safari but that is actually a good idea so thanks for that!), but I WAS able to download it try after try after try (one restart of windows laptop). It did take a while to download, it just finished, usually its 2 or 3 mins if that, but this was like 8 minutes, but as expected, we just need to be patient with the downloads today....wait it out a bit, don't get frustrated, because everyone and their monkeys are downloading itunes, ios 7 etc. Sooooo pages will take a long time to load, fail, restart, etc. Thanks for the love ya'll. Btw, I got annoyed because I did have issues installing itunes before and not when a big release was out. It would just not save at all. So thats why I went crazy. Haha. Oh and I did it through Firefox anyway. Thanks guys! Enjoy iOS 7. It's really beautiful.

I was getting the same. I cleared cache (in chrome) and it showed the new version to download. Try clearing the cache in your browser and see if that helps.

Shows as not out yet on iTunes...shows as available on my phone directly, but cannot download. Poor, crushed servers.

Update. My iPhone 5 was downloading, 15 minutes to go, then it popped up that software download failure and now it's doing the same thing as iPad. What is going on

Just wait or keep trying. My iPad has failed several times. A friend of mine had hers go through almost immediately. I feel like i'm playing server roulette, just keep trying until I hit!

ok more confusion! 1) can iOS 7 beta 6 get an update via iTunes (i know we don't get an OTA update)
2) DO i have to downgrade to iOS 6 to get the update>

Yep, downgrade to upgrade.

downloading now 38 minutes remaining

Software update says iOS7 is available for download on my ipad4. After clicking agree on terms and conditions I click to download now. Fails immediately. Tried about 5 times. Meh. I'll wait a bit.

iPhone 4S has 30 minutes of download time remaining... However my iPad 3rd gen keeps failing... Bummer Sent from the iMore App

Downloading on my iPad, few minutes left to complete the download.

On OTA attempt #12, mine is saying "preparing update", then crashed again!!!!!!!!!!! C'MON APPLE FIX THIS CRAP!!!!

Installing on my iPhone here in Western Australia - started as soon as Peter's article published. Waited a few minutes before updating my iPad and no dice - an error message. I expect the servers are being hammered now. Sent from the iMore App

"Go get it" says the person that told us to wait ;-D http://www.imore.com/heres-why-you-shouldnt-upgrade-ios-7-yet

I should have listened. At least Windows 8.1 update was seamless and didn't fail.

Now everyone's having trouble downloading. I TOLD YOU TO WAIT. ;)

hey i am on io7 beta 6 and im seeing that my version is up to date when i try to update it.
what should i do?

My phone just cleared the status bar and says that it is installing now. Phone just started a reboot. Good sign.

mine is downloaded and says Preparing Update Been a while (5-10 min)

It's taking forever to install. I've been on Preparing Update for about 15 minutes now.

verifying update and rebooted now White screen and black apple ;)

I would love to, but it hasn't showed up in Software Update or iTunes. Does anybody know where I can get the ipsw?

My OTA update keeps downloading partially and failing. iTunes 11.1 doesn't seem to know that there is an update to iOS yet…… : (

iPhone 5 verified update and isnow restarting! I was in the "preparing update" mode for about 20 minutes.
iPad 3 is getting close

I'm in the 'preparing update on both my iPhone 4S and iPad 2. Glad to know that there's light at the end of the bar...

Screw this...Apple must not have fed their mice at the server farm.

On the iPad mini I get a "unable to check for update" "an error occurred while checking for a software update" I may or may not have gotten the GM on my iPhone last week sooo idk about that one. iTunes 11.1 was no issue for my MBP

I was getting the fail message on my iPad mini at first but now it's downloading and is showing anywhere from 35 minutes to 2 hours left. Hoping it doesn't get interrupted.

Spoke to soon. Download stopped and got the error message again. I guess they don't have enough resources to handle this release.

OTA is chugging right along. Looks to be a quarter through and says 28 minutes left.

Just started. 6hrs. remaining.

I think they are getting slammed :p

3 hours left, was 2 hours then went up :(

Now up to "About 11 hours remaining" :(

My phones is downloading faster than my ipad mini on the same network

iPhone 5 restarted and is completing the installation. Can't get the iPad 3 to download without the failure message.

I was getting update failed error too on OTA and then restarted my phone and tried again and it's working with no problem. Try that. I'm at Preparing Update" with 85% status bar.

verifying update and rebooted now White screen and black apple ;)

Has anybody had success trying to update through iTunes on their computer?

OTA going on my 4s! 5 minutes remaining.......keep getting error msg on ipad 4

Damn. Got to within 2 minutes on my iPhone 4s and I got an error message

This is why I don't like doing OTA as everyone is saying it is failing. Why don't they put it in iTunes? much cleaner install. I guess they have to quit signing 6.1.4 first or something. I'm trying OTA on my iPad but waiting for iTunes for my iPhone 5. Ah, got a facebook notification then the wonderful FAILED message.... Come on Apple!

just finished downloading, took 44 minutes. So excited :)

Too many people getting the error message. What gives ?

no update yet here in Andover, Ma :-(

On 4S getting error message "download failed" never had that happen before. Tried OTA Sent from the iMore App

roughly 45 min to download in Texas

7.0.1 has been released for iphone 5S and 5C, a few bug fixes for IOS on those devices. So maybe if your thinking you shouldn't upgrade to IOS 7..... yet, it would seam Apple is monitoring how things are going and quickly releasing updates.

I'm in Chicago, doing OTA and the screen looks like it's stuck on the 'About 1 hour remaining' progress status, with no evident movement, for about the past 15 min.... grrrr...

whoops - just changed to 49 minutes remaining, so I guess there's life in the patient after all....

Updated on my iPhone and it's gorgeous. Looking forward to playing!!
iPad still receiving error message, but may need to leave it for tonight (wee hours here in OZ). Sent from the iMore App

GM USERS
________________________________________________________________
take full backup on icloud, restore to ios 6.1.4 n update will pop up for GM users worked for me iphone 5 - ios7 gm to ios 6.1.4 to ios 7 final cheers !!!

1:17 eastern iOS 7 on iPad mini via OTA.

do i get my storage back after the update

Is it out yet in iTunes ? Am also on a GM unofficially and when i click on restore, it says "The requested resource was not found". Error or just not yet available?

it wont come for gm by OTA or itunes. restore to 6.1.4 by restore method after downloading ipsw. then as ur phone boots upp with ios 6.1.4 u will can check for updates on phone. it will show.. mine is working

im running iOS7 Beta 6 and its showing up as my version is up to date. other people in my office that ran iOS6 are getting the update however...this hurts

Could the iPhone 5 have first priority at the moment?... Am hearing success stories for this device compared to the others... Sent from the iMore App

White Screen with black Apple logo on install screen

$140+ billion in the bank, you'd think they could invest in some servers to avoid this annual slamfest!

Reset phone, and still error message "download Failed" I will wait until later. Does not say much for Apple. Sent from the iMore App

Keeps failing on iPad4 via Wifi. About 10 tries and fails so far. iTunes not showing as available.

Had the same problem, just now started the download again. 6 min to go (which equates to at least 30 min :P)

I wonder how many bricks will be created today... :)

Got it!!! Sent from the iMore App

11 hours remaining.... at that rate I can wait a few days.

After checking for updates on iTunes over and over, it finally shows that 7.0 is available for download!

update download just finished ... preparing update - Lisbon, Portugal

Started download at 12:55 PM EST and completed at 2:00. Installing now.

siri is gone?? i cant find her

Wife is downloading OTA on iPhone 5, I am downloading on iPad 4. I'm being the test subject for her iPad 3. Going very smoothly here in the Land of Lincoln. Both have finished downloading and are preparing the update. Here's hoping we didn't make a mistake.:-) Funny I never feel this way way when upgrading my Droid and Nexus 10. Oh well here's to being among the first! Happy upgrade everyone. Sent from my Warp Drive Nexus 10 on JB 4.3

mine just says estimating time remaining....lol wtf

Its installing (black screen with progress bar at 50%) on my 4S, downloading on my iPad 4 and wife's iPhone 5 here in Texas. Excited!

2:03 eastern iTunes 11.1.0 downloading via win os

Mine is downloading but says 25hours remaing! HELP why that long??

you have a wack connection

alright its working now lol

My itunes is still saying 6.1.4 is current arrggghhhh

Nothing yet for me. From East Coast

ok wack.
first said 25 mins
now saying 2 hours. wtf

On my 2nd attempt at downloading now, and I'm down to 4 minutes remaining. It's bounced back and forth, though, so I can be at 4 minutes remaining, then I'm at 7, then back, down to 4....fingers and toes crossed that I don't get a failure after making it this far.

2 Hours, 5 hours, 8 mins, 25 mins.... download FAIL

Still says preparing Update for an hour now

ok, so people are sending conflicting msgs here? if we have the GM on the ip5 of ios7, is it the same as the update released today, or should we downgrade to 6.1.4 & re-install ios7? is there any benefits to doing so, or are we fine running the GM? Thanks.

No Wi-Fi here so OTA isn't an option. iTunes said 6.1.4 was the latest then decided 7 was available. Download failed and it's back to saying 6.1.4 is the latest. Fun.

Done and working good, about 20 min ago.

is it possible to cancel the download? i'll have to wait until i go home from work...

All set. Downloaded and installed. Looks good.

New to the forum, I wanted to ask someone in here directly....Are there different update times for different products...I have an iphone4, & I attempted to DL the update, but a message generated after it attempted to DL that said version not available, any ideas? Thanks in advance, "New kid on the Block."

I'm currently updating mine while I get work done. Hoping it works smoothly in the next room as I'm on a looooong road trip this afternoon/night. Sidenote: It's funny to read all the comments in succession. It looks like mass hysteria. :)

I got it right away. Beautiful!!

And here are the download likes from Redmond Pie. Downloaded it that way using wget on a Linux box in under 5 minutes, iPhone 4S still says 3 hours remaining. http://www.redmondpie.com/download-ios-7-final-ipsw-for-iphone-5-4s-4-ip...

Can someone confirm the build number please?

Friend of mine that got it has 7.0 11A465. Same as at the link I posted :D

Success! Now I just have to change my background, its larger than the screen. Wife's iPhone looks good too. Now we're trying to get the iPad 3 going. Already had one failure. Retrying and hoping it works. From what I have seen looks like most if not all my apps upgraded before the update. Sent from my Warp Drive Nexus 10 on JB 4.3

Downloading update... done. Processing update... done. Verifying update... after about a minute I get the message "Software update is not available at this time. Please try again later." I don't get it, I've already downloaded and processed the update, what's not available???

I'm getting the same thing! Grrrrr

Keep trying, I finally broke through and am at the black and white Apple update screen. Fingers crossed that it goes smoothly from here...

I turned my phone off, turned it back on and then went to install the update and now it seems to be installing. Maybe coincidence, but worth a shot. Good luck.

Not sure if it was a fluke or not, but when the same thing happened to me I went into the privacy policy and then hit accept. It worked then. Definitely was by coincidence that it worked out though.

I don't think it's a coincidence, I just tried the same thing with my iPad 2 and it worked.

Finally success in Graham,NC - SUWEEEETNESS!

iOS 7 installs, says hello, I select my wireless network, and it fails to activate the phone (wirelessly or via iTunes). Anyone else see this? Rob

I too, am receiving this error on both Wifi and through iTunes on my iPhone 5 (AT&T)

Same here. Phone wont activate. (Sprint)

yes same here. Posted down below as well. <really> not happy.

It's their server attempting to deal with multiple activations simultaneously. Keep trying till it gets through or remove the SIM card and do it via WiFi.

Can someone please tell me what the version number of this latest release is? Right now I have 11A4449d, I'm not sure if that's the GM already.

Now available on iTunes! 2:45pm EST

Downloaded on my iPad and it is working great, no Issues thus far.
Looks great

Another failure on iPad 3. Got all downloaded or so we thought and while preparing update suddenly said software update not available. Should have done all 3 at same time. Will try later when the states go to bed. Sent from my Warp Drive Nexus 10 on JB 4.3

Upgrade the iTunes to 11.1, can't wait to see what happens next...

Downloaded OTA on my 4s. Start to finish in a little over an hour (I was downloading on a WiFi network with 50 meg capability). No troubles and it's running fine.

After full download, error message states "software not available at this time. Try again later." This is the worst update system yet. Apple as usual was not prepared for this event. Sent from the iMore App

I had the same error and just kept trying 5-10 times and it finally installed (or at least seems to be installing now....)

Working great so far on iPhone 4!!

Apple can put a finger print sensor in a tiny hand held device but can't properly unleash a software release. Seriously, WTF?

Any way to download the OS without plugging in your device, and when the download is done just plug it in and install?

After successfully downloading ios7 on my iPad (4th gen), I was stuck during the verification process. It took over a dozen tries to begin installation. Waiting to see what's behind the black screen and glowing Apple icon!!!! Sent from the iMore App

"Could not activate iPhone" once past the wi-fi setup. Telus iPhone 5 Argh.

Is anyone else getting the "checking for updates" message continuously and nothing happening? It sits there with this message and nothing else happens. Thanks

anyone having trouble with the could not activate iphone thing and activation servers or something

also 'could not activate iPhone' stuck in land of nothing. Lovely way to have a bricked phone while traveling - won't even activate via iTunes.... POS.

had this problem before, just had to wait till i get it activated

iMessage reactivation is not working. I'm on an iPhone 4s and assuming it's because the servers are getting slammed. Anyone else running into this?

this is sooooo disappointing!!!

I had the issue for the last couple of hours. I got the downloads to finish a while ago, but then couldn't actually do the install. Both my iPad 3 and my mini just started to work at the same time. They are installing now as we speak!

Mine worked great OTA; took about 9 minutes to download, then about 20 to install and reboot. Activation was painless. In my experience Apple did great with this process.

I jumped in at 12:59 EST and downloaded pretty quickly. No issues with the install. One funny thing that I've noticed, though: Rene demonstrated a gesture in Mail and Messages that doesn't seem to work for me. He swiped from left to right which moved "up" a level, i.e. from a message to the list of messages. Is this gesture not enabled on the 4s, or is something I need to turn on somewhere in settings, does anyone know? Thanks!

works fine for me (iPhone5)

Mine does it on the 4s. It operates the same way as the Blackberry OS. The only tip i can think of is start the swipe off screen. Try that.

Ha thanks Craig. I took my case off (it was partially obstructing the screen) and tried again, making sure to swipe from off the screen, and presto, it worked.

I waited over an hour and just as it was about to install it told me that the iOS software update isn't available for download. :(

Same thing happened to me on my iPad 2. I turned it off, back on, then tried the install again. It's working now.

After 3 hrs of waiting, the progress bar is now showing a hint of blue! My time remaining "24 hours". Good god.

http://9to5mac.com/2013/09/18/direct-download-links-for-ios-7-7-0-1/

http://9to5mac.com/2013/09/18/direct-download-links-for-ios-7-7-0-1/ for All iDevice ...enjoy !!!

If you do the OTA update and after the download it sits at "Verifying Update" then says The Update is Unavailable then just turn wifi off and try it again and it should whizz through. If not then turn wifi off, turn the device off and leave it off for 5mins, turn it back on and then re-enable wifi and start the download again and it should complete properly. NB. If you have to result to the last method of turning off the device for 5mins then you will have to download the entire update again.

So much things needed to be downloaded/updated. Darn, my internet is crawling. But, it will all be worth it. So excited for iOS7.

Ok, got my iOS 7 and like it. For now it works and does well. Let's hope it holds up to its expectations. I'm running it on iPad 2 so it's not as pretty as on retina display, but still very nice and smooth. Little flat and something getting used to. I really enjoying the new animations and transitions. Web also much better for bookmarks and surfing. It's interesting how now to kill the app you have to do what HTC One does. Will see... Miss the quick post for Facebook and Twitter though.

since i got off work today.. 6 hours and i dont know how many tries and so much errors.. back and forth with over the air and itunes but i finally got ios 7 on my iphone 5.. so tired from this dont even really have time to play around with it.. tmw is another day

Interesting, it never showed up on OTA (I have 7 Beta 6), so I am downloading manually and performing via iTunes. Note that you need the new version of iTunes in order to install iOS 7 on your device. Also note that AirDrop (where you can share data wirelessly between iDevices) is only supported on iPhone 5 and later. I am not sure about AirDrop on iPads, because iOS 7 goes back to iPad 2.

Thanks a million Tim and Apple, fantastic upgrade. Now my iPhone really looks like a "CHEAP CHINESE PHONE". The last thing all i wanted is this big shit from Apple.

it downloaded fine, but won't reboot? completely stuck at approx 1%? anyone know why that might be?

HELP! Started the download at almost 10 hours ago. Woke up to find 1/4 of the way done. I thought it had stalled so restarted it, now it won't move on the bar....have to work today. Any suggestions? Can I can I stop the load process?
Thank you for signing up to iMore. You will receive a verification email shortly.
There was a problem. Please refresh the page and try again.