iOS 7.0.2 now available, fixes Lock screen passcode bypass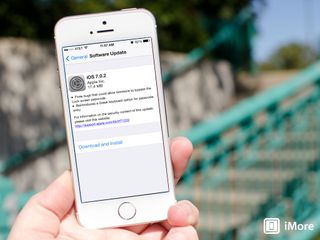 Apple has just released iOS 7.0.2 as an over-the-air software update. This should fix any Lock screen bypasses in which users can bypass your passcode and gain access to your device. The update is available for all iOS 7 enabled devices.
The exact wording on the update in reference to passcode bypasses is as follows:
Other than that, the only other release notes deal with adding a Greek keyboard option for passcode input. If you see anything else, let us know in the comments. We'll update if we find anything else out!
In the mean time, you can grab the update by tapping into Settings > General > and Software Update.
Get the best of iMore in in your inbox, every day!
iMore senior editor from 2011 to 2015.
Just updated :))
Thanks for the heads up!! Sent from the iMore App

Installing the update now. As usual, I think the update includes performance enhancements as well. :)

iPhone5 updating... it appears to be for all iOS7 compatible devices - direct downloads are on Apple's servers...

ugg cant download over LTE still why not?

I agree. If it's under 100MB, should have the option to download over cellular. That's the new download limitation, and it should apply to iOS updates too. This one for me, on my 5s, shows only 17MB. That's not even larger than the old download limit.

Shows as 21MB on my iPhone 5. I'm guessing the WiFi only requirement came from the carriers though, and not Apple. Millions of people hitting the cell network for 17-21MB a pop can add up fast.

That is what you have data plans for. The carriers let much larger updates go through for android devices all the time.

Updates on Android phones? Are you serious? My Droid X2 and HTC Incredible 2 wish they ever got updates.
- Worst case for your iPhone: wait to get home and use wifi
- Normal case for Android: Wait 1 month for Google to release update then wait another 2 months for the phone manufacturer to pass it on, then wait 4 months for the carrier to reject it and send it back to the manufacturer. I think I can wait until I get on wifi.

Yeah this is for sure a non issue. I spent 3 years suffering with Android performance, security, & update problems. Apple suffers from none of that so don't make a mountain out of a molehill.

I like auto updates but was worried I'd miss seeing what changes had been made to the apps. So I'm grateful that the updates list is there for a few days and enjoy looking to see what's changed at my leisure. Sent from the iMore App

How about an update to make my IP5 fast again

My iPhone5 on iOS7 is no slower than it was on iOS6...

My home button takes about an extra second or two to register, and for some reason initial taps in certain situtations are not registering (after animations are complete while unlocking, closing out an app or entering multitasking). It's only a second or two lag from when you can actually tap/swipe, but it's getting annoying. Also 2 more things...1) what's up with the constant running list of updated apps...bug or feature? 2) Is it only me, or is the white keyboard used in messages very distracting? I feel like I can't see what I'm clicking. I'm def not typying as fast, but I'm getting used to it.

You have auto update on. Turn it off if you don't want auto-updates.

I think Rob is referring to the "list" of recently updated apps that remain in the updates section of the app store. It continues to show apps that were updated days ago and I agree it's annoying.

For some people the slow typing/lag when typing has gone away when doing a Reset All Settings (General > Settings). You might try that though be aware you'll have to reenter wifi passwords, etc so make sure you know those.

I actually like that the list of updated apps is in the update section. I'm not having any problem with the keyboard either. I'm typing as fast as before on iOS6.

my iPhone 5 is pretty darn quick, other than the animation speed that affects every device.

Huh. Even my old 4S is just as responsive and fast as it was under iOS 6.

After digging up the "how to do this" stuff on Youtube I decided it was better to do it now than to wait for an OTA alert. Yikes.

general >software> nothiing for me.. says up to date 7.0

Shouldn't.. 7.0.1 is out .. not just 7.0.2

7.0.1 was only for the 5s and 5c.

7.0.1 was relegated to 5S and 5C devices only.

Here is good info how to bypass your iPhone 5S http://www.imeiunlockpro.com/setup-lock-passcode-bypass-iphone-5-4s-5s-4/

i have an iphone 5... is 7.01 and 2 only for 5c and 5s?

ios apple 7.0.2 new virison software

anil kumar verma mobail 9466953740 ambala cantt

I will download it once I get home and hopefully it improves battery life and performance on iPhones..

Before the upgrade, my iPhone 5 took beautiful photos. Since the upgrade, I've noticed my photos are not the same. I'm curious if anyone had the same issue with their phones?? Sent from the iMore App

Setting wallpaper still FUBAR

Yeah, I noticed that. Can't set wallpaper, only wants to set the lock screen background/wallpaper.

Same here. A picture that fits the screen really nice becomes HUGE when I try to set it as wallpaper, and I can only see part of the pic - and I can't resize it. WTF?

Same problem for me, the move and resize icon doesn't work. Anyone know why?

I don't know if this is the placebo effect but Safari seems faster at opening tabs. Iphone 5 here.

Not sure, but I think 7.0.2 now has a landscape orientation multitasking UI. I seem to recall that multitasking was always in portrait mode in 7.0.0. (Or on the other hand, maybe multitasking just doesn't switch between portrait and landscape when you rotate your device.)

My 4s has done landscape multitask since 7.0.0, but it will not reorient if you rotate.

Thanks, I stand corrected. :-)

There was a story over at http://www.theiphoneaddict.com that showed a video on an iPhone shutting completely down after the update.... im skeptical now??

Just updated my 5s and seems snapier then i remember good deal for me

Got the new update and now iTunes Store keeps crashing... Anyone else having this issue??

Yup and any other apps I open it automatically closes them.

How do you use the "Greek keyboard" option???

update from ios 6.1.4 to ios 7.0.2, and downloaded OTA but it won't install, i clicked the install now button 100 times... what do i do now?

Maybe go to: http://www.imore.com/how-update-your-iphone-or-ipad-ios-7-using-itunes

My iphone 5S has not turned itself back on since the 7.0.2 update. That seems to be quite a big bug it's introduced!

Just applied the update. Nothing else much apart from the fix which appears to work. Noticed it did turn on my Bluetooth again, however, without my permission so beware as it will help drain that precious battery if left turned on when not required.

Thanks ! Downloading now....60%

Did the update now my music will not play in the car…called apple they said to re-do it on a PC. Smh Sent from the iMore App

Idk it might be my phone with all the space used up from iOS 7 that it got messed up but whenever i click on an app, and then wait for it to load it goes back to the home screen and turns the home background black and the apps like wiggle and have an x at the top to delete them, and when i unlock my phone it randomly opens up to facetime, or calender, or something. and not to mention when i unlock my phone sometimes the apps are shaded, they have shadows on them. again im not sure if its just my phone or if it means something but there's that for you

Ashley mine is the se exact way! I'll be on facebook and bloop back to the main screen. This entire layout is very complicated and stupid for that matter.

This new layout SUCKS! I can't download pictures from my email at all and when I do have a chance nothing comes up in my photos from email! The entire layout is a pain in the ass!!! I want the old layout back!!! This one is very complicated!

I updated to the iOS 7.0.2 but I can't do anything. It says I need to plug it into iTunes then my computer says its in recovery mode and I don't know how to fix it. Help me please

I updated to the iOS 7.0.2 but I can't do anything. It says I need to plug it into iTunes then my computer says its in recovery mode and I don't know how to fix it. Help me please

Mine is doing that too. Anyone know how to fix this problem? I am getting so frustrated

I did the update to 7.0.2 and now the pictures online take up the entire screen, even when I rotate my phone...you can only see a portion of the picture....not even an actual image, just some pixels!!! It is quite a nuisance and this problem needs to be fixed!!!

Anyone else having problems with playing music through the control panel with this update or is it a setting I can't figure out?

After updating the ios 7.0.2, I cannot turn on wireless setting, has anyone got this problem?

Don't worry my friend goto settings > general > reset > reset network and settings then you'll be good to go...:)

Yes, I try already but still the same, wifi cannot turn on...Thanks for my answering my question anyway. :)

I have done the latest update and have lost all my games
Why and where are they

I updated to the iOS 7.0.2 and now on my lock screen my date ad lock screen pic won't show up. I have checked my setting seen tried to change the lock screen pic but it still just shows the time and a gray screen.

After the update, I noticed I was able to delete by swiping to the left on the sms or e-mail msg. I was unable to do this before and had to use the edit menu.

STAY AWAY from iOS 7.02. Nothing but a disaster waiting to happen. The update bombed and forced me onto iTunes to do a restore. Bombed twice and finally took but now the phone does not work. No calls or data in over the Verizon connection. Even worse, the "Phone" section tells me I have no phone number. I tried a cold boot and got an waiting for activation kind of message. Worked fine right up to installing iOS 7.02. WAIT until Apple fixes this outrageous bug.

I updated, but my passcode bubbles won't show up.
Thank you for signing up to iMore. You will receive a verification email shortly.
There was a problem. Please refresh the page and try again.