iOS gaming recap: GTA Trilogy remasters delayed, Apex Legends Mobile hits no.1 plus must-play new games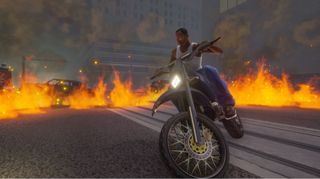 (Image credit: Rockstar Games)
This week in iOS gaming we learned that we'll have to wait a little longer to play Rockstar's GTA: The Trilogy remasters on iOS, that Apex Legends is – unsurprisingly – a smash hit, and there's another new way to play Fortnite on your iPhone or iPad for free.
Plus! Get our recommendations on what's new and what to play on your iPhone and iPad. Let's dive in, shall we?
The wait continues for GTA: The Trilogy – Definitive Edition
Tucked away in Rockstar owner Take-Two's financial results this week was the news that the GTA Trilogy remasters will not be arriving on iOS in the first half of this year, as originally announced.
Instead, the date set for the spruced-up PS2 classics is now a loose 'Fiscal 2023' - which could mean as late as March 2023.
This is probably a good thing. The games were a real mess when they arrived on PC, PlayStation, Xbox, and Switch in November last year. So janky, in fact, that Rockstar pulled the PC versions from its own digital store for a while so they could fix the game. After several more updates and bug fixes, things seem to be a little more stable.
Let's hope the extra time being taken on the iOS ports means they'll arrive in better shape than on PC and console, huh?
Apex Legends Mobile hits no.1 in 60 countries
EA's wildly popular battle royale shooter finally dropped worldwide this week and hit the top of the charts all over the world shortly after.
According to mobile game number crunchers Sensor Tower, it was the number one iPhone game in 60 countries on launch day, May 17, and was ranked in the top 10 most downloaded iPhone games in 89 countries.
Our Carli had a good look at the game in our Apex Legends Mobile review earlier this week and was surprised by just how different it is to the PC and console game (in a good way!).
We've also got some quick tips for players who want to use a controller or voice chat in the game elsewhere on the site.
After the big Apple vs Epic Games kerfuffle in the courtroom, it's very unlikely you'll ever be able to play the battle royale phenomenon through the App Store ever again.
But wait! There's more than one way to skin a cat, as my dad would say. (He's never actually skinned a cat, I should add. That would be horrific.) First, Xbox struck a deal with Epic Games to put Fortnite on its Cloud Gaming service for free, playable through your browser using streaming tech.
Now it's been made available in Nvidia's GeForce Now streaming service, too. It's pretty much the same deal as with Xbox Cloud Gaming – you can sign up for free and play right away. Like Xbox, Nvidia is hoping that it'll tempt more folks into paying for its Premium service, which offers higher speeds and longer play sessions.
What to play this week
The obvious choice this week is Apex Legends Mobile, of course, but we've talked plenty about that already.
So why not give Crux: The Great Outdoors a go? It's an excellent rock climbing game that's tricky but super satisfying in equal measure. Crux plays like a puzzle game, in that each stage is about plotting a route to the summit using the differently-sized hand and footholds – the larger the hold, the longer you have before your climber falls.
You also move your arms and legs separately in a pretty unique way, which cleverly mirrors the way you think about climbing (You use your feet as a foundation while your hands feel out the next possible move). It's a really original and interesting game, a rare thing on the App Store.
Apple Arcade subscribers can also get some Mario Kart-style action from today in Warped Kart Racers, which throws the casts of Family Guy, American Dad!, King of the Hill, and Solar Opposites together into cartoony racing combat. It's made by the racing pros at Electric Square, the folks who made fellow Apple Arcade racer Detonation Racing, so you know you're in for a good time.
Final tip of the hat to Newtro, too – a neat little Breakout-like game with cool Game Boy-esque visuals and very zen music. It starts out as a typical -brick-breaker game, but then takes that familiar formula to some weirder and more interesting places.
Until next time!
- Neil Alexander Long
Neil Alexander Long is a gaming contributor for iMore, as well as the founder and editor of mobilegamer.biz (opens in new tab), a mobile games industry website that specialises in exclusive news, interviews and insights.
He started his games media career almost 20 years ago on UK games industry magazine MCV, before editing Official Nintendo Magazine, interactive iPad magazine iGamer (RIP) and edge-online.com (opens in new tab) (also RIP), Edge magazine's online presence.
In 2014 he moved to Apple to serve as App Store games editor. There he helped launch new App Stores on Apple Watch and Apple TV, the App Store's UK Today tab, Apple Arcade and countless games, including Clash Royale, Monument Valley 2, Brawl Stars, Candy Crush Friends Saga and Beatstar.
Thank you for signing up to iMore. You will receive a verification email shortly.
There was a problem. Please refresh the page and try again.