How to fix iCloud sign-in loop bug on iPhone and iPad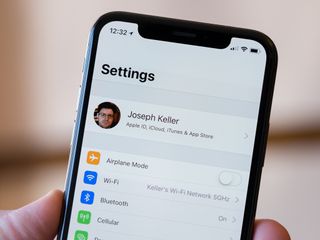 (Image credit: Joseph Keller/iMore)
Once in a while, often following a major iOS update, you hear complaints about iCloud asking for sign in. Again. And again. And again. And again. And again. And—you get the idea. There's probably a very technical reason for why iCloud panics and goes into a hyper-vigilant state but let's just agree to call it super-annoying. Here's how you can try to fix the problem, and cut down on the number of dialog boxes in your life.
How to stop iCloud from asking you to repeatedly sign in on iPhone and iPad
If you want to stop the incessent nagging to enter your iCloud password, try signing out of iCloud, power cycling your device, then signing back into iCloud. Here's how to do that.
Open Settings on your iPhone and iPad.
Tap the Apple ID banner.
Tap Sign Out.
Tap Sign Out of iCloud.
Enter your password to disable Find My iPhone on your iPhone or iPad.
Tap Turn Off.
Tap Sign Out.
Tap Sign Out.
Power cycle your iPhone or iPad
Tap the Apple ID banner.
Tap iCloud.
Tap Not [your name or email address] if you use a separate Apple IDs for iCloud and iTunes/the App Store and you didn't sign out of the latter.
Enter your iCloud Apple ID and password. Signing into iCloud could take a couple of minutes.
Enter the passcode of your current device.
Enter the passcode for the requested device to complete the setup process.
Questions?
Need any more help dealing with continual iCloud sign-in requests? Have you found another way to deal with the problem? Let us know below in the comments!
Updated March 2018: Updated steps for iOS 11.
Get the best of iMore in your inbox, every day!
iMore senior editor from 2011 to 2015.
Another cause mhS been linked to signing in to iCloud and using capital letters in the login... I just need to fix why Safari Tabs will see my other devices but won't let me close them.

Thanks for the solution. Seems to be working fine for now. Sent from the iMore App

Never mind. It's still there. Sent from the iMore App

Try to change your icloud password directly from your device.

Didn't work for me. Get the sign in request randomly. Signed out and back in twice already a few days ago and it still happens.

Just did it again when I opened the mail app to send an email. That's like the 5th one in a 10 hour or less time span. How often do they expect us to sign in and out of our accounts to "fix" this? I'm becoming very disillusioned with their software. The bugs are really starting to infuriate me.

This also happens on my Mac. Would the fix be the same thing on the Mac more or less? Sent from the iMore App

I'm going to try this out and let you know if it works. For me it only asks every time I try to update an app.. Problem is sometimes I have 100+ apps to update and I have to type in my password for every single one.. Sent from the iMore App

This did not fix the issue. iTunes asks for my password for every app I try to update Sent from the iMore App

This did not fix the issue for me. iTunes still asks for my password for every app I update Sent from the iMore App

Good to know I'm not the only one with this issue. Have been driving me nuts. Every time I open I new email to compose, I get the pop up. Same for the iPad and my Mac mini. I'm thinking it has something to do with iCloud and the email syncing. Sent from the iMore App

You're right. Every time I click the compose button it asks me to sign in with my password.

Make sure your login doesn't have capital letters in it (email address). I'm going to do some more digging. This seems to fix the general random signin issue but not the mail issue. Try setting your iCloud account as the default if it's not already. That seems to fix it for some too. Sent from the iMore App

Yes, I re-signed in and it seems to have stopped the pop-ups for mail by removing the capital letters. However, Handoff is now completely broken again, so it'll probably take me another 2-3 hours to get it working again. EDIT: After about an hour+ of fiddling it decided to randomly start working again. I just cannot express how disappointed I am with the User Experience on this iPhone 6 Plus. The BUGS. MY GOD, SERIOUSLY. I am beyond frustrated, and furious that a $900 phone can have some of these types of QC fails... I splurged to "go all in" with their ecosystem, but I've wasted more time (dozens of hours) dealing with bugs and glitches in the past 2 months than the whole 4-5 years prior using Android and Windows. Literally. This is beginning to become "not worth it." On the bright side, their products retain excellent resale value, so if I get rid of the phone I can probably walk into the store and just buy a Note 4 or something outright with very little (if anything) out of my pocket. And it's not just because it's "different." This isn't my first time using an iOS device. (Someone always says that.) - Wi-Fi Bugs
- iCloud Photos Website Stripping all the EXIF from Images you download from it
- Continuity/Hand-Off Randomly going AWOL
- Sign-In Glitches/Bugs
- Apps Freezing/Going Unresponsive for several seconds during use (including Stock Apps, like Settings and Safari)
- Flaky as hell AirDrop (randomly fails during transfer) I haven't had any issues with the iMac itself, ironically. Just the phone, so while I am definitely keeping my Mac, I'm already starting to think about offloading the iP6+ and getting something a bit more reliable (and polished, software-wise).

Had this issue when I got my iPhone 6, and previously after updating my iPhone 5s to iOS 8. Doing this repeatedly didn't work, until I did it on ALL my devices at the same time. Sent from the iMore App

This bug drove me nuts,i looked up online found an article explaining it's a bug with Apple's icloud and keychain, off you have a Mac, login to your keychain and locate multiple entries for same login accounts, delete the duplicate, restart.
It did solve it for me.
Good luck

I'm going to try this and see if it works for my mac book pro. That keeps asking me over and over and i have to type it in 5 or 6 times before it's satified

Thank you, thank you, THANK YOU!!!

I get this every so often that I tried this but it asked me for the password right after. I desabled the backup iPhone option to see if that would stop and so far nothing.

Sounds great let's give it a go!

Hi I have a more or less similar problem with iCloud that requests for repeat signing in several times. My problem is my phone doesn't acknowledge my Apple ID password everytime I type it in. I have reset my password several times too but still I cant get through my phone to use it. But when I use my Apple ID and the new password in my laptop to connect, it works. I would appreciate any advice on this matter. Thanks.

It actually worked for me, but I was only having trouble with my iPad wanting me to sign in ever time i tried to open Find My iPhone. Thanks!

Fixed my problem! Thanks.

Terrible advice. All my contacts were deleted and the problem is still there. Disappointed

Now I can no longer log in to iCloud. Verify spins, then reverts to the log in screen!
wonderfully helpful folks

After not being able to get iCloud to backup my iPhone 5, running iOS 8.3, this seems to have worked. However, I also turned on iCloud Drive (which had never been turned on) immediately after I followed the recommended sequence and before I tapped on "BackUp Now" in the iCloud settings. The backup to iCloud then was successful after multiple unsuccessful attempts since my last OS upgrade. My question now is: can/should I now turn on/enable "Find My iPhone"? I would like to have that app active, but am concerned that will re-create the original problem.

Pls I have a problem with my iPhone 5s . I created a new Apple ID and when I try to login into my iCloud wit it , the iCloud is nt responding to my id saying dat d maximum no of trying password has exist .so what I did was to delete that account from my iCloud than I created another Apple ID and I try going back to iCloud Buh still telling mi that the maximum no of free account used can't sign in . Pls I really need feedback tnks

The problem is you cannot signout of iCloud unless you are connected to the internet and you cannot connect to regular WiFi Connection because it keeps getting reset by the constant iCloud login prompts. However connecting via Bluetooth occurs faster than regular WiFI allow you to connect in between iCloud prompts. I had the same problem with my iPad. Here is what I had to do.
1. Turn on Personal HotSpot on my iPhone(Wifi and USB)
2. Turn on Bluetooth on my iPad between iCloud popups
3. Connect to the Hotspot on the iPhone from the iPad
4. Settings -> iCloud -> Signoff

If i do this, all my photo stream and everything will be deleted correct? So, once I sign back in, will my photos and stuff be recovered??

I get this on occasion on my iPhone and even my Windows 7 laptop. Very annoying. Thanks for the tips!

I just wish they would fix sync. It is still hit, and miss. The other problem is MacBook Pro mid 2012. Every time I crank it up, error pop up cannot connect to iCloud. I thought it was an issue with two step verification, but it is something else. Sent from the iMore App

I just did this on my iPod touch 5th gen. I haven't used it in ages, but I wanted to get back to my Temple Run 2 since I advanced far beyond in that game than on my iPhone or iPad. I was getting the annoying constant prompt to enter my password and it was really getting old. And... Amazingly, this advice didn't work for me. I rebooted my iPod touch and followed the steps and I'm STILL getting that annoying prompt asking me to sign into iCloud. Wow, just... WOW!!!

Is there a number I can call. I have 2 emails listed for my apple ID and I don't know how this happened. I don't know how to change it. Can anyone help?

I believe I've tried every suggestion I've read including taking the phone back to factory setting and still it's asking for Apple ID, iCloud and email passwords. The only thing that works is permanently signing out of iCloud and doing without my Apple email accounts on the device. I have found an alternative to Find My iPhone, called Prey.