iPad 4 gets a teardown, reveals that not much has changed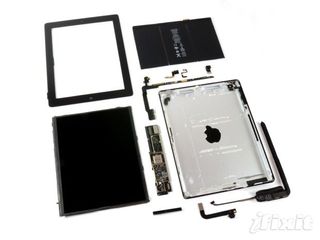 The iPad 4 has been given the same teardown treatment the iPad mini received by the guys over at iFixIt. In terms of repairability, it earned the same 2 out of 10 score that the 3rd generation iPad received. Other than a new dock connector and a few minor internal differences, much of the iPad 4's design remained unchanged from its predecessor.
Users that were a little upset about purchasing the 3rd generation iPad only to have Apple release an updated model 6 months later will be glad to know that in terms of design, you aren't getting much more. Sure, you've got the Apple A6X processor replacing the A5X in the iPad 3 and the Lightning connector but outside of that, the changes are very minimal.
Basically, unless you really desire a speed increase and really just despise carrying two different cables for different devices, then your iPad 3 is still very much relevant. Even the battery from the iPad 3 transferred over to the newer version so battery life won't be any different. It is, of course, still glued to the casing so when it comes to DIY repair, it's still the same annoying process.
Following with what we've heard about Apple dropping Samsung for displays, the display in the iPad 4 is manufactured by LG. It may just be a coincidence at this point considering Apple typically relies on many suppliers for displays. It doesn't mean some units don't have Samsung displays in them this time around. But it's probably a change we can expect to see as of next year if not sooner.
The Lightning connector is on its own assembly and ribbon cable which should drive down the cost of replacing the dock connector once parts are readily available. The dock connector in previous generations of iPads weren't too terrible to replace but it's nice to see that it's still replaceable.
If you want to check out the rest of iFixIt's teardown, hit the link below!
Source: iFixIt
Get the best of iMore in in your inbox, every day!
iMore senior editor from 2011 to 2015.
I am all set with my iPad 3. No point to upgrade just for dock connector. $500 can be spent on something totally worth my $$$$. This reminds me of my blackberry days. Lol new models coming out every year and nothing is changing but the camera and a slightly bumped up processor. We saw where that strategy landed RIM.

Agree that there is no practical reason for iPad 3rd-gen owners to upgrade to a 4th-gen. And since the 3rd-gen got the Retina display, there probably won't be any more major changes to the iPad design for years. Just minor detail changes to thickness, weight, and enclosure color and/or material. It's all about the screen. It always has been.

I still $$ back for this iPad 3 I have. Apple owes us that much, because 6 months or more ago they knew that this was the direction they were headed and still put a outdated product out and still charging full price!!!!!!

Phew this is a relief. I just bought my ipad 3 less than a month ago.
Thank you for signing up to iMore. You will receive a verification email shortly.
There was a problem. Please refresh the page and try again.