iPad Pro 2018: Everything you need to Know!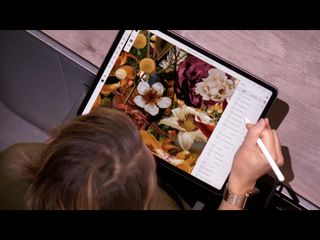 (Image credit: Apple)
At it's October special event, Apple unveiled the next-generation iPad Pro. With a whole new design, no Home button (but Face ID instead), and a whole lot more. Here's everything you need to know!
See at Apple (opens in new tab)
What's all this about a new iPad Pro?
That's right, folks. There's a new iPad Pro in town and it's got plenty of new features. It's got a nearly bezel-less LCD display with the same iPhone XR Liquid Retina technology. It also supports Face ID and a whole lot more.
It's 15% thinner and the 12.9-inch model is about 25% less overall volume than the previous model. Both iPad Pro 2018 models are 5.9 mm thick. The Liquid Retina display has about a quarter million more pixels than its predecessor.
I heard there is an update to both sizes of iPad Pro
You are correct. The 10.5-inch iPad Pro now has a larger screen, but the same sized body. The 12.9-inch iPad Pro has the same size display, but a much smaller sized body (about the size of an 8.5 X 11-inch piece of paper).
So they've ditched the 3.5mm headphone jack?
You've heard correct. With all the new speakers and mics and buttons (four speakers, four microphones ,a USB-C port, a magnetic connector, a nano-SIM tray, and sleep/wake and on/off buttons), Applel just didn't have room for one more port. The 3.5mm jack we've all been holding onto is now kicked to the curb. Luckily, there are dozens of fantastic USB-C supported headphones on the market already if you're not into the whole Bluetooth connectivity thing.
What's the big deal about AR support?
Apple is positioning the iPad Pro to be the next big thing in AR. Thanks to the advanced processor, cameras, and audio the iPad Pro can really take AR to the next level.
No funny new names, huh?
Nope. Apple didn't put an X across its entire line of products. Though the iPhone is now an X model (skipping 9 altogether), the iPad Pro still remains just that. The way to distinguish between this year's model and previous iterations is by the year of its release, 2018.
What are the new features?
New features are all over the place. The 2018 model iPad Pros are pretty nearly as powerful as a laptop computer. In fact, Apple claims that it's faster than 92% of portable computers.
iPad Pro 2018 with its edge-to-edge display means no more Home Button, but adds support for advanced Face ID, which is powered by Apple's secure enclave. It uses Apple's special True Depth camera for the most accurate facial identification.
Edge-to-edge display for 12.9-inch iPad Pro
That's right. The iPad Pro screen is nearly bezel-less. Not entirely, though. Similar to the way the iPhone XR is designed, there is a very thin bezel around the edge (about a half inch?). The LCD display is also being called Liquid Retina like the iPhone XR. It uses the same technology, featuring wide color support, True Tone, and an anti-reflective coating for the best possible experience, indoors or out.
The iPad Pro 2018 has a new way to charge the new Apple Pencil 2. Instead of connecting it to the port, risking breaking the charging plug right off, the Apple Pencil 2 connects to the iPad Pro 2018 magnetically. It automatically charges while it's connected.
The front-facing camera on the 2018 iPad Pro gets a major boost (still 7MP, though) thanks to the True Depth array needed for Face ID. The back-facing camera gets a small spec bump, but not as good as the FaceTime camera.
7MP TrueDepth font camera with Portrait Mode, Portrait Lighting, and Smart HDR.
12MP back camera with Smart HDR and 4K video at 30 or 60 fps.
The iPad Pro 2018 uses Apple's latest and greatest AX12 Bionic Neural Engine processor with an 8-core CPU: four performance cores and four efficiency cores, which Apple says provides up to 35% faster single-core performance and the new performance controller supports simultaneous use of all eight cores for up to 90% performance boost.
It also comes with a 7-core GPU with up to 2X faster graphics performance than the 2017 iPad Pro models. Apple compares it to the same performance of the XBox One X (but much more portable).
That's right. Not only does the iPad Pro finally support USB-C, but it also has reverse charging capability. That means you can plug a USB-C-to-Lightning cable into the iPad Pro 2018 and actually charge your iPhone with it.
The 2018 iPad Pro comes with an 18W USB-C power adapter and a 1-meter USB-C charging cable.
Larger storage capacity
The iPad Pro 2018 maxes out at 1TB of storage now. That's more apps, music, videos, and documents than most computers. Neither my iMac nor my MacBook Pro have 1TB of storage and I've never come close to filling my storage space with either of them.
Will my old iPad Pro case fit this new model?
Unfortunately, no. Even though the 2018 model 11-inch iPad Pro has about the same body size as its predecessor, the new iPad Pro design is significantly different with a flat edge (not entirely unlike the iPhone 5 design).
How much is this beauty going to set me back?
Here's the pricing for the new iPad Pro line
$799 for 64GB Wi-Fi
$949 for 64GB Wi-Fi + Cellular
$949 for 256GB Wi-Fi
$1,099 for 256GB Wi-Fi + Cellular
$1,149 for 512GB Wi-Fi
$1,299 for 512GB Wi-Fi + Cellular
$1,549 for 1TB Wi-Fi
$1,699 for 1TB Wi-Fi + Cellular
$999 for 64GB Wi-Fi
$1,149 for 64GB Wi-Fi + Cellular
$1,149 for 256GB Wi-Fi
$1,299 for 256GB Wi-Fi + Cellular
$1,349 for 512GB Wi-Fi
$1,499 for 512GB Wi-Fi + Cellular
$1,749 for 1TB Wi-Fi
$1,899 for 1TB Wi-Fi + Cellular
When can I get my hands on one?
You can preorder the iPad Pro 2018 models starting today and they'll be available starting Nov. 7.
See at Apple (opens in new tab)
Want more on the new iPad Pros?
Let us know in the comments, or head over to the iMore Forums and tell everybody about your thoughts on the new iPad Pro lineup!
We're updating this constantly with new information, so please check back!
Lory is a renaissance woman, writing news, reviews, and how-to guides for iMore. She also fancies herself a bit of a rock star in her town and spends too much time reading comic books. If she's not typing away at her keyboard, you can probably find her at Disneyland or watching Star Wars (or both).
These look very very impressive. Might be tempted to retire my three year old iPad for one. Also there is now absolutely zero excuses now for next year's iPhones to not have a USB Cable connector.

I have my fingers tightly crossed for the next iPhone having USB-C.

I don't believe for a minute that there was "no room" for a headphone jack. They didn't want one, plain and simple, or they would have found space.

yes, but they changed from audio jack to Lightning with the iPhone 7 release in September 2016. The writing has been on the wall and I prefer that they replaced Lightning with USB-C which will slowly trickle down to the entire product line including the iPhone.

USB-C means there's no need for the headphone jack. It was removed earlier than it should have been from the iPhone because the iPhone doesn't have USB-C, but if a device has USB-C then having a headphone jack is pointless.

I agree. I'm not sure what Apple is trying to do. The 3.5mm audio jack is not dead. There has not been a replacement. It is a Standard port used by millions of people worldwide to connect audio devices. People use the port for many different things. Apple includes this jack on all the macs including the Laptops because people need the port. This new iPad cannot be considered a Laptop replacement anymore with this port missing. 3.5mm Audio device cables only plug into 3.5mm jacks.. Dongles are not an option for me. I simply will not be able to buy this otherwise awesome iPad.

The 3.5mm audio jack is dead, it's a legacy port, same as USB-A. The replacement is USB-C and that's a perfect replacement. Apple includes the jack on the Macs because they're slowly removing them from each device, first the iPhone, then the iPad, the Macs are next. There's more and more USB-C headphones each day, so it's really not a problem.

USB-C might be great in a few years but right now it is a mess. I had not idea til I researched but different manufacturers make their cables and devices differently. Not every USB cable or accessory will work with your device. You have to be very careful to get what you need.
3.5mm is not dead and won't be for many years. By the time the world has made this the standard it will be time for a new iPad anyway. So today I need the 3.5mm jack. It's simple and it just works. In a few years I might want to move to USB-C exclusively but not today.
How do you charge your iPad and plug in audio devices? This is not a step forward.
This is a mobile device. It should "just work" and not need a pocket full of dongles to carry with it to get the same functionality we have always had in the past. If I'm able to cough up $1500 or so to get the new iPad Pro, I'm not going to also replace all the accessories I currently own that still work fine even with the cheapest iPad. Again maybe in a few years but not today. Today I simply need to get my work done.

Nobody "needs" the 3.5mm jack because an alternative is available. I've personally not had any problems with USB-C accessories, so as far as I'm aware they do "just work", at least if you get decent quality ones and not some odd Chinese brand that nobody's heard of. The charging whilst listening has been brought up a few times, but the basic solution is to charge your device as much as possible before listening to music, and on an iPad you'll get more than enough of listening time.

Nice hardware, but adding in the price of the No. 2 Pencil and a new keyboard puts even the "base" model over $1,000. I'll stick with my old one.

I see they released a USB-C to SD card adapter but I'm very curious to know if third party readers will now work as I already have a Sandisk one for my Macbook USB-C port.

So is the aspect ratio of the 11" ipad and 12.8" ipad different now? (3:2 vs 4:3). Can the pencil stick to the ipad when the keyboard case is closed?

I ordered a 12.9" iPad Pro last year and almost immediately regretted getting the bigger one since I was worried it would be too big to handle. It is true and I wish I would have gotten the smaller one.
Fortunately my daughter is into art and drawing so I will probably give her my 2017 12.9" and but the new 2018 11" iPad Pro (as soon as I can afford one since I also need a new Mac mini to replace my aging 2012 model).

I assume the old Pencil will still work with this new iPad ?

I'm not sure – you normally haven to plug the Pencil into the iPad to pair it. If it does work, you'll just have to charge the Pencil by plugging it into your iPhone. 😲

Nope. The old Pencil paired with the iPad when you plugged it into the Lightning port. No Lightning port, means no way to pair it. Basically, these new Pros require replacing most accessories as well. For me that means an extra $310 for a new pencil and keyboard.

Nice looking and powerful...For those looking to upgrade to one of these. I have a 2017 12.9" iPad, it is already essentially a PC replacement, it is very powerful and smooth as butter. I have found, at least by the presentation and the specs, that the new 12.9" really doesn't give me enough reason to upgrade. The 2017 model is super powerful. The price for the new one... $1100 for a 256? I'd be even happy with a 128 for less. I have a 256 now & got it for less than the 64 that was just released. I love the new size & the Pencil. USB-C is nice, but nothing in my house uses that. I have plenty of lightening & wireless stuff going around. I did a spec comparison between the 2017 vs 2018 models to see what I have now vs what I would be getting. The iPad Pro 12.9" is amazing, (since 2017) that it has essentially replaced even my MacBook Air for practically everything. To those who get the new one, enjoy it...Then share with us how you like it. Even compare it to the 2017.

Eh at those prices I will wait. Apple just keeps creeping higher and higher. $150 jump from the previous pro and still only putting 64gb storage in...

So to position the new iPad Pro as an indisputable PC replacement, they've made it the first non-Lightning iOS device. Interesting! I was certain that rumour was false. I wonder if the 2019 iPhone XS successor will be named iPhone Pro and have a Thunderbolt port?

The new iPad Pro is the first non-Lightning iOS device, and it certainly isn't the last 😉
Get the best of iMore in in your inbox, every day!
Thank you for signing up to iMore. You will receive a verification email shortly.
There was a problem. Please refresh the page and try again.