iPad Pro Smart Keyboard cover announced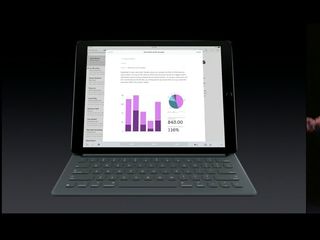 During Apple's press event in San Francisco, the company revealed a new keyboard cover made specifically for the newly revealed iPad Pro. It's been made so owners of the large tablet can have a physical typing experience, while also offering a cover that folds up as well.
The Smart Keyboard is covered in woven fabric and each key has a dome switch similar to the keyboard on the MacBook (which had the dome under the butterfly mechanism). Apple says:
Apple also provided information on the materials on the Smart Keyboard:
The Smart Keyboard cover has a new 3-pin connector. It not only offers a magnetic connection to the iPad Pro it also allows for power and data connections. The iPad Pro's software automatically adapts to the attached keyboard. Apple says:
The price will be $169 for the iPad Pro Smart Keyboard. It will go on sale in November, presumably around the same time as the iPad Pro tablet itself.
Source: Apple (opens in new tab)
Get the best of iMore in your inbox, every day!
I have been writing professionally about technology and gaming news for 14 years.
Two years ago, Apple was like - A laptop and a tablet can never combine. Then, Surface Pro 3 happened.

Wow, what a ripoff of Microsoft surface Pro... they event have the pen-cil... haha

In 2017, Apple will be introducing THE USB PORT.

predy much copy from the surface 3 keaybord...

Companies borrow features all the time. Apple isn't copying Microsoft at all. It looks like they fixed the lapability issue with the Surface. If anything, Apple is using the designs of their third party accessories partners for their keyboard and pencil. Microsoft needs to step it up with the Surface Pro 4, Apple just killed it today.

Fucking fanboy ! "Lapability"

All tech websites complained that it wasn't easy to use the Surface on your lap. I've had no issues with my Surface RT. All I was saying is that Apple didn't copy Microsoft. They both borrow features that in the end benefit the end user. Lets see what the SP4 can bring to he table.

Hahah jokes on you fanboy, surface pro 3 already did happened !

First, I think you meant to say "...already happened". Second, don't get your panties in a bunch, relax. You like the iPad Pro? Buy it. You don't like it? Don't buy it. Pretty simple bud.
With that said, I've never been a fan of Microsoft and hate using Windows; that's just preference. I'm sure there are a lot of folks that feel the same way. As a result, I wouldn't purchase a Surface. I prefer the Apple ecosystem.

Uh, are you serious? I'll assume the delusional fanboyism isnt that deep. 1. Apple actually blasted the idea of doing this not too long ago.
2. Apple likes to take others to court when others "borrow".
3. This is still a big ipod with a keyboard and stylus. Surface Pro runs a FULL windows 10. The whole thing is amusing.

The sticking point is that Apple said they created this revolutionary keyboard when they did not. If they just stated as a new type of accessory for the Pro that would be fine but claiming you invented it is a different thing. Microsoft uses the MagSafe connector on the Surface Pro and actually gave credit to Apple and said they licensed it from them. Give credit where credit is due or at least don't take it. That said. I don't see anything the iPad Pro does better than the Surface Pro 3. The Surface Pro 3 has a better price point and more features with the same premium build quality. I think the main ones to benefit from the iPad pro are the ones who insist on Apple only but liked the Surface. Sent from the iMore App

Um the fanboy is you especially with the name... Of course fanboys know who the other fanboys are right my princess Posted via the iMore App for Android

I am a big fan of windows, but don't get me wrong, i use iphone 6, lg g3 and lumia 1020. But i use surface pro 3 for work.

I thought $120 for the Surface keyboard was a touch steep. Apple must want to make it seem reasonable. Posted via my HTC One (M7)

Is that a surface pro 4 by apple ?

Bet it went like this: Apple wants to license Microsoft's keyboard cover patent, Microsoft wants some exclusivity and guarantees on launching new MS Office apps for iOS. Deal is done.

Makes sense. Too bad iPad Pro still runs iOS and not a desktop class OS like OSX or Windows 10

Wow, so the Surface Pro 3 Type-Keyboard (which includes a touch pad) was $119 and a replacement stylus the Surface Pro 3 is about $50. Heck, the Academic price for the full Intel Core I3 Surface Pro 3 (including pen, but not keyboard) is only $1100.... Why would anyone want an iPad Pro? Is it going to run full OSX soon or something? I just don't get it.