iPad vs. Chromebook: Which is the real apple for the teacher?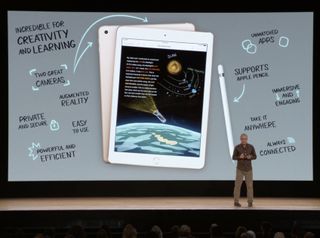 Apple has long maintained that education is an iPad market. In fact, Apple's prior Education Event in New York City was all about iPad and iBooks Author. Apple seemed on a roll — it e scored a major deal with the LA School systems in 2013 worth up to 1.3 billion dollars. But... It ended. Apple even had to pay back millions in a heated lawsuit (that ultimately involved an FBI investigation). Few schools adopted iBooks Author. iPad in education... stalled.
Now, Apple is trying to reclaim the education crown, with a new Education Event a new lower-cost iPad with support for Apple Pencil, some updates to iWork, and a better system for schoolwork management.
It makes sense. For a company that was once synonymous with education, Apple has lost a lot of ground to Microsoft and especially Google. The Chromebook platform and service offerings are now what dominate education.
I spent some time with Apple's latest iPad and iWork suite. I'm not going to go into detail here — you can read Rene Ritchie's review watch Serenity Caldwell's brilliant video for that.
Instead, to get some perspective, I thought it might be good to take a look at a Chromebook equivalent. Tough to do, Chromebooks aren't totally low-end devices. They go from under to $200 to over $1,500. I settled on a Samsung Chromebook Plus. It's a pretty fair comparison, I think. At $429 (often discounted to as low as $319) it has a touch screen, full keyboard ,and an integrated pen. In other words, it's roughly the same as an iPad with a keyboard and Apple Pencil.
iPad vs. Chromebook
In addition to Chrome web-based applications, Chromebooks now offer access to the full Google Play store and all the Android apps available there. I won't try to count the number of "education" apps on the Google Play store, as I don't know anyone has defined what an education app is, something necessary to quantify. I did find more than enough for any classroom discipline relative to iOS.
The Plus worked well. Its ARM processor handles Android apps better than Intel-based Chromebooks. Apps can either run windowed or full screen. App flexibility depends on developer support, much like iOS feature support is dependent on developers. Flipping the screen around switches to a tablet mode with all apps running full screen. Removing the pen brings up a series of contextual menus for drawing, highlighting, clipping and annotating. A micro SD slot allows for expansion to 200gb. In short, it just works.
The key differentiator is not hardware, though, It's software. Google has honed Google docs and the Google education platform to deliver what most schools want: A flexible platform for management, sharing, and collaboration with a core suite of apps. Of course, Google docs is also available for iOS and schools can mix and match devices to some extent. Likewise, both platforms support mobile versions of Microsoft Office, if that's the standard.
So where's the difference? Chromebooks come in multiple sizes, multiple form factors and multiple price points. iPads don't. iPads deliver a powerful iOS experience that's familiar to kids. Chromebooks don't.
The bottom line — for now
It's hard for me to call a winner in terms of recommendation. I do give Apple the edge with an added focus on more creative content creation but, sadly, that's not the focus of many schools that are looking to get the basics right.
In short, it's a photo finish for me. Apple has a compelling story but not one that fundamentally changes the current narrative. Google has the home advantage, and, if schools deploy iPads with Google services, it's still a win for Google.
They say issues in academia are so important because the stakes are so small. Not when it comes to information technology. Today's Google, Apple, or Microsoft kids are tomorrow's knowledge workers.
It's too early to say how well Apple's efforts will work here. There's a lot more to making education platforms than selling devices. The good news for administrators is there's never been a better set of tools to help change old education paradigms. That means, no matter which platform wins, students will be the ultimate winners.
Master your iPhone in minutes
iMore offers spot-on advice and guidance from our team of experts, with decades of Apple device experience to lean on. Learn more with iMore!
I've covered the personal technology beat for more than two decades at places like Gartner, Jupiter Research and Altimeter Group. I've also had the fun of contributing my $.02 on the topic at Computerworld, Engadget, Macworld, SlashGear and now iMore. Most recently I spent a few years at Apple as Sr. Director of Worldwide Product Marketing. On Twitter I'm an unverified @gartenberg. I still own some Apple stock.