iPhone 6, iPhone 6 Plus arrive in 22 more countries on September 26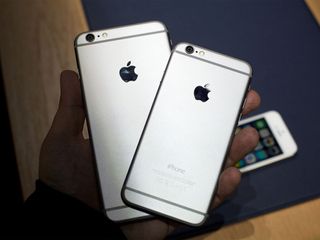 Apple revealed today the list of the 22 countries that will sell the upcoming iPhone 6 and iPhone 6 Plus smartphones on Friday, September 26, one week after it goes on sale in the US and nine other markets on September 19.
The list includes:
Austria
Belgium
Denmark
Finland
Ireland
Isle of Man
Italy
Liechtenstein
Luxembourg
Netherlands
New Zealand
Norway
Portugal
Qatar
Russia
Saudi Arabia
Spain
Sweden
Switzerland
Taiwan
Turkey
United Arab Emirates
If you live in one of those countries, will you be lining up at your local smartphone retailer to purchase the iPhone 6 or iPhone 6 Plus?
Source: Apple (opens in new tab)
I have been writing professionally about technology and gaming news for 14 years.
What? No indonesia? Lol Sent from the iMore App

Hahaha what will they cost when it arrives in Indonesia? LOL
13 million rupiahs? Haha Sent from the iMore App

You know, here in Pakistan, iPhones are not officially launched but the official Mac reseller sells them; the USD 649 iPhone sells for about USD 1,000 and sometimes even more. After 6 months the price settles down to between USD 750 and 850. People still buy. I bought iPad Air last year at extra $150 and got it before Sarah Lane got hers :D

Check out www.facebook.com/pijjit. You'll probably be able to get it cheaper/faster through a "Social Courier" on Pijjit.

How do the include Liechtenstein and not South Africa? Despite what you think South Africa is not so poor... Sent from the iMore App

Hoped to see India. Apple have been doing phenomenal business here lately.

Will probably grt 5S instead of 6. It's too big for being just a phone, too small to be a mini tablet. Sent from the iMore App

Cool, but I'll wait for the Iphone 6S.

That is great to hear! Sent from the iMore App

Wohoo!! Qatar yeah.. I;ll be waiting iPhone Plus!!

No love for Latin America? :c

It seems even if you're in the EU you're are third world customer.

when it will launch in India

For sure Sent from the iMore App

Liechtenstein is getting it and the EU country (albeit very small) I live in wont get it before 2015 or smth. Damn. Im in the wrong place. Apple is not officially present here in Cyprus. No Apple store, just a few authorized resellers that are served dead last anyway. The first few months we'll get a handful of Greek imports at excrutiating prices (usually 850 to 1000 euros for entry level iPhones). We'll only get a steady flow sometime in 2015 when all official channels are served, and prices will get back to normal. Same goes with iPads. Takes 6 months on a waiting list to get one, then supply gets sufficient. No real subsidies on iPhones here, discounts are so ridiculous that everything is basically unlocked/off contract.

Eagerly waiting for Iphone 6+ in India!!!

Well, if you are wondering how to get your hands on an iPhone 6 or iPhone 6 Plus outside of the 10 or 22 countries mentioned, here's how... Simply "Shop" for it on Pijjit and a "Social Courier" will get it for you. It's pretty convenient..! www.facebook.com/pijjit

Hey, what do u think about a discount iphone 6.Check it out http://bit.ly/1wcRiju
Complete survey and let them do the rest.that's really amazing

We sell Brand new apple iphone 6 64GB at rate of 730US dollar here in US and we ship out to your door step within 48hours any where in the world via DHL or UPS courier service. Mail us now for your best offer. Saleemobiles266@gmail.com. Thanks
Get the best of iMore in in your inbox, every day!
Thank you for signing up to iMore. You will receive a verification email shortly.
There was a problem. Please refresh the page and try again.