iPhone 6, 6 Plus, Retina iMac ship times improve ahead of holidays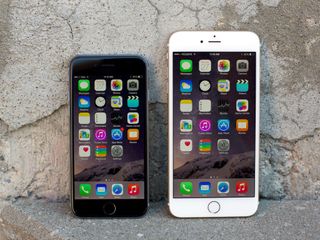 In time for the holidays, Apple has improved ship times for some of its most popular products, including the iPhone 6, iPhone 6 Plus, and the new iMac with Retina 5K display. Apple's online store shows that the lower capacity models for the iPhone and iPhone 6 Plus are now shipping in three to five business days while the 128 GB variants take as long as 10 days to go out.
If you're looking to snag an iPhone, you can also check Apple's site for in-store pickup as well.
Similarly, the iMac with Retina 5K display is now shipping in 1 to 2 weeks, down from 3 to 5 weeks as of last month. Be sure to check out our review of Apple's new high-end iMac before you pick one up.
Source: Apple Store (opens in new tab)
It's bout time! Sent from the iMore App

Ordered my 128 gb 6+ on October 6th from AT&T. Still waiting.

That's just ridiculous. It's usually best to order directly from Apple instead of the carrier.

I ordered a 64GB iPhone 6 from T-mobile on Cyber Monday and it'll be delivered on Friday. Pretty fast which makes me happy.

T mobile has had the best Shipping Times in my opinion. Even if you bought the t mobile version from the Apple Store. I ordered my iPhone 6 plus from apple for t mobile the day it was available in stores the same day a friend did from AT&T and another for Verizon from apple. I got mine after exactly 5 weeks the Verizon phone from Apple arrived 7 weeks later and AT&T took 10 weeks to deliver. Sent from the iMore App

I got excited when I saw this post ... so I checked my status only to see it PUSHED BACK an additional week. Ordered Space Gray iPhone 6 Plus - 128GB on 10/20/14 from AT&T site....
Originally said Estimated Ship Date was 11/28/14-12/9/14
Now says Estimated Ship Date is 12/12/14-12/19/14

I ordered my 128 Space Grey from Sprint on 9/28 and as of last Friday it was still on backorder, I got to leave work early that day so I decided to call a Sprint store nearby just to check since it was Black Friday and all, and sure enough they had some but only in Gold so I went and settled on the Gold an cancelled my Space Grey order. I figured I'd have it in a case any way and didn't wanna wait any longer.
Get the best of iMore in in your inbox, every day!
Thank you for signing up to iMore. You will receive a verification email shortly.
There was a problem. Please refresh the page and try again.