The iPhone 6s might offer LTE speeds of up to 300Mbps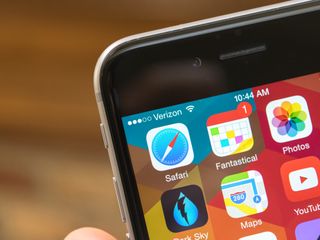 The next iPhone may feature up to double the LTE data speed than its predecessor, thanks to a new LTE chip. The iPhone 6s will reportedly contain Qualcomm's new MDM9635M chip, which can provide up to twice the speed over LTE as the current Qualcomm chip in the iPhone 6 line. Currently, the iPhone 6 and 6 Plus have top LTE speeds of about 150Mbps.
From 9to5Mac:
Qualcomm claimed that the MDM9635M is more power efficient compared to older models, so this could lead to better battery life when connected to LTE. The chip is also more compact than its predecessor, and is said to take up less space on the iPhone's motherboard.
As recently reported, the iPhone 6s is said to look nearly identical to the current iPhone 6 and 6 Plus, with most changes taking place inside the device. The phone is expected to debut this fall sporting Apple's A9 processor, 2GB of RAM, and an upgraded 12MP camera.
Get the best of iMore in your inbox, every day!
Joseph Keller is the former Editor in Chief of iMore. An Apple user for almost 20 years, he spends his time learning the ins and outs of iOS and macOS, always finding ways of getting the most out of his iPhone, iPad, Apple Watch, and Mac.
Yep, the current ones top out at 150Mbps, and the average person will never see more than 30Mbps over a sustained period of time, and that's only if they live in an LTE market with very little LTE proliferation. Only reason to care about the chipset upgrade is the fact that usually they get more power efficient (longer battery life for the device as a whole). Not the speeds, Lol.

Oh yay, more speeds to hit my usage cap faster. Oh joy of joys.

Will that half second of faster page loads really make you use the internet that much more? :-)

Yes. Because it will mean less congestion on companies networks. Instead of using their network for 3 minutes to download a song. It will only take 1 minute. Making everyone's Internet faster.

The iPhone 6S might...... AT&T and other networks will NOT

that's exactly what I was thinking. I love my AT&T iPhone. but AT&T is always last to adopt NICE technology in its network infrastructure Sent from the iMore App

Actually Sprint is. They were last to adopt LTE

I get 50mb down and 20 mb up on AT&T pretty regularly on my 6 plus tell me again when downloading bullsh¡t freemium games, why I need potential 4K to 8k reliable streaming speeds? Sent from the iMore App

I normally get 70/30 on AT&T Sent from the iMore App

I regularly get 70/20 on AT&T. Sent from the iMore App

Honestly who cares... Within 40miles of me I get maybe 10/10 on a good day. No human will ever see 300Mbs from a wireless provider.

On t mobile. In big cities I sometimes see 90-110. I'm thinking that theoretical 150 mb/s would probably result in that speed in real life. So maybe one could actually see an improvement. But honestly I don't think those speeds are necessary. I'd honestly prefer it if companies worked on coverage and reliability. Sent from the iMore App

Which cities are you seeing 90-110 Mbps? Sent from the iMore App

Probably because no one else has that carrier seeing as how they actually have to leave the city on a regular basis. /sarcasm But really, I have never seen speeds that high and I've had an LTE phone since AT&T started rolling out LTE. I used to see speeds in excess of 60Mbps, but the speeds took a complete nosedive once a bunch of other people started getting on LTE. Now, the biggest benefit of LTE over HSPA[+] for most people are the increased upload speeds, because often the download speeds aren't all that much of an upgrade due to so many people migrating from 3G and HSPA+/CDMA devices to LTE. Even if you see speed that high, it's likely just a spike. It's unsustainable on pretty much any carrier in this country. Spikes don't matter. It does not matter if your internet spikes to that speed for 3-5 seconds. What matters is whether you can sustain a large download at that speed. For smaller stuff, most people probably couldn't tell the difference between a good HSPA+ connection and LTE, anyways.

Personally, I regularly see 75-90Mbps in Colorado on tmobile Posted via the iMore App for Android

Pointless in this third world country called Oz :( Sent from the iMore App

In England I only get an average of 15 down and 8-10 up across the country in with iPhone 5C... So good for 'super fast 4G' unless you're in a major city. We should see 300Mbps here in about... 2025. Sent from the iMore App

This is awesome, unfortunately the carriers will never get data speeds that high.